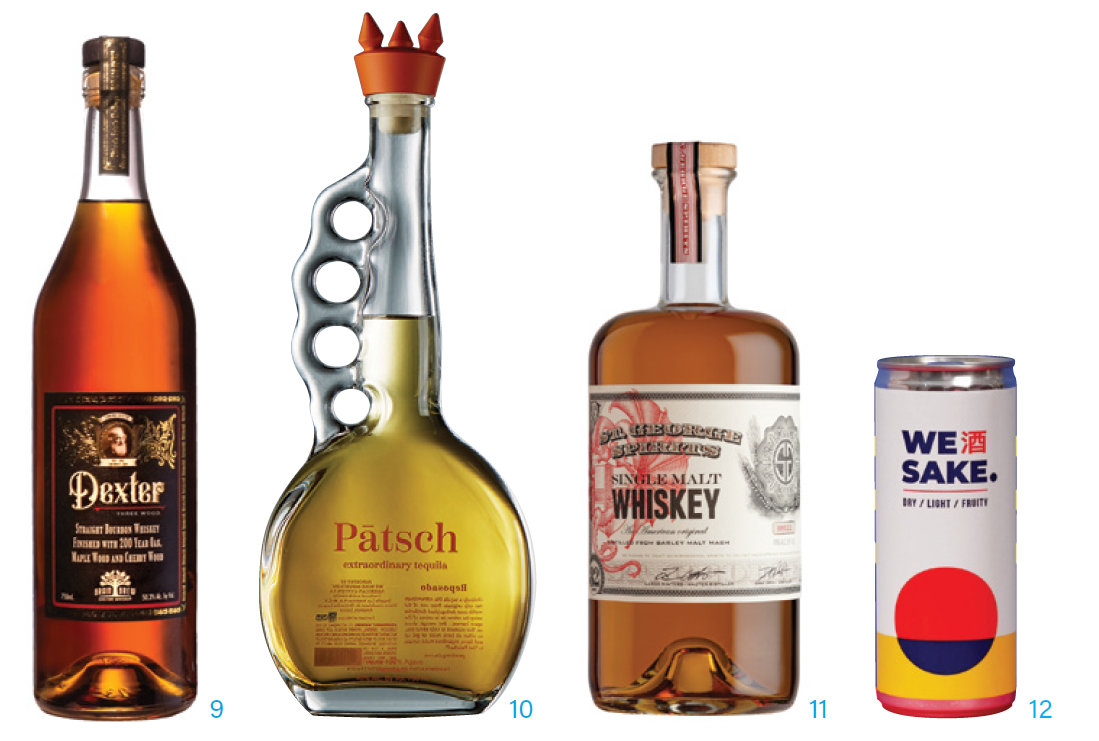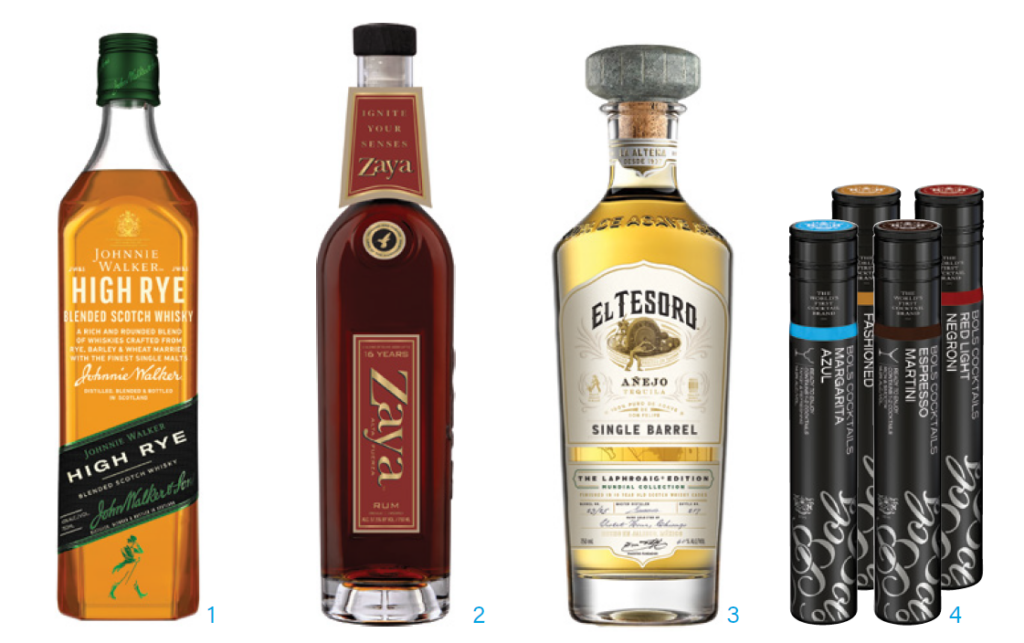 1. Johnnie Walker High Rye
Outgoing Johnnie Walker master blender Jim Beveridge and Johnnie Walker whisky specialist George Harper have developed Johnnie Walker High Rye Blended Scotch Whisky, the brand's first product exhibiting such a profile with a mash bill of 60 percent rye aged in American oak barrels. Drawing from Johnnie Walker Black Label tasting notes, it is meant to either sip or savor in classic cocktails like the Manhattan.
SRP: $34.99 per 750ml bottle
johnniewalker.com
2. Zaya Rum
For the first time, Caribbean-made Zaya Rum, part of the Infinium Spirits portfolio, has expanded its lineup. Zaya Cocobana and Zaya Alta Fuerza are both aged rum blends, but while the Cocobana is ideal for tiki cocktails with its notes of banana and citrus, the Alta Fuerza, redolent of black pepper and maple sugar, lends itself to sipping.
SRP: $29.99 and $39.99 per 750ml bottle
zayarum.com
3. El Tesoro Mundial Collection
El Tesoro Tequila kicks off its new limitedrun Mundial Collection with the Laphroaig Edition. All Mundial expressions will showcase single barrels of El Tesoro tequilas finished in casks holding other spirits from around the world, and this one, which spends four months in 10-year-old Laphroaig barrels, combines the peaty profile of an Islay whisky with the depth of an añejo.
SRP: $125 per 750ml bottle
eltesorotequila.com
4. Bols Cocktail Tubes
Dutch spirits brand Lucas Bols is shaking up the ready-to-drink segment with its new compact Bols Cocktail Tubes (and complementary multi-serve bottles). The inaugural selection, a quartet of classics— Bols Margarita Azul, Bols Espresso Martini, Bols Red Light Negroni, and Bols Very Old Fashioned—features 100 percent natural flavors. Containing one or two cocktails, the sustainably-packaged black tubes need only be chilled, poured, and garnished.
SRP: $6.99 per 200ml tube
lucasbols.com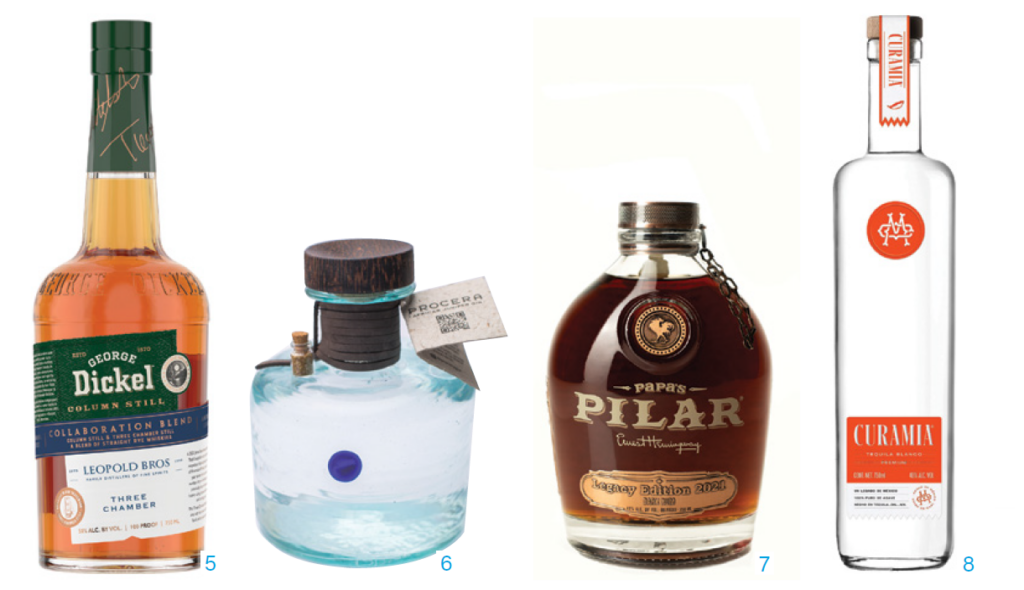 5. George Dickel X Leopold Bros.
Nicole Austin, general manager and distiller at Tennessee's Cascade Hollow Distilling Co., and Todd Leopold, founder and master distiller at Leopold Bros. Distillery in Colorado, have joined forces on a straight rye whiskey. The George Dickel x Leopold Bros. Collaboration Blend melds Three Chamber Rye from Leopold Bros. with George Dickel's never-before-released traditional column still rye for a whiskey rife with rosewater, caramel, and fig.
SRP: $109.99 per 750ml bottle
georgedickel.com/leopoldbros.com
6. Procera Gin
Procera Gin from Nairobi, Kenya, can now be found stateside via Innovation X Marketing. The sustainable sipping and Martini gin, which references the Juniperus Procera, a juniper variety indigenous to the highlands of Kenya, blends fresh juniper with a number of other botanicals native to the country, including Swahili lime, Pixie orange, and green tea, as well as pink peppercorn from Madagascar, Moroccan coriander and orris root, Somalian acacia honey, cardamom and mace from Zanzibar, and Nigerian Selim pepper.
SRP: $84.99 per 750ml bottle
proceragin.com
7. Papa's Pilar Rum
Ernest Hemingway is the inspiration behind Papa's Pilar, a collection of solera-aged rums made in Key West. Joining the blonde, dark, and sherry- and bourbon-finished varieties is Papa's Pilar Rum Legacy Edition 2021, a blend comprised of nine different rums from the Dominican Republic, Panama, Venezuela, Barbados, and Florida that are finished in rye and amontillado sherry casks. On the palate, hints of vanilla pave the way to dark chocolate.
SRP: $79.99 per 750ml bottle
papaspilar.com
8. Curamia Tequila Blanco
Dafna Mizrahi, a New York-based chef from Jalisco, is the mastermind behind Curamia Tequila Blanco. A tribute to Mizrahi's hometown, as well as her grandmother, Curamia, which translates to "Queen of Beauty," is a 100 percent female-owned business. Flaunting warm notes of fresh agave, pineapple, and pear, the tequila stands out for its sustainable distillation process utilizing water.
SRP: $38.99 per 750ml bottle
curamiatequila.com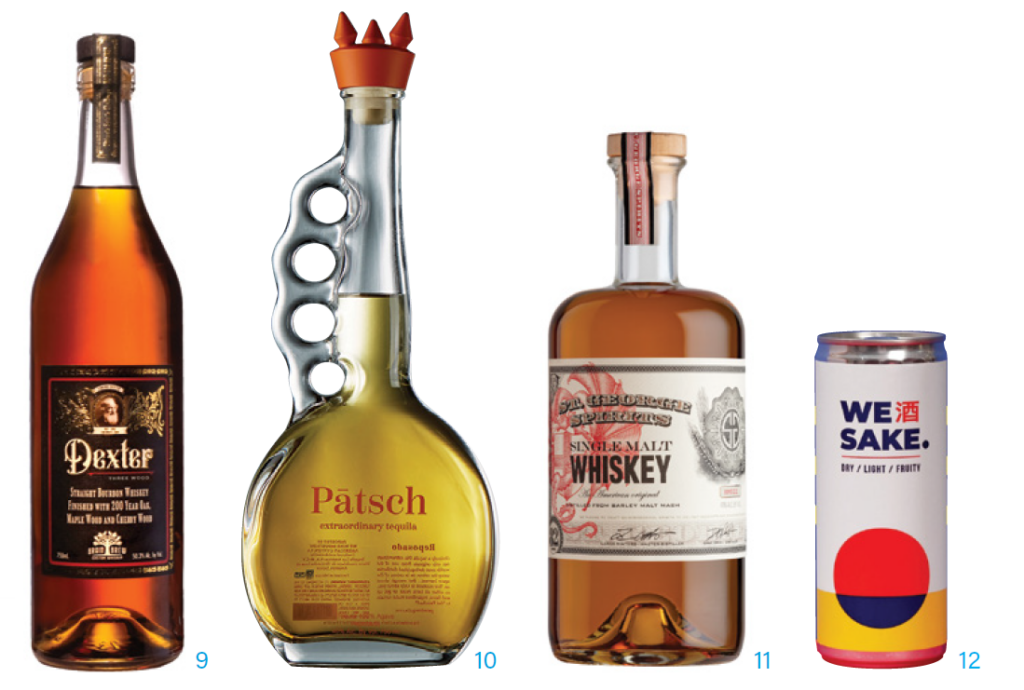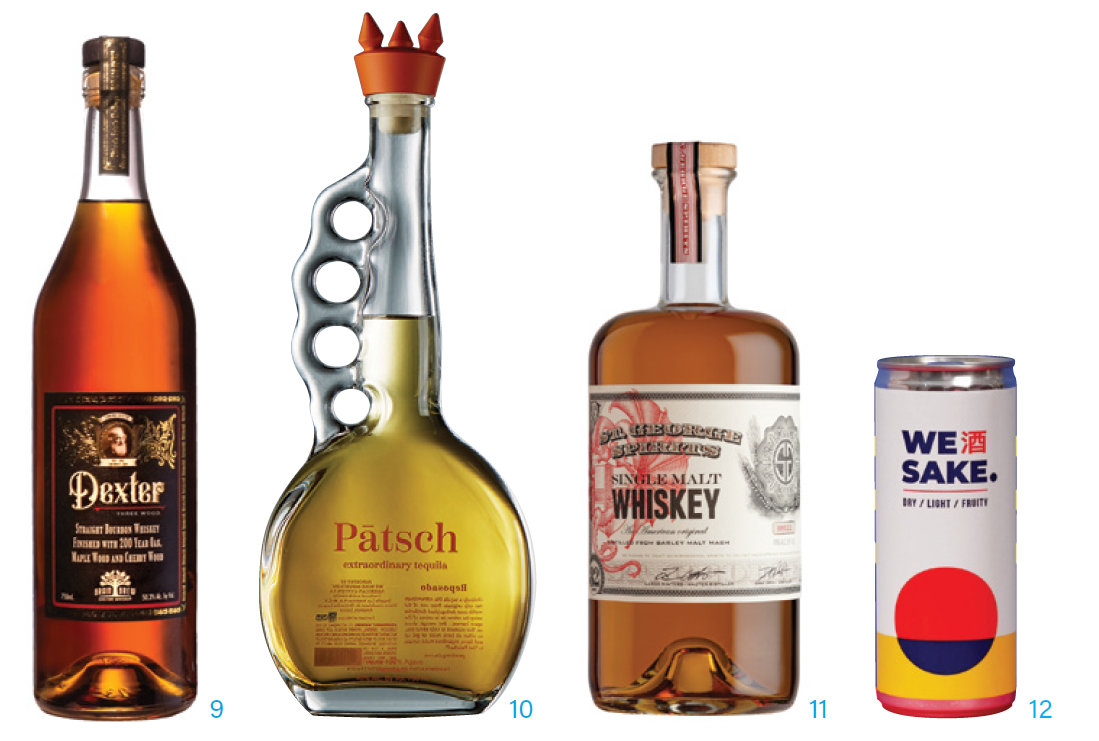 9. Dexter Three Wood Straight Bourbon
An ode to Ohio bourbon pioneer Edmund Dexter, Dexter Bourbon Company, known for its custom barrel blending program, was established by Doug Hall and Joe Girgash of Brain Brew Custom Whiskey. Dexter Three Wood Straight Bourbon, made at Brain Brew's distillery close to Cincinnati, stands out for its flavors elicited from a trifecta of woods: cherry, maple, and 200-year-old oak.
SRP: $49.95 per 750ml bottle
dexterbourbon.com
10. Patsch Tequila
Newcomer Patsch uses only sustainably grown and harvested 100 percent Blue Weber agave that is then brick oven-cooked and double distilled for the blanco, reposado, and extra añejo expressions made at its Jalisco distillery. The glass bottle, pairing a long neck with a balloon-shaped bottom, makes a memorable first impression with its knuckle handle and spiky cap.
SRP: $68-$248 per 750ml bottle
patschtequila.com
11. St. George Spirits
California distillery St. George Spirits has released its latest iteration of St. George Single Malt Whiskey: Lot 21. Head distiller and blender Dave Smith selected and blended 26 barrels of liquid aged between 4.5 to 10 years from the distillery's inventory to make Lot 21, which exhibits layers of roasted nuts, bittersweet chocolate, and honey. Just as it has been since the inaugural Lot 1, the whiskey stars a mash bill of 100 percent barley.
SRP: $100 per 750ml bottle
stgeorgespirits.com
12. Wesake
Pablo Rivera, formerly of ZX Ventures/AB InBev, has launched Wesake to help demystify the sake category. Packaged in easy-to-tote cans, Wesake is a crisp, fruitforward Junmai Ginjo-style drink created solely with rice from the fields of Tagocho, Japan, along with water, yeast, and the Japanese fermentation starter koji. Made in collaboration with a nearly 300-year-old Japanese brewer, Wesake has a 13% ABV.
SRP: $18.99 per four-pack of 200ml cans
wesake.co