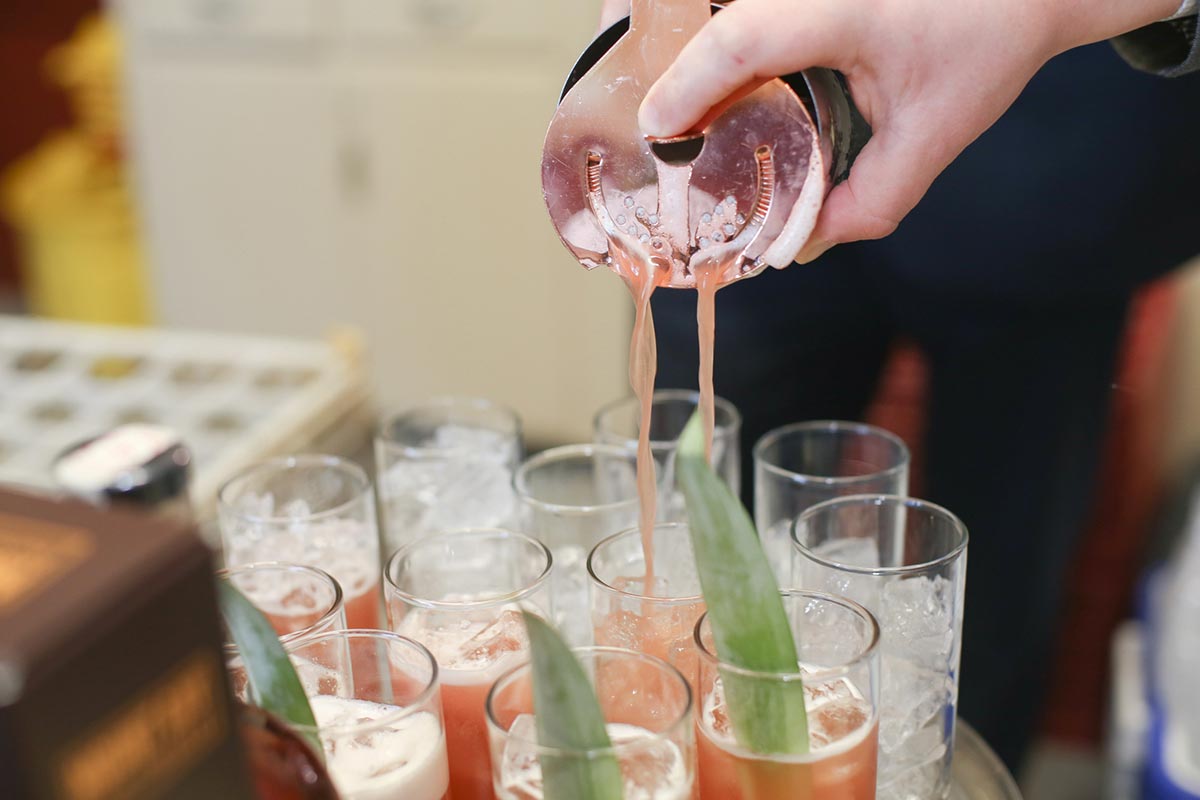 Creativity will remain vital in the new year
By Sara Capozzi
The unprecedented year of 2020 is thankfully in the rearview mirror, but we're not out of the woods yet. As the hospitality industry continues to deal with the effects of the COVID-19 pandemic, local experts reflect on how they think the industry will continue to cope and operate in 2021. While there are still many unknowns as to what the year will bring, a vaccination offers hope. Those who shared insights show a commitment to the continued reimagining of service options, capitalizing on successful consumer trends for the near future and maintaining safety.
Lelaneia and Tom Dubay, Co-founders of Hartford Flavor Company, had a business plan for growth in mind for 2020, but they had to change course quickly once the pandemic began and it became apparent it was no normal year. "We began [2020] planning on growing our Wild Moon brand in the traditional ways in Connecticut and in our other distribution states, [and] launching it into new states as well. But that all changed quickly due to the pandemic," Lelaneia Dubay said.
Like many distilleries, Hartford Flavor Company used their equipment and supplies to make hand sanitizer during shortages in the spring of 2020. "Once the Alcohol and Tobacco Tax and Trade Bureau authorized us to make hand sanitizer, we did so and were able to sell to the general public and that enabled us to donate around $75,000 of sanitizer to Connecticut hospitals. That felt great. Unfortunately, we saw our brothers and sisters in the restaurant and bar world take such a large impact due to the shutdowns, and that created a shift in how our customers engaged with our brand – getting it either as a to-go option at a restaurant or in liquor stores, more so than in the past."
In 2021, Dubay expects some customers to still favor to-go options, but believes that "people are such social creatures that once the pandemic largely goes away, [many] will get back to their previous habits of wanting a great cocktail at their favorite restaurant. With the consumer gaining a bit more confidence in how to easily make a great Wild Moon cocktail at home, we think it will, in the long run, help our brand grow."
Tom Dubay, who also serves as President of the CT Spirits Trail, mentioned pre-pandemic priorities for distillery tasting rooms: the ability to legally sell their spirits by the glass in their tasting rooms, which began in July 2020. Still, "no one could have foreseen how that goal would be set aside due to the pandemic," Dubay said. "2020 was all about Connecticut distilleries just trying to survive. Some were able to make hand sanitizer and at least stay relevant throughout the spring months and beyond." On a positive note, he said, "I think there was a growth in consumer sentiment to try to support local and see their favorite distilleries through to the other side of the pandemic. The federal and state loan and grant programs have helped and will continue to help, hopefully enough to let our industry survive and perhaps even thrive in some cases."
Dubay hopes to see distilleries get their Connecticut Craft Café permits, selling by the glass and providing a "one-of-a-kind experience" for their visitors. Newly enacted policy changes will help: "As of this point, it looks like the Federal Excise Tax will be permanently reduced for distilleries and this will also provide a better chance for startup and growing craft distilleries to reach viability and to add to the local economy. The weeks and months ahead will be challenging, but we all look forward to when things return to normal and we can again welcome visitors to our tasting rooms without capacity limits, restart liquor store tastings to grow our brands and enjoy Connecticut products in cocktails in local restaurants and bars."
Chef Tyler Anderson, who owns and operates five venues across the state, including Millwright's Restaurant in Simsbury, said he sees a "very dark winter ahead of us. I think once we clear that, there's a light at the end of the tunnel." To get through the winter, Anderson has created dining experiences where guests can enjoy his renowned cuisine with health protocols in place, among them his private-dining greenhouses that seat just one party per night, called Outside at Millwright's.
Creative dining and collaboration took on a new level with a "dinner theater meets mystery room" experience called Room Service at The Goodwin: Yes-or-No-Morgan. Guests have the chance to solve a mystery while enjoying a three-course meal in their own private room in The Goodwin Hotel, an effort which began in January 2021. Set in 17 of the hotel's rooms, now converted into private dining rooms seating parties of two to four, the experience was created by Anderson in collaboration with weHartford and features socially distanced, masked actors and no-contact dining service. Guests choose their drink options prior to arrival and each dining party's room is seated just once per evening, sanitized prior to arrival.
Anderson shared his outlook for the coming year, saying, "The vaccine is good news for everyone, and if it continues to go like it's supposed to go, I certainly see a better year for restaurants next year. I think people will just be so happy to be dining in normally again, there's going to be a lot of built-up demand. I think bars will be busier than they've ever seen … that's what people are missing the most."
He sees a continued popularity of takeout meals and outdoor dining. "I think that carryout is a thing that will always be a piece of our business now, more than ever, even restaurants that don't normally do it are doing it and dining outside. I think those are the two things from this pandemic that are going to stick," he said.
As the year progresses, Anderson expects "pent-up demand" to lead to more parties and events. Corporate spending – bolstered by a new tax break contained in the emergency coronavirus relief package – the "three-martini lunch" along with requests for higher-priced, premium spirits will be on the rise, he said. "I think you're going to see a bigger check average and you're going to see people drinking more."
Brian Mitchell, Director of Wines & Beverages, Max Restaurant Group, says takeout will continue to make up a substantial number of sales in the coming months. According to Mitchell, the Max Restaurant Group, which is made up of 11 distinct venues, including Max Burger, Max's Oyster Bar and Savoy Pizzeria & Craft Bar in West Hartford; Max Amore Ristorante and Max Fish in Glastonbury; and Max Downtown and Trumbull Kitchen in Hartford, continues to be creative as it reimagines offerings for guests. "Now that we're in winter, we have even more pressure to try to generate revenue but with less seats because we don't have the outdoor dining that we were benefiting from over the summer," Mitchell said.
Some Max venues began to offer weekly food specials and themed offerings via their to-go menus, along with competitively priced takeout cocktails and wines. To keep customers engaged, the goal is, "from a drinks point of view, again coming up with ideas that are appealing to people from both an in-house point of view as well as a carryout and delivery point of view," he said. "I think one of the things that's helped us is people are starting to get used to the idea that they can buy alcoholic products directly from us [with orders] rather than having to go to a retail store. We're coming up with better ways of making that more appealing."
According to Mitchell, focused wine sales, Bloody Mary cocktail kits and prepackaged holiday dinners were successful over the holidays. But like many in the restaurant industry, Mitchell said he is focused on getting through the winter months. The shift in many people working from home and no longer commuting in to cities like Hartford is "impactful," Mitchell said, and has changed business for both urban and suburban locations in the restaurant group.
Trumbull Kitchen, located in downtown Hartford close to flagship restaurant Max Downtown, has been closed temporarily until spring since there wasn't enough customer foot traffic in colder weather, he said. Meanwhile, suburban locations, such as Max a Mia Ristorante in Avon, have been inundated with takeout orders.
"We're seeing a huge shift in some of our restaurants that are doing 50% of their business as takeout now, so we've been able to pivot a little bit and address that and make it work in places like Max Burger and Savoy and Max a Mia in Avon," he said. "They're doing almost mind-boggling amounts of takeout at this point. So while the businesses in Hartford are sort of not benefiting from that, our suburban restaurants are benefiting from people looking for that dining experience and shifting into takeout rather than coming into the restaurant."
As consumers stayed home out of fear or necessity, a rise in virtual classes, happy hours and entertainment became the norm. Dave Rudman, Executive Director – WSET Americas, said the demand for virtual experiences has carried over into wine and spirits education as well.
"Many consumers are exploring new virtual experiences with wines and spirits as the disposable income they typically would be spending on dining out and other traditional experiences goes unspent," he said. "WSET made the option to take an exam remotely available for the first time this past year and we have seen a significant uptick in candidates for our Levels One and Two awards through our Online Classroom."
Online tastings have opened up more possibilities for the consumer, who is no longer limited to having to travel to far-off destinations to explore a winery, for instance. "I have also seen startups providing educational wine and spirits tasting kits by mail enter the space this year so that the all-important tasting aspect of an educational experience is possible in a remote environment. Virtual wine tastings and immersive video, AR and VR 'remote wine tourism' experiences will persist beyond the pandemic because they provide a convenience and inclusivity that had not previously been possible for all consumers," Rudman said.
As large-scale conferences and meetings remain out of reach for now, organizations have continued to find connection and provide resources through technology. Tameika G. Miller, Vice President of Marketing & Events, Greater New Haven Chamber of Commerce, said, "As a result of this pandemic, we've definitely become a more digital chamber," Miller said. "But our goals have stayed the same. We're just doing things online digitally versus in-person."
The Chamber's next large event, its Internship, Career & Job Fair, organized in partnership with the Quinnipiac Chambers of Commerce, will be held virtually in February 2021, bringing employers and job seekers together at a vital time when many people find themselves out of work. Employers will share their job opportunities through online virtual booths and job seekers will have a chance to learn more about interviewing and resume skills through online workshops. There will also be a specific program for displaced hospitality industry employees who'd like to translate their skills into job opportunities in other fields, including customer service, retail and consulting.
"There have been many silver linings," Miller said. "Something that's so dark and dire and very serious has forced us to find the silver lining, to find the positivity, to find the pivots, and I think because we have been in it for almost a year now … finding a way to survive becomes a part of who you are, and that in and of itself is a silver lining. I think the fact that everybody's had pressure on them has forced us to step up and partner with each other and work with each other and support each other. At the Chamber, that's our ultimate goal, to be the ultimate connector and convenor for everyone."
Jeff Nelson, Connecticut Valley Brewing Company, had good news to share. The brewery, which opened its doors in February 2018, didn't close during the pandemic and 2020 brought it its best year yet in taproom sales. The key to the brewery's success was its willingness and ability to successfully adapt its operations to COVID restrictions, he said. The brewery benefited from having a kitchen, a major advantage right now with the state's COVID-19 regulations requiring that patrons must order food with alcoholic beverages.
Its large taproom and outdoor space with a fire pit allowed the brewery to serve more guests during the pandemic while still staying within enacted occupancy guidelines. The brewery has also expanded its offerings beyond beer and developed a new customer base with new seltzers and CBD lines among its innovations.
"You have to be nimble and you have to pivot and I think that's what we did," Nelson said. "We put in a patio, we put in a walk-up window for our coffee shop and [were] able to reopen that. I think you have to anticipate obviously this isn't going away soon, even though there is a vaccine, so we have to still do what we're doing."
Some trends that emerged in 2020 that Nelson sees carrying into the new year include increased consumer interest in supporting local businesses. While the "support local" movement had traction before, it has become even more popular during the pandemic.
"Because folks can't travel, they find a place and it becomes their local place to hang out, whether its Connecticut Valley or Max Fish or whatever the case may be," he said. Nelson also sees the trend of states allowing direct-to-consumer delivery of beer, wine and spirits finding traction in 2021. Connecticut Valley Brewing currently ships its products to customers in 13 states. "That's provided another couple of thousand dollars of revenue at a time when we're looking for every source that we can to keep money in the bank account," Nelson said.