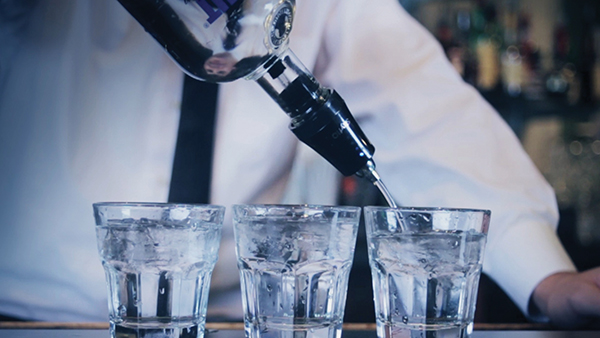 Dispensing systems can save money, improve bar service
By Bob Sample
Waste not, want not. Many who were raised by Depression-era parents almost cringe at the notion of savoring every last morsel of a meal or every last drop of a beverage. In a volume drinking establishment, small amounts quickly add up – costing a bar serious revenue. As a result, automated dispensing systems have come into vogue – especially in catering halls, casinos, hotels and other enterprises that serve high volumes of liquor.
"Smart operators of bars and restaurants recognize the need to have good control of their liquor costs," said Glen Boggini, CEO of SkyPour, the New England distributor for Wunder-Bar dispensing products. "Business keeps getting tougher, costs keep going up and many owners believe they have no other alternative than to pass the costs on to their customers. Instead, automated dispensing systems give owners a way to control much of that cost – and improve the quality of their operation as well."
According to SkyPour's stats, spillage, over-pouring and drink giveaways take a hefty seven ounces from each liter bottle of spirits. In an average bar that uses 40 cases of spirits each month, the loss can amount to more than 1,400 ounces per year. The Wunder-Bar and Skyflo™ systems that SkyPour markets have the distinction of using Wi-Fi technology to link the dispensing systems with computer servers
that collect and organize information on beverage consumption.
This isn't just management nitpicking: Such systems have benefits for the bartender as well. For starters, they can be helpful during extremely rushed periods. That might be dinnertime at a popular restaurant, weekends in June or September at large wedding/catering facilities, or any weekend at a casino. Metering is precise, which ensures fewer spills and do-overs.
"An important benefit of having a pouring system in a high volume setting is to ensure consistency of product," said Frank Martucci, general manager, beverage operations at Twin Rivers Casino in Lincoln, Rhode Island. "When you're doing a high volume of business, you want that level of consistency. It makes the bartender's job less stressful, and it keeps customers satisfied because the drinks they order are consistently the same."
Martucci noted that the issue of beverage loss is fairly prevalent in the bar and restaurant industry. He points out that Twin Rivers does not use pouring systems in its restaurants. "In the casinos, our bartenders are always busy and always pouring so they rely on our EasyBar® dispensing system," said Martucci. The system also encompasses an automated rack for storing and retrieving bottles of the most-requested spirits.
An automated dispensing system is especially well-suited to a busy bar's use of "mixables" – those partially mixed popular drinks that require the addition of one or two non-alcoholic ingredients, such as a fruit juice, fruit itself or a garnish. In a demanding setting such as a casino, this feature is a huge time saver and it enables bartenders keep up with complex new drink recipes, said Martucci. "We've discovered that having a dispensing system lets us keep more brands in stock – particularly, higher end varieties of spirits," said Martucci. "This lets us give our visitors the quality experience they come here for."
SkyPour's Boggini likens this type of quality control to a chef in a restaurant using the same, repeatable recipe. Chefs are precise in the ingredients they use, and automated dispensing systems help bartenders to achieve the same consistency of results.
Because such systems can be customized to a particular bar's needs; they are not just found in huge establishments. At the smaller end of the spectrum, the Manchester Country Club installed a Skyflo dispensing system in mid-2013. "In this type of business, we always look for consistency of portion sizes," said Andrew Aho, the country club's director of food and beverage operations. "The return on investment for this system will be very fast, just on the savings in wine alone." This is actually the second automated dispensing system the club has utilized. The system it replaced was more than a decade old, wasn't as easy to use and didn't offer the same features or level of consistency. The club's staff quickly became fans of Skyflo.
"The Skyflo system ensures the customer always gets the right drink – never more liquor, never less," said Aho. "There are always certain customers who will ask the bartender to pour them more than the portion calls for, and until now that put our bar staff in a difficult position. With the Skyflo system in place, our dispensing is constantly uniform – which is fairer for everyone, including both our staff and our customers."