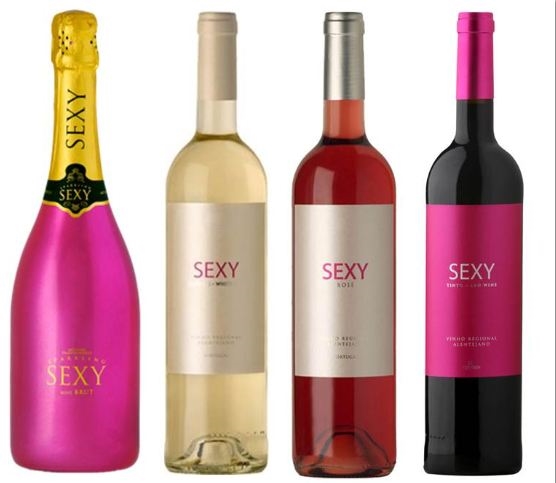 Ancient art meets modern marketing
By Bob Sample
Connecticut's Heather Delphin and Portugal's António Maçanita appeared Feb. 12, 2014 on Fox News Connecticut to share SEXY Wine and food-pairing suggestions for Valentine's Day. Delphin is president and founder of the wine's importing company, SEXY Wine US, while Maçanita is the founder of Portugal's Fitapreta Vinhos, the producer of SEXY Wine, an award-winning winemaker and a wine consultant.
Delphin began importing the wines to the United States two years ago after tasting it during a trip to the Azores. That recent round of local promotion put Connecticut Beverage Journal writer Bob Sample together with Maçanita and Matt Murphy, president of Murphy Distributors of Branford, CT, SEXY Wine's state distributor. The following is an abridged version of the conversation.
How did you first get into winemaking?
Maçanita: I became interested in wine while I was in college studying agro-industrial engineering, a science that encompasses winemaking. I later did several working tours in the Napa Valley, Australia and France. After all this moving around, I wanted to move back to Portugal to start my own winery. I met viniculturist David Booth in 2004 and together we started Fitapreta.
Where in the U.S. are you selling your wines?
Maçanita: We're now in California, Connecticut, Florida, Massachusetts, Maine, New Hampshire, Rhode Island and Washington. The U.S. was not our first market focus. We first introduced our wines in Belgium, Germany and France, then in Great Britain and Canada. Canada was our test market before introducing our wines to the U.S.
Murphy: SEXY is in all the hottest cities around the world. Fitapreta's approach is unlike many other winemakers in that it goes after the markets in the largest cities first. In particular, SEXY's launch did extremely well in Toronto and Montreal, after which we decided to launch the line in the U.S.
What are your price points and target markets?
Maçanita: SEXY sells for $13.99 a bottle, just above what is considered the middle of the value range for wines. They are still under-valued in the U.S. market: in Europe and Canada, bottles of SEXY usually sell for prices 30 percent higher than in the U.S. Because of the quality we've emphasized in making our products, we've ended up on the lists of the best Portuguese wines in the world, as well as on the menus of some of the finest restaurants in the world.
Murphy: Our ideal consumer is someone who likes wine and always wants to try something new and different. Generation Y is now very much maturing in its tastes and buying habits, and people from this age group pride themselves on trying new things.
There are a lot of wines on the market. Besides the awards you've received from the wine community, how have you made yourselves known?
Maçanita: The name SEXY does grab people's attention. Then, they realize that what's in the bottle is quite good. It also has helped that SEXY – and all of Fitapreta's wines – received a lot of good press. In Europe we've been very successful at sponsoring events – and events within events.
What about Portuguese wine in general? Are you part of a trend?
Murphy: The segment is small but it's growing bigger each year. One recent study showed that shipments of Portuguese wines to the U.S. have increased by one-third since 2006. Portuguese wines are especially popular here in New England, where there is a sizable percentage of Portuguese-American people. SEXY is a fusion of Portuguese wine varietals and wines from other regions, while Fitapreta's other lines, Preta and Palpite, are very distinctly Portuguese.
What's next for Fitapreta?
Maçanita: I'm always trying something new. Our newest products are Branco de Talha, which is fermented using a method involving earthenware pots — a method dating back more than 2,000 years. We've also created Terrantez do Pico, which is made from a rare grape indigenous to The Azores. In fact, there fewer than 100 grape vines left, it's that rare. Terrantez do Pico ended up on one of our country's lists of one of the top new wines of the year in 2011. What's most satisfying to me is having people appreciate the great wines that our winery — and our country — produces.