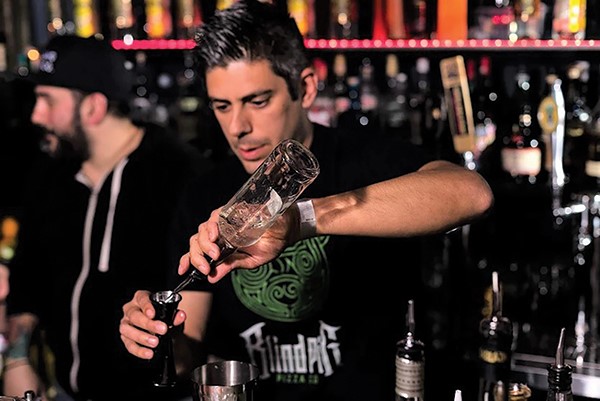 By Justin Morales
The hospitality industry is one of the largest collections of talented unique individuals who do not get respect from the "real world" … and we like it that way. I got my first job in the kitchen when I turned 17. I'd started the race of life several steps back from the standard starting point: dyslexic, feral and poor. I grew up on a steady diet of free lunches, government cheese and church Christmas gifts labeled "boy."
Because of the hospitality industry, I found my stride and my place.
My first job was working for a kitchen manager in a small coffee shop that took advantage of teenagers who didn't know better. In the kitchen, it was just him and me. His face was regrafted together from a major kitchen fire. Lesson one in the business was safety—and it stuck.
I continued my cooking journey through chains, pizza places and a strip club (that kitchen was extremely clean, by the way) until I worked for my first REAL chef at Black-Eyed Sally's in downtown Hartford. This was when The Whalers were in town and the hockey crowds showed up in full force. I worked a saute line, manned 12 burners and two ovens. I got my first taste of the chaos of the kitchen and the person to pull me out was my chef. He knew everything, and when he spoke, it all came together. There I learned lesson two: mise en place.
The camaraderie of working the trenches with my fellow line cooks is also something I have cherished about my journey. I worked with a Peruvian father of three, Carlos. He was in the country only a couple of years when we met, and his humor made my shift much more tolerable; his talent to shuck oysters was beyond impressive. Darlene was an African American lesbian Army vet raising her child with her wife. She got the job done. She was our sergeant. I bring these examples up to show the diversity of lifestyle, ethnicity and talents one can find in most restaurants. These differences are celebrated, not judged, and I grew as a human from every kitchen I have worked in.
Fast forward to New York, where I made some friendships that later would be important connections along my path. Lesson three: knowing the right people and that relationships matter. After a stint at a massive wedding facility in the Bronx as a waiter (well, I was a busser in a cheap tuxedo) where the debauchery was on a whole other level, I spoke to a chef with whom I maintained a friendship and she got me a slot as a server on 83rd and Amsterdam in NYC. I learned to be a server and a very good one, and after spilling wine on a fur coat, I also learned how to properly use a tray.
I worked in NYC, Phoenix and then back to Hartford. When I got back home, it was hard to find any work, but the restaurant gods saw fit that I didn't get to skip the most important role in any restaurant: the pit. Properly humbled, I also found a serving job at a brewery, an old-school foundation of the local area's glory days: the former Brown Thompsons. One day, after my dish shift and on my server shift, the owner was stressed out asking all the employees if they knew anyone who could bartend that night. The only bartender who could work on Tuesday nights quit. Granted, the bar was small and very rarely occupied, I raised my hand and told a fib … "I bartend at my other job."
He knew I was a good worker and could tell a few jokes, so he gave me a chance. Even with Mr. Boston's bartender book, I was still horrible. After a while, I befriended one of the older bartenders, the legendary Ely (we called him by his last name). All the bartenders had one bad shift in their rotation and Ely's was Thursday night in a comedy club, usually for 12 people for two hours. He complained how nobody wanted that shift. I said, "I'll take it," and his eyes lit up. My next training ground. From there, I was working the slow shifts.
Summer came and the better bartenders working the "real" shifts started taking time off; soon, I was the only one left to fill in the gaps. Now with regular shifts, I was off to the races! I worked at more places and became better at each turn, learning alongside some of the best in the business. I started to take this bartending thing seriously. I won my first cocktail competition and I never looked back. I was packing them two to three deep, waiting for seats at the end of the bar where I was working. No shift was a bad shift. I was making money, connections and, I thought, respect.
Then came the first time a regular guest asked, "So what's your real job?" Instantly, all the work and training I had done to get to this point, where he and his wife waited just for my services, thought this was just a hobby or, even less, something that any unskilled laborer could do. They loved me to the point they thought this was beneath me. The timing, the retention of what they drink, how they like their salads, the banter that keeps them laughing, knowing when not to talk and when they want to be left alone. I was the person they brought their friends and families to see when they were in town for the night to have a good time.
At first, I was bummed, then pissed. This brings me to lesson six: Civilians will NEVER understand. They will always be on the outside. They think it's not a real job because we make it look easy. They will also never understand how we treat each other and that the level of service they get is magnified by the level of service we give each other. I love that this underground lifestyle is for us only.
I started out far behind, and if I tried to get a real job under their definition, I would be scared to write what I think my outcome might have been. In the hospitality industry, we all start at the same spot in the race, no matter where you come from. And when you're in the club, you will always be in the club. Siblings relate from experience; it is a family. I have worked with rich kids, poor kids, college grads and dropouts. It's a meritocracy where we all are treated poorly based on who can keep up but the rewards are for those who can bind you together. We all love each other because we, on this island of misfit toys, understand that the people with real jobs could never do our jobs as good as we could theirs.
If you ask my real job … I am a hospitality professional. I wouldn't have changed my path and I was blessed to have found it. It is my real job. What is your real job?
Bar and restaurant professional and entrepreneur Justin Morales, founder of Sugar Skull Spirits, LLC and Up n' Down Rock and Bourbon, has created and managed beverage and restaurant programs as well as award-winning cocktails for dozens of venues across the state and region. He was the recipient of the 2017 Connecticut Restaurant Association's Mixologist of the Year.