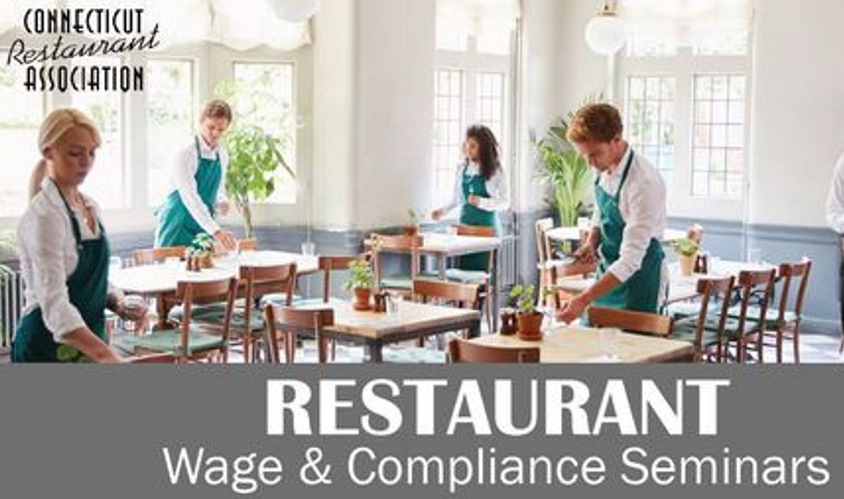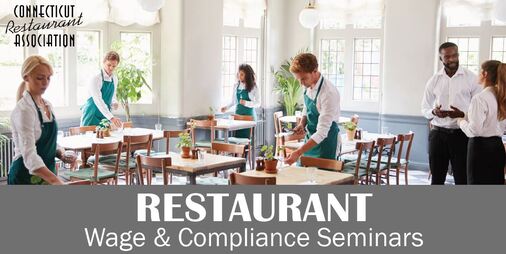 WHAT: The Connecticut Restaurant Association will host four seminars across the state to help educate restaurant owners and operators on wage and compliance issues facing their business. Each seminar will feature presenations from a panel of industry experts on topics including Wage & Hour Audits, Tip Pooling, Overtime Rules, Immigration Enforcement, Sexual Harassment Training, Mandatory FMLA, Server Side-Work and Exempt vs Non-Exempt Classification. Guest Panelists will be Ryan O'Donnell, CRA Legal Counsel, Siegel, O'Connor, O'Donnell & Beck; Daryl DeMarco, Restaurant HR Consultant, HRCT, LLC; Dave Kaletski, Partner, Datapay Payroll Services; and Nicole Griffin, CRA Contract Lobbyist, Powers, Griffin & Hill. Scott Dolch, Executive Director, Connecticut Restaurant Association will moderate each session. CRA members receive free admission for up to two people.
See more information and register here.
For questions email: membership@ctrestaurant.org.
WHEN/WHERE:
Monday, January 27, 2020, 9:00 AM – 11:00 AM
Wood N Tap – Newington
3375 Berlin Tpke
Newington, CT 06111
Tuesday, February 4, 2020, 9:00 AM – 11:00 AM
Eli's on Whitney
2392 Whitney Avenue
Hamden, CT 06518
Monday, February 10, 2020, 9:00 AM – 11:00 AM
Saybrook Point Inn & Spa
2 Bridge St
Old Saybrook, CT 06475
Monday, February 24, 2020, 9:00 AM – 11:00 AM
Boca Oyster Bar (at Steelpointe Harbor)
10 E Main St
Bridgeport, CT 06608