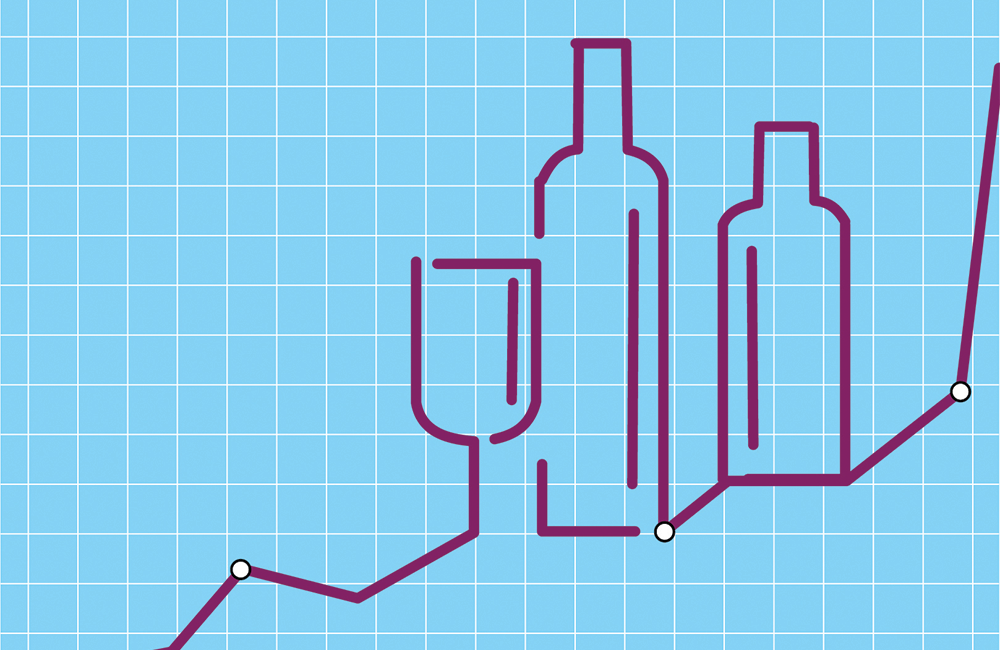 Combining resources,  SipSource Vaults the Industry into the 21st Century of Data Analysis
By Liza B. Zimmerman
In today's business environment, data is more valuable than ever—the broader, deeper and finer-grained, the better. This fact is particularly relevant to the wine and spirits industry, whose fragmented state-based system and dominance of private companies has left glaring gaps of relevant data. Enter SipSource, whose inaugural May 2019 Report launched an altogether new aggregation of industry sales, powered by wholesale data.
SipSource was created at WSWA (Wine & Spirits Wholesalers of America), and Jo Moak, project manager and a Senior Vice President and General Counsel for WSWA, asserts: "SipSource aggregates, arguably, the most brand-specific sales data—specifically, wholesaler depletion sales to retailers—of all the data sources available in our industry."
Moreover, SipSource has immediately commanded respect across the industry. Rob McMillan, the founder and executive vice president of the Silicon Valley Bank Wine Division, has called SipSource "a breakthrough in an industry that has traditionally been family-owned and quite secretive," adding that the wine market has never traditionally had "great information about on-premise sales, but "[SipSource] has more information about the marketplace, its size and scale than anybody."
So, what does it do? SipSource combines data from five top wholesalers—who serve 86% of the U.S. market and represent 47 states­—plus retail sales figures from Nielsen, Vermont Processing Information and global management firm A.T. Kearny to provide broad drinks market insights. SipSource features rolling, 12-month volume trends updated quarterly; lists of top brands; and data aggregated to national, regional, chain and independent accounts. It will also provide product category management and segment reporting, as well as insights on how specific segments are faring.
More Really is More…
SipSource data currently comes from five top wholesale players: SGWS, Breakthru Beverage Group, Republic National Distributing Company, Young's Market Company and Lipman Brothers in Tennessee. "There is an insatiable appetite for high-quality data in the beverage alcohol industry. Along with the data, I am blown away on the weekly calls by the executives and analysts that make up the SipSource team and the brain capital they represent," added Barkley Stuart, a former WSWA chairman and current SGWS Executive Vice President, who was instrumental in getting the project launched.

SipSource expects to cover the remaining three states in 2020. Michael Bilello, Senior Vice President of Communications and Marketing at WSWA, also notes that seven new wholesale partners will be joining as data providers. Stephen Rannekleiv, Global Sector Strategist for Beverages at Rabobank, adds, "The value of the data will only increase as more wholesalers participate. Having more wholesalers will increase the share of the market being covered, which will increase the confidence in the data. It will also likely add greater visibility into specific regions, where certain smaller wholesalers have a stronger presence."
The full loop of depletion data combined with Nielsen data on sales provides a very comprehensive look at the drinks business. Danny Brager, the Southern California-based Senior Vice President of Nielsen's beverage alcohol practice, shares, "The pipeline starts with what ships out to the retailer and then to the consumer." As a result, with the tabulation of the two data sets, "any perspective that gives a broader view is valuable."
SipSource analyst Dale Stratton emphasizes that, in developing a more comprehensive means of harvesting industry-wide figures, they have been able to "reference and validate" data from other sources. These include not only Nielsen, but also National Alcohol Beverage Control Association (NABCA) and ShipCompliant by Sovos. In short, this confirmation bodes well for the accuracy of SipSource's much broader and deeper data. The added scope inspires confidence both for SipSource's brand-oriented statistics, but also their ability to account for important channels that previously were untracked, most notably independent retailers.
The Key Trends
The inaugural SipSource Report reveals some critical consumer behaviors and category trends. Wine, according to SipSource, as well as other industry sources, is slowing down in terms of volume, says Brager. While it "struggles for consumer growth, spirits are chugging along pretty nicely," he adds. The bulk of growth in the spirits sector, he notes, is coming from whiskey, tequila and the ready-to-drink (RTD) category. The RTD sector is driving sales, Brager adds, by offering diversity in terms of flavor profiles. They also tend to appeal to both genders and many different age demographics. He goes on to note that spirits are currently more affordable than wine both on- and off-premise.
Within RTDs, hard seltzer is rapidly gaining share. It's affordable and low-carb, so it appeals to health-conscious drinkers, who are a growing demographic. Technically, hard seltzer falls into the beer category because it is malt-based. It has grown to $1.3 billion in dollar sales in the year ending November 2nd, 2019 according to Nielsen off-premise data, compared to $440 million one year ago.
The same demographic that has fueled the sales of hard seltzer also loves hard water and coffee, he notes. He adds that young people are willing explore categories that embrace health and wellness to a greater degree than ever before.
The bottom line, according to Stratton, is that wine "producers need to think of how to appeal to younger consumers." The level of experimental behavior ensuing in the wine industry is positive, he notes, and the tasting room experience in wine country continues to evolve. This is, in great part, because visitors want to take a deeper dive into the wine country experience. Stratton thinks that this move may well bode for better days ahead for the wine industry.
Sipsource's Top Takeaways
Some data-driven conclusions (based on case volume, October 2018 – September 2019)
The spirits and wine markets are no longer moving in unison as they have in the past. Wine is on the decline, while spirits are on the rise.
Spirits are seeing an uptick because they are affordable, appeal to a younger consumer and are perceived to be healthier. Overall spirits sales were up by 3.2%.
Tequila and mezcal are the leading spirits with an increase in of 9.5%.
They are closely followed by Irish Whiskey at 9% growth and then Cognac at 6.6% growth.
Wine depletions have seen a 2.2%  downtick.
Red wine was down by 3.5% and white was down by 2.5%.
Sparkling wine is continuing to grow, particularly Prosecco, which was up by 11.5%.
Small sizes—such half bottles or 375s—are doing quite well as many of them are canned wine formats. The industry is also ramping up its commitment to 375ml bottles of wine as an aging population enjoys them more than ever.
Hard Seltzer, which falls into the beer category because it is malt-based, is seeing fantastic success.