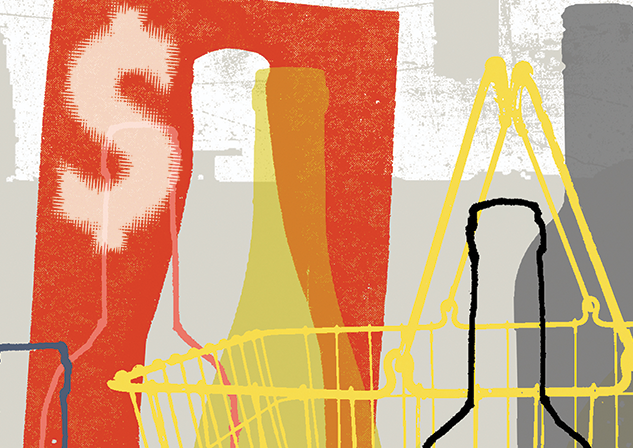 Wine And Spirits Industry Scrambles To Cope With Trump's Vexing New Tariffs
By Jeff Siegel
How do you prepare for major involuntary price increases on some of your most important products? Very carefully.
Last October, the wine and spirits industry got caught in the cross-hairs of a U.S.-European trade dispute over airplane parts, and the result was a 25% tariff hike that is sending ripples of uncertainty across all three tiers of the industry. The new tariffs cover a variety of European products, including French, German and Spanish still wine under 14% alcohol, single malt Scotch, and assorted liqueurs and cordials.
So, how best to react? "We expect our guests to pay just so much," notes Clara Klein, the head sommelier at Sunday Vinyl, a wine bar in Denver that is part of the Bobby Stuckey's Frasca Food & Wine restaurant group. "We don't want them to feel like we're taking advantage of them. It's about answering guests' questions, and telling the truth about why there is an increase. That's the best way to mitigate any bad feelings."
"There's going to be an inevitable price hike, if there hasn't been already," reasoned Howie Rubin, who owns Bauer Wine & Spirits in Boston, last November. "Anything we do now, we have to do with an eye on the future. That means adjusting our inventory to move to something else, if the price increase means we can't sell it. Their first loyalty is not to their brands, but to their wallet."
Some restaurants and retailers may be facing as much as 25% to 30% increases in wholesale prices on the affected items, though the amount varies by parts of the country and local liquor laws and taxes. In New Orleans, several trade attendees at a wine festival in November said they were optimistic they would be able to hold price increases to a minimum, says wine consultant Tim McNally. And Thierry Nuckles, who oversees pricing at Kelley's Beach Liquors in Fort Walton Beach, FL, confirmed in November that he had not yet seen "glaringly obvious" price hikes from his distributors, although he was told to expect them.
But in Kansas City, Kansas, Doug Frost, MS, MW, feared he'll see as much as a 30% increase for the wine he buys for The Restaurant at 1900. That would make his job difficult enough, but it's further complicated by restaurant wine prices a couple of miles away in Kansas City, Missouri, which are about 10% lower thanks to lower taxes in Missouri.
The price hikes also depend on how much wholesalers want to cut their margins to limit the increase. It's not necessarily happening a lot, but when it has happened, say owners and operators, it's happening for brands that are important to the wholesaler. This may limit some increases on single malts, for example, so that they don't lose shelf space to cheaper brands.
All things considered, the tariff-imposed price hikes could significantly alter how retailers and restaurants do business, says Rubin.
So what can licensees do to cope?
Remain optimistic.
In canvassing for this article, the sense on the East Coast is that the tariffs will last forever. People are more optimistic as you move across the country. Of course, political winds can shift again suddenly (at December's NATAO Summit, President Trump threatened to put new tariffs on French wine and cheese. An apparently new talks within the World Trade Organization (WTO) could present an opportunity for compromise. So, optimism is an approach many can live with, despite the disruption that could be possible if the tariffs go through the end of 2020.
Prepare for the worst.
"The best approach, we believe, was to prepare for a world with the tariffs for the long term, but of course we hope they will go away quickly," says Andy Glaser, Vice President with Maisons & Domaines Henriot America. "So when preparing our plan for 2020, we made the assumption that they will last for at least a year." That means increasing prices to reflect the tariffs on January 1st. "Our priority is to protect our margins from this tax." he says, "and to maintain our highest-quality standards and ultimately protect both our terroir and people."
Buy before prices go up.
Klein says she was trying to stock up on vintages that were in distributor warehouses before the tariff went into effect in October. The catch, though, is that lots of other accounts were trying to do that, so much depends on the relationship with the supplier. In addition, says Rubin, many higher-priced wines, such as Bordeaux and Burgundy, are in modest supply on this side of the Atlantic. Hence, there isn't much pre-tariff merchandise to buy, even if the distributor is willing to sell it. One more problem: Where do smaller operations keep extra inventory they bought to stock up?
Keep looking for deals.
One uncertainty among the many with the tariff is what wholesalers will do. Will they spotlight some products, and absorb those increases? If so, then there will be deals to be had, but only with specific volume purchases, say retailers. But this has its own dilemma: Will retailers be able to sell a pallet of something – or even 10 cases?
Look around for less costly alternatives.
Frost says his wine list at 1900 concentrates on the very wines that have been included in the tariff. So he has to find something similar to a white Loire to substitute—maybe something from the less expensive Languedoc or a less costly region in the Loire. That could mean, says Rubin, going to Quincy or Menetou Salon instead of Sancerre. Klein says unoaked Central Coast Chardonnay may be able to fill in for French wines. There's a catch here, too, though: quality. No one wants to use a cheaper wine just because it's cheaper. This conundrum could also apply to single malt Scotch: Will consumers move to blended whiskey or other single malts tha aren't included in the tariff?
Focus on Tax-Exempt products.
Rubin says one way he'll approach the increases will be with high-end brown goods—bourbon and rye, as well as super premium gin and vodka. "Those will also help with the cordials and liqueurs, because they're not as popular as they used to be for gifts," he says. "I have to take my cue from the market, and keep track of what people are asking for. If I can listen to my customers, I won't be caught buying stuff that won't sell but that I bought because it was cheaper." Klein says one difficulty with moving to higher-alcohol wines, which are exempt, is customer expectations. People seek lighter, European style wines because they prefer that style, so moving to something heavier may be as counterproductive as increasing prices.