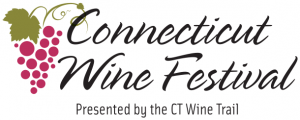 WHAT: The Connecticut Wine Festival, presented by the CT Wine Trail, features 17 Connecticut wineries, locally-produced foods, live music, artisan vendors and more. Participating wineries include: Bishop's Orchards, Brignole Vineyards, DiGrazia Vineyards, Holmberg Orchard and Winery, Hopkins Vineyard, Johnathan Edwards Winery, Jones Winery, Miranda Vineyard, Paradise Hill Vineyards, Priam Vineyards, Savino Vineyards, Sharpe Hill Vineyards, Staehly Farm Winery, Sunset Meadow Vineyards, Taylor Brooke Winery and White Silo Winery.
WHEN: Saturday, July 20, 2019 from noon to 7 p.m. and Sunday, July 21, 2019 from noon to 6 p.m.
WHERE: The Goshen Fairgrounds, 116 Old Middle Street in Goshen CT on Route 63.
See more information here.
See highlights from last year's event here.