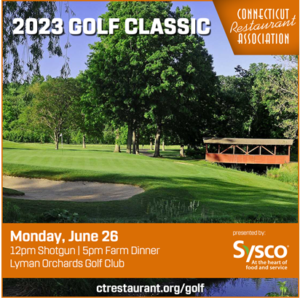 WHAT: The Connecticut Restaurant Association (CRA) will host its Annual Golf Classic at Lyman Orchards Golf Club  on June 26, 2023, presented by Sysco. CRA brings together restaurant operators and industry vendors from all across Connecticut for a fun day of golf, followed by the 2023 CRA Chef Farm Collaboration Dinner, sponsored by Performance Foodservice. The annual outing supports the Connecticut Hospitality Educational Foundation (CHEF),  the non-profit 501(c) and CRA.Visit ctrestaurant.org for more information and sponsorship opportunities.
WHEN: Monday, June 26, 2023
WHERE: Lyman Orchards Golf Club, Middlefield, CT
See last year's highlight's here.