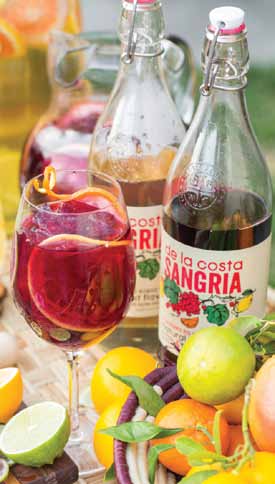 Upping the Ante on Higher-Quality Sangria
By Amy Zavatto
Sangria, according to Merriam-Webster, is "usually iced punch typically made of red wine, fruit or fruit juice, and soda water." But that definition may soon be as outdated as Webster's hardcover dictionaries. A growing gaggle of producers have a mind to boost the notion of a premium sangria category seriously.
And why not? As a category, the resurrection of sangria is the most fragrantly ripe of low-hanging fruit. The notion of reworking it seems so obvious, it's painful—overly sugared, questionable ingredient, lesser-quality versions have long populated shelves. Sangria's history is built on low-grade wine, no doubt, but the high recognition factor works in the new wave of sangria's favor—straight out of the book of teaching old dogs new tricks.
Uplifted by the EU
Another sign that sangria's reputation is already under repair: it now enjoys an official European Union definition. While there is no specific region defined, Iberia is now established as sangria's ancestral home. In 2014, the European Union deemed that only bottled or boxed sangria produced in Spain or Portugal could bear the sangria moniker on labels. It went on to define it as: "a drink obtained from wine, aromatized with the addition of natural citrus-fruit extracts or essences, with or without the juice of such fruit and with the possible addition of spices, sweetened and with CO2 added, having an acquired alcoholic strength by volume of less than 12% vol."
Granted, those regulations only pertain to EU commerce, but establishing the primacy of Spain and Portugal can only help the fruity wine's quality image.
The Iberian identity has worked very well for market-leading Reál Sangria, a Shaw-Ross import made from primarily Tempranillo and Garnacha in Spain. Confident in sangria's future, the brand has expanded packaging options to include 187mls, 1L, 1.5L and 3L bag-in-box.
Opici, Beso del Sol and Eppa are three newer brands also perching their sangrias on a Spanish mantel of authenticity, using Tempranillo for the red and Arien for the white. "What makes a true sangria is it has to made fully in Spain," says Bradd Leviton, CEO of Beso del Sol, which was initially created for Disney, passing the sniff test of that company's Master Sommelier beverage director. "We're one of the very few that's truly authentic."
Growth Spurt
For others who've entered the premium sangria sanctum, it's less about the where than the what. Genuine fruit purée, juice and extract are common themes, as is the use of pure cane sugar as an extra sweetener. It seems to be working. According to Nielsen, the first half of 2016 saw a 10% climb in dollar value for the sangria category. While demand continues rise across the board, more than 2 million (9L) cases of sangria flew off shelves in 2015.
Producers like Señor Sangria's Rick Martinez have experienced explosive growth. Since launching in 2007 with revenue around $180,000, sales of his red and white bottled sangrias have now climbed past $3 million annually. His base wines are mostly from New York state, where Señor Sangria is produced, and both the red and white feature fresh juices and purées, as well as pure cane sugar.
Diversity Broadens Naturally
The looseness of sangria's composition has naturally led to diversity among the products themselves. With the overall image of sangria elevating, production and composition details can double as selling points. For example, Mija—a brand owned by Latitude Beverage, creators of the 90+ Cellars lines keeps the heat pasteurization process, but doesn't filter out all the pulpy goodness of the fruit. "In ours there's actually fruit sediment," says Terry Lozoff, the firm's VP of Marketing. "You have to shake it."
Eppa, marketed by Deutsch Family Wine & Spirits, is dubbed a "SupraFruta Sangria," drawing attention to the inclusion of organic pomegranate, blueberry,blood orange and açai juices—all considered high in antioxidants and vitamins.
De La Costa Sangrias, made by the Glunz Family start with a high-quality Paso Robles wine which is then given added dimension by infusing the just made wine with fresh citrus extraction. (at 11.5% alcohol, De La Costa is also one of the highest proof sangrias, a point of pride for the family, since it means they aren't adding any water).
Decadent Saint's Michael Hasler fashions his crafty sangria quite distinctly. In addition to keeping his sangrias at 20.5% ABV, Hasler concentrates the fruits and extracts in his red and white Decadent Saint offerings, into something between a syrup and purée. This not only extends the life the of the product (in his case, a whopping 6 months unrefrigerated after popping the flip-top), but also how far a bottle goes—one 750ml delivers 13 16oz pours because you have to add sparkling water or wine to the mix. The white is a sunny blend of passion fruit, orange juice, ginger and mint that comes alive with a little soda water—add a little Prosecco and it's downright Bellini-like.
Tasting Good, Looking Good
Packaging in the category is naturally getting more attention from the marketing side. Ed Hardy, for instance, in addition to playing off the brand's signature tattoo-inspired look, is offering both red and white sangrias in 500ml Tetra Paks.
Opici is bullish on sangria, for very fundamental reasons, according to VP of Marketing Michael Wolff. It makes for affordable, easy drinking, he points out, plus it is a traditionally a social drink: "Sangria is never meant to be enjoyed alone!" All-natural, Opici sangrias are made in Spain's La Mancha region; tropical aromas and flavors allow the white to stand apart, while the red delivers classic red wine, spices and fruit extract from Valencia, which is world famous for citrus.
Sangria's future is bright, promises Wolff. He believes that, like rosé, sangria is becoming a year-round option for fans, who include seasoned table-wine drinkers as well as fruit-seeking entry-level fans.
In yet another sign that sangria has turned a corner, an imported draft brand has launched. Tiki is Spanish sangria (6% ABV), sold in portable, re-tappable kegs. No refrigeration needed—the sangria gets poured over ice, in pitcher or glass. A little fruit garnish, et voilá, ready to drink.
Selling Tips
Like fruit? Look no further: sangria stands ripe and ready to entice many a red blend lover
Sangria is a crowd-pleaser, perfect for parties (especially during summer)
Room for creativity: rather than making sangria from scratch at home, start with a good RTD sangria and add fresh fruit and ice
Don't underestimate the food-friendliness; fruity but not intense, and smooth, sangria goes will with a variety of dishes.