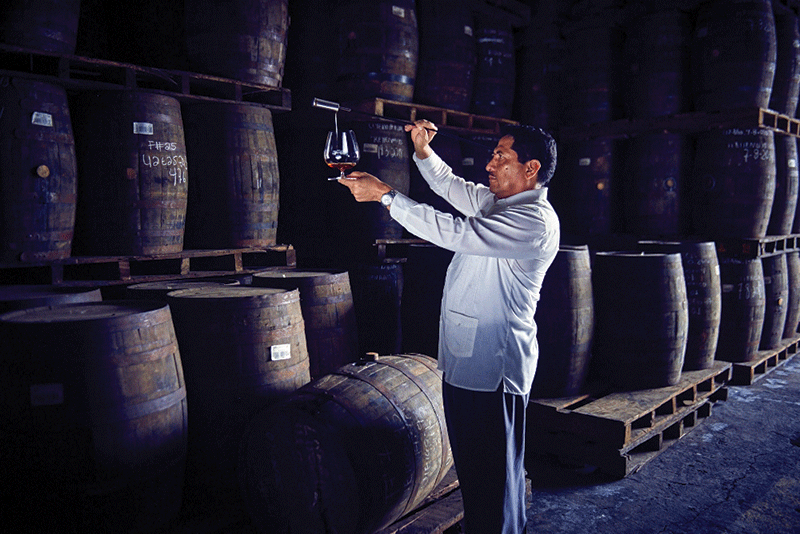 As Premiumization Reaches Rum, The Action Is In Aged Expressions
By Jack Robertiello
When Gruppo Campari threw open the doors to their $7+ million expansion of Appleton Estate distillery in the hills of Jamaica in January, it was only the latest step in their effort to upgrade the reputation of the best-known aged Jamaican rum.
This expansion comes after recent double-digit growth for Appleton Estate Reserve Blend and Rare Blend 12 YO, the introduction of 21- and 50-year-old expressions, and the swapping of J. Wray for Appleton on the Gold and Silver rums, leaving Appleton as an aged-only brand.
It only makes sense; for the past few years, the turn-of-the-century drivers of rum sales—inexpensive white and the cornucopia of flavors—had fallen from favor, as American drinkers increasingly turned to older, more complex and sophisticated spirits. Only in the super-premium end does rum show growth these days, and as a result, companies are dusting off older expressions, introducing limited editions and barrel finishes, and venturing into the select cask business in which retailers and restaurateurs get a crack at having their own bespoke bottles.
How badly has rum lagged in the premiumization boom? According to rum king Bacardi, the 15% premium share of the category is puny compared to what's going on in tequila (53% share) and whiskey (43%).
The attention to rum's ageability received a potentially significant boost  this spring: Bacardi rolled out two new premium products (Bacardi Añejo Cuatro and Gran Reserva Diez) joining Reserva Ocho and Gran Reserva Limitada in their range of ages and prices (srp $19.99 through $100). Bacardi is backing it with a campaign that trumpets accurate age statements, a topic of debate throughout the rum world for years.
"Premium rum is really the last frontier in the spirits category that is unconquered, and we're excited to be launching these new expressions," says Ned Duggan, Vice President, Brand Managing Director for Bacardi.
Pushed to the front of the campaign and highlighted on labels is the "undisturbed aging" concept, an idea that many rum producers and aficionados support as a way to codify rum's ageability.  "With the idea of minimum aging, we really want to educate consumers and the trade that we are using Puerto Rican regulations which dictate the age on the bottle is the youngest in the blend," he says, so that rums as old as six may be included in Cuatro, as old as 10 in Ocho, and above 10 in Diez.
Similarly, other countries allow labeling of a "solera" method as well as an age statement, as with Zacapa and Botran from Guatemala, something solera method creators in Jerez would never allow. In the case of rums with both a number and "solera" on the label, chances are it simply means there is a bit of rum with that age statement contained in the blend.
Other producers applaud Bacardi's labeling approach as a key move by a category leader to push aged rum to the forefront. John Eason, coo/evp, of Don Q-producing Serralles USA, believes that if suppliers would agree to an age statement definition and to declare added sugar content, rum's fortune's would improve. He adds, "In two years the EU will require nutritional information on all spirits. In Germany and some other countries, companies have to disclose whether they add color or caramel to their products. Rules like these help distilleries that make 'honest' rums; rums that don't use additives to mask the quality or aging process."
Serralles' portfolio currently includes an Añejo, a Gran Añejo (aged 9-12), a Single Barrel and recently added a Double Aged Vermouth Cask.
Moves to expand aged rum's prominence get applause from folks like Martin Cate, owner of the tiki haven Smuggler's Cove in San Francisco: "What we're finding success with are things that have evidence of authentic and minimum aging. My guests look for country of origin, provenance, not too much marketing lingo," says Cate. "And when they hear about minimum age and no additives, these are the things they want more of."
Fast-Tracking Awareness 
It's only a question of how quickly the evolution will occur, says Dorothee Heriard Dubreuil, Director of Brand Marketing for Mount Gay. "Consumers are more educated today and they want quality products. With the only portion of the rum category growing being premium rums $25 and up, I have a feeling the next coming years are the moment where we will see the trend heating up."
Mount Gay, in addition to an XO and a double-matured Black Barrel rum, offers a limited release 1703, aged 10-30 years, and a one-off Origin series, which this fall will include a peat-smoked XO expression, the sort of experimentation she says the category needs.
Ben Jones, who heads up Spiribam, the importer of Martinique's Rhum Clément and Rhum J.M, as well as St. Lucia's Chairman's Reserve Rum and Guadeloupe's Rhum Damoiseau, also credits the range of origins and styles available here now for the improved reputation of aged rums. "Finally we're starting to see a lot of different brands from different places with real heritage, brands with gusto and good stories, and we're at the dawn of the premiumization of aged rums," he says.
Newcomers are also entering the aged category. Rum Co. of Fiji is currently making its U.S. debut with two tiers, Bati (premium) and Ratu (extra-aged). Ratu Dark Rum is aged 5 years (which includes many older stocks) and is filtered through coconut shell charcoal, which renders it ultra-smooth. Their other claim, not unlike one hears in the wine world: "When you make rum with sugar cane from Fiji's volcanic soils, you end up with richer, purer juice," says Heath Baker, President.
After years of admiring what whiskey and tequila producers have done with single barrel programs, Clément is now on the third year of a limited cask program for a network of rum specialists, important as rhum agricole is still less understood by consumers and the trade than the dominant molasses-based rums.
Roll out the barrels
Plantation, a collection of Caribbean rums aged in France, has already offered single barrels to the market, and while they have worked mainly on-premise, Guillaume Lamy, Vice President-Americas for importer Cognac Ferrand, also sees great opportunity off-premise.
"Today consumers are more educated and starting to realize the world of rum is just as fascinating as Cognac or whiskey. Now retailers are starting to realize that having a $25 to $28 rum on the shelf is a valuable thing," says Lamy. "We have to thank the whiskey guys for guiding the consumers to higher price points. A lot of retailers see the price of whiskies, and they know at some point customers will be looking for alternatives at the similar price point."
Brands like Goslings are joining the special bottling fray as well. "All ours are aged premium—our Old Rum is aged 16 to 20 years and we're seeing a lot of attention being drawn to that," says Malcolm Gosling Jr., who just picked up a listing for the aged expression in the important Pennsylvania control market. Goslings, too, has limited releases in the planning stages, including a single barrel called Papa Seal aged from 12-17 years. He's considering a biannual release of different barrel-finished expressions in the future.
That increased attention to origin, finish and style is essential, says Don Q's Eason: "Pirates, captains, and sea monsters aren't going to cut it anymore. The consumer is clearly becoming more educated and moving on from that."