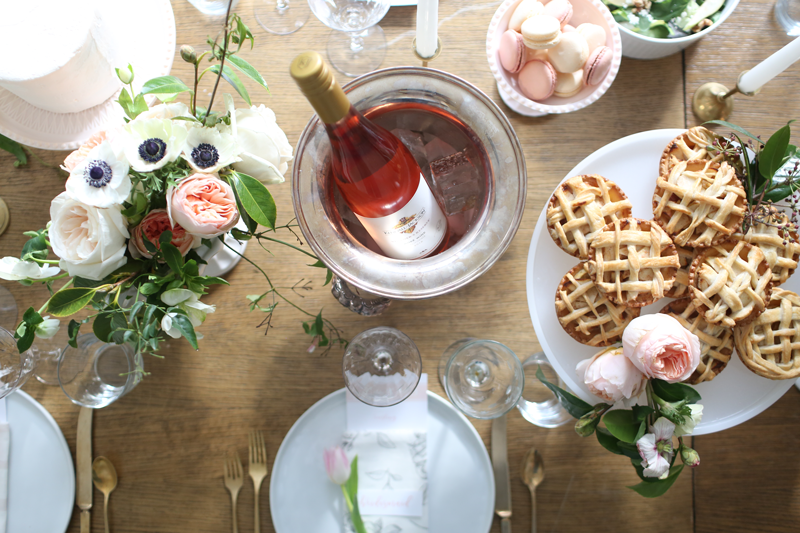 The Season Is Ripe For Gifts & Advice
By Roger Morris
Last year, when she was preparing for her wedding, Jenn Sanders decided to sign up for a bridal registry, but not the typical one at a department store for gifts of china, silverware and household accessories. Instead, Sanders chose a registry at the store where she is employed, Calvert-Woodley wine and spirits in Washington, DC, a special service the shop has been offering its clients since before Sanders went to work there seven years ago.
A bridal registry at a bottle shop?
"We received five cases of wine for our cellar from family and friends," Sanders says proudly. "People are marrying later these days," she points out, and many couples have already set up housekeeping before they tie the knot and thus need fewer household items. "Registering for wines or spirits gifts is a fun thing to do," she adds, "and I think we could have more bridal business if we really advertised that we had a registry."
Local wineries, especially on the East Coast, have long realized that wines and wedding bells make a great pairing, and over the past few years they have latched onto bridal events—from staging weddings in the vineyards to engagement parties at the winery—because today's newlyweds are looking for more experiential venues to evoke richer memories than they might get at the family church or the neighborhood catering hall.
Carley Razzi Mack runs Penns Woods Winery in Chester County, PA, along with her father, importer Gino Razzi, who serves as winemaker. "We host maybe 10 to 20 bridal showers each year for up to 40 people each," Mack notes they are not yet equipped for weddings due to the size of the facility and lack of indoor space. "But we still get at the very least five inquiries a week for bridal events," she says.
Join The Party
For some reason, however, retail wine and spirits shops have been slow to get on the matrimonial bandwagon, even though a few have successfully done so.
"We've had success with our registry," says Emma Goff of The Wine Cellarage, located in the Bronx in New York City, although she notes that a recent e-commerce platform change has slowed business down. "Customers created their own registry and were given a website link," Goff says. Although some couples want to stock their bars with a selection of craft spirits, "most are looking for high-end wines in the $50 to $100 range," says Goff. After the wedding, wines are shipped to the couple's address.
New York-based Sokolin Wine Company also offers customers a variety of registry services including gift consultation, free announcement cards, free storage for six months and a 10% discount on registry items purchased up to three months after the event.
Several stores that do not have registries still counsel their customers on sparkling wines to buy for the wedding toasts and appropriate wines to purchase for their receptions and dinners. One shop owner notes that the wedding caterer usually is in charge of the wine as well as the food, "therefore a useful strategy for a retailer is to cultivate caterers who do not have a liquor license themselves."
For retailers who are interested in taking the plunge into the wedding world, here are some suggestions garnered:
Before getting started, spend some time online seeing how traditional bridal registries such as those by Pottery Barn, Williams-Sonoma and Target are operated.
If you think bridal registries might be too limiting, create a general gift registry for all occasions including graduations and other life events.
Test the system to make sure all the bugs are out before you open it online.
Have available two or three suggested gift lists at different price levels for newlyweds to choose from, but be ready to provide personal counseling as well. And remind givers and recipients alike that quantities of bottles can be adjusted to suit budgets.
Encourage couples not to give guests too many choices, as that may prove as intimidating to non-aficionados as looking over a captain's wine list at a three-star restaurant. After all, unlike blenders, you can't get too many bottles of a second-growth Bordeaux or a super-Tuscan.
While having everything conducted online is great for distant guests, you might consider special incentives to get local customers, old or new, to visit your shop to make selections in hopes they will become regulars.
Of course, having a bridal registry in a wine and spirits shop may evoke some humor from the guests. "Naturally, we had people joke that they expected invitations to visit to help us drink the wines," Sanders says.
But she also is looking forward to more-personal moments in future years. "Guests were able to write notes to go with their bottle gifts," she says. "So we're looking forward to opening bottles years from now and reading the notes. They will give us a lot of good memories.