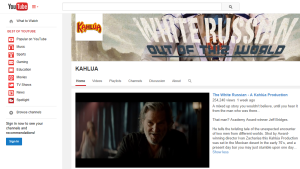 Kahlúa®, the classic rum and coffee liqueur, has joined forces with Academy Award-winning actor Jeff Bridges to release "The White Russian," a Kahlúa Productions short film honoring the classic cocktail. Bridges, who narrates and stars in the short film, recounts an adventure-filled story with twists and turns for the characters, all while sipping on a classic White Russian cocktail.
"There are few classic cocktails that resonate as powerfully across generations as the White Russian made with Kahlúa and we wanted to partner with a fellow icon like Jeff for this film to showcase the importance of a timeless classic," said Brian Mequet, Vice President, Rum and Liqueurs, Pernod Ricard USA.
"The White Russian" short film was directed by Ivan Zacharias and is an intriguing story about the unlikely meeting of two men from different worlds, as told by a man reminiscing about his past adventures. That man is none other than film legend Jeff Bridges. With a few surprise characters and plot twists, present-day Bridges narrates the unusual adventure all while sipping a White Russian cocktail at a bar.