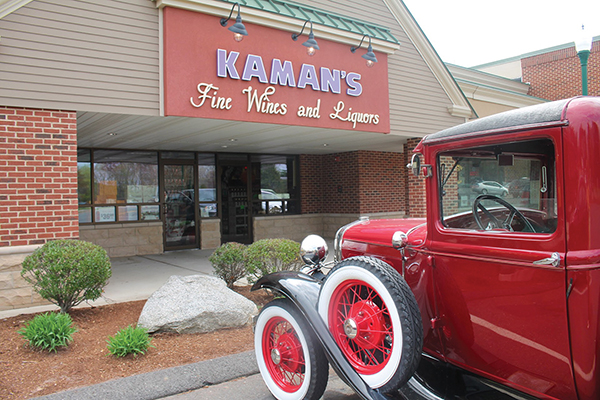 Kaman's Wine & Liquors
95 South Road
Somers, CT
By Bob Sample
Square footage: 4,000
Years in operation: 20 (6 in Somers location)
An old adage holds that "when one door closes, another opens." For the door that closed involved corporate layoffs that occurred 14 years apart. Yet the door that opened was the same for both: the entry to Kaman's Wine & Spirits. Kaman opened his first store in East Windsor, Connecticut, in 1995, followed by a larger store in nearby Somers in 2009. Dagon became its store manager soon after its grand opening.
"We don't think of Somers and East Windsor as two stores, but as one large store in two different locations five miles apart," said Kaman. "Both are relatively small, but we offer an excellent selection in each category." Kaman built the Somers store from the ground up, which gave him an opportunity to add special touches, such as hand-crafted cabinetry. At the same time, a new supermarket was built next door, which helped drive traffic to Kaman's new package store.
The Somers store's opening also coincided with some exciting changes in the industry. As the craft beer industry in Connecticut began to take off, and to help cement ties with those budding producers, Kaman hired Matt Smith as beer manager. Smith also took on managerial responsibility for the East Windsor store. He is an industry veteran, having previously worked for East Windsor's own Broad Brook Brewing Company.
Wine accounts for most of both stores' sales, followed by beer. The spirits category is also gaining momentum. "The hot new thing now is bourbon," he said. "People like to try new things, and we aim to please." The spirits industry has mimicked craft beer, with a growing array of craft distilleries and boutique brands. And in an era when many consumers try to "buy local," quite a few of the new startups are right here in New England.
A robust IT system makes for enhanced customer service. "Everything is computerized – the customers we have, the products we sell, and who likes what," said Smith. "This helps us greatly in getting items in very quickly and in notifying people that they've arrived. It also helps us publicize special events, such as tastings."
Tastings take place every week at both stores, and East Windsor recently installed a new counter for such events. Both stores are available for special private tastings, and recently hosted fundraisers for the East Windsor Lions Club and Somers Educational Foundation, among other organizations.
"We also receive about 600 special requests each year and we use the computer to keep tabs on them," Dagon noted. A customer might have tried a particular wine at a restaurant, or tasted a variety of bourbon at the house of a friend. In one situation, the customer had purchased [a bottle] at a gas station out west. "He didn't remember the name, but he did recall the picture that was on the label," said Dagon. "We were able to obtain it for him."
"This is a fun job and I especially enjoy getting to know people," Kaman commented. "Now, having worked for myself, I would never go back to the corporate world."