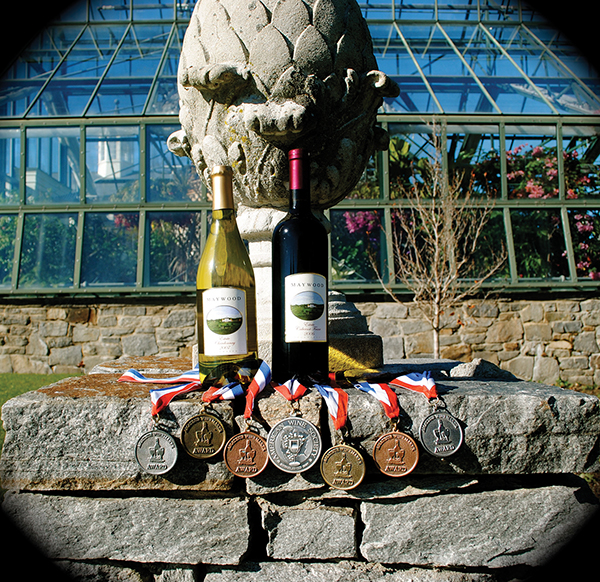 A Bucolic Horticultural Property's Secrets Revealed
By Nancy Kirsch
As a private horticultural estate, Maywood Estate is a gem, albeit one hidden from public view 364 days a year. This year's annual garden tour, a Garden Conservatory Open Day to benefit the National Garden Conservancy – will be held on September 13, from 10 a.m. to 4 p.m., and will include wine tastings. The family-owned property, with highly diversified agricultural operations, makes wines from grapes and apples, peaches and pears, said Gregory ("Greg") Bollard, Maywood Estate's project manager.
Nestled in the foothills of the Berkshires and offering pastoral views, the 1,000-acre property in Bridgewater, Connecticut, includes two acres of vinifera grapes and eight acres of fruit orchards. Grapes planted in 2002 and 2003 yielded the estate's first vintage of chardonnay and cabernet franc, in 2005.
The estate specializes in niche products focusing on thoughtful, sensitive land stewardship. "We craft our wine, aged in the estate's oak barrels, all by hand, in small batches [and with no mechanization]. We focus on quality, not quantity … no shortcuts," said Bollard. "We started the vineyard first as a hobby and to complement our mission of land stewardship. Three years into the project, we were making more wine than we could use. The quality was good and unique, so we applied for a permit."
Despite a relatively modest annual yield of some 2,000 bottles each of chardonnay and cabernet franc, Maywood Estate competes against some "heavy-hitters," said Bollard. At the 2015 International Eastern Wine Competition ("East Meets West") in Sonoma, California in February, Maywood Estate earned one gold (for its Apple and Berry Fruit Wine), two silver (for its Apple Honey Fruit Wine and Apple Maple Fruit Wine) and two bronze medals (for its 2013 chardonnay and its Apple/Peach Wine).
Dave Lambert, Maywood Estate's agricultural foreman, and Bollard, a 30-year employee who built and currently manages the estate, both look for future opportunities; they are working on some blends that would include a table red and a table white, Bollard said.
Situated in a partially dry town, Maywood can't sell its wine on site. "Branding is our biggest problem," said Bollard. "Luckily, we have tremendous [local retail] support. We do tastings … fairly often; we also participate in many events, and get the word out as best we can."
While Maywood Estate sells its honey, eggs and other products at Bridgewater Village Store, its old-fashioned general store, it currently only sells wines to local liquor stores. Now that the town has recently eased zoning regulations, changes are coming: Not only has Bridgewater agreed to allow restaurants to sell wine, Maywood Estate is planning to build its own restaurant, where, no surprise, it will sell its own wines. The restaurant, which Bollard estimates will be completed by year's end, will be adjacent to Bridgewater Village Store.
On Garden Conservatory Open Day, the entrance donation fee is $5 per person.
Maywood Estate
52 Cooper Road
Bridgewater, Connecticut 06752
Photos supplied by Maywood Estates.