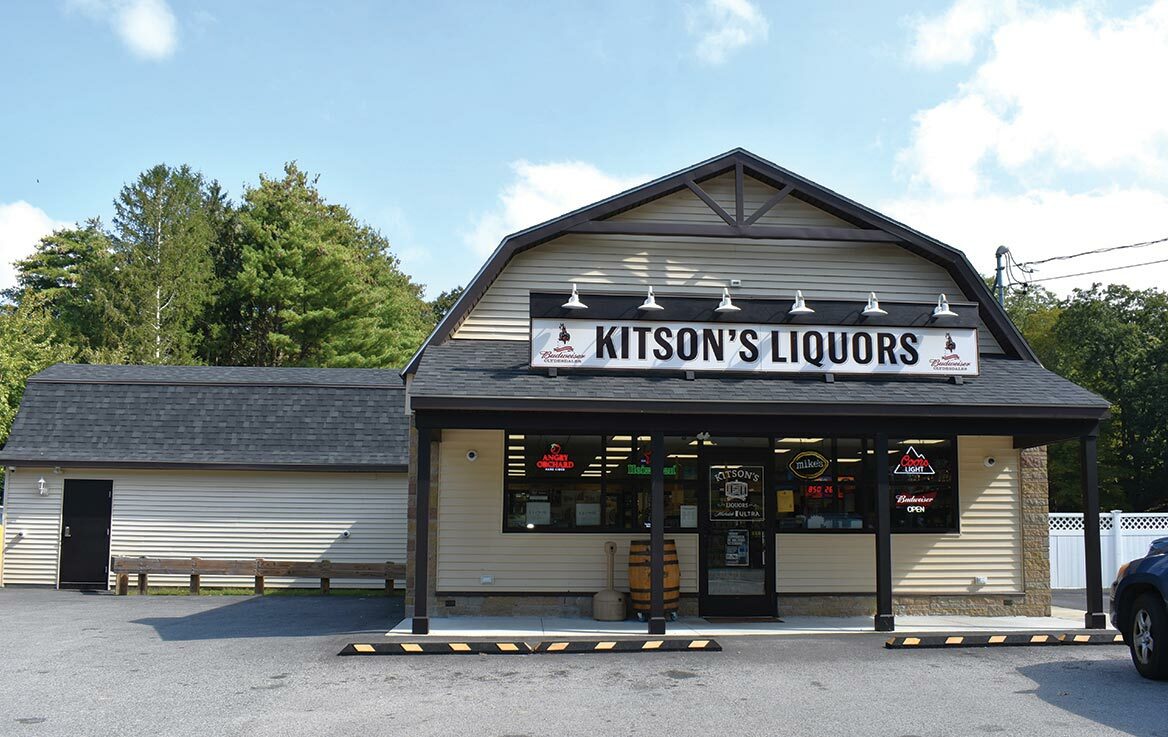 Kitson's Liquors
677 Putnam Pike
Chepachet, RI
Square footage: 2,000
Years in operation: 42 years
By Sara Capozzi
Family-owned since its inception in 1981, Kitson's Liquors continues to bring its brand of product selection and friendly atmosphere to shoppers in the Glocester area, part of the village of Chepachet.
The store was founded by Owner Lisa Kitson in partnership with her husband, Kevin, who owns Chepachet Village Wine & Spirits across town. As one of the only package stores in the village, for several decades, Kitson's Liquors has operated as a convenient stop for locals.
The couple's son-in-law, Ryan Catullo, runs Kitson's Liquors as its general manager. Catullo, a chef by trade, had gained industry experience while working for the Kitsons at both stores on and off over the past decade, so when they were looking for someone to manage the store, Catullo was a natural choice.
"I've always liked the industry and the opportunity came up where it made more sense with my schedule," he said. At the same time, Lisa transitioned into a different role where she manages the store's paperwork and watches her grandson—keeping the family and business closely and nicely intertwined.
The team decided to renovate the shop in the winter of 2020, reopening in the spring of 2021. During the three-month project, the whole store was gutted and re-created, increasing the square footage of the sales floor, moving the placement of the counter, installing new flooring and shelving, and adding a new storage shed outside.
Along with its new look, the family began to expand the store's inventory, making sure to stock the most popular and well-known brands, as well as top-trending category sellers. According to Catullo, seltzers, domestic beer and craft beer do quite well at Kitson's.
They expanded their selection of fine wines, attracting a new clientele in search of higher-end bottles. "The running joke used to be that we were known as 'the jug wine store' here," Catullo said. "Since we've done the renovation, we've expanded into better quality wines, that $20 to $50 range, and we've definitely seen an uptick in sales in that department."
Customers are mostly locals from town, with some shoppers from neighboring areas stopping in from time to time. "This is definitely more of a homegrown store," he said. "It's more of your regulars and your everyday customers."
Kitson's Liquors' tight-knit group of three to four employees work together to instill a friendly atmosphere at the store. "[We're] greeting everyone at the door and making sure they know that they're seen and welcome here and answer any questions that they might have with regards to their purchase or help them with their wine selection or find a bottle of whiskey," Catullo said.
"We're always trying to make sure that everyone is leaving here with a smile on their face," he said. "A lot of things we'll bring in just for specific customers … we're very flexible with getting products in for people that they're looking for so they don't have to go anywhere else to find it."