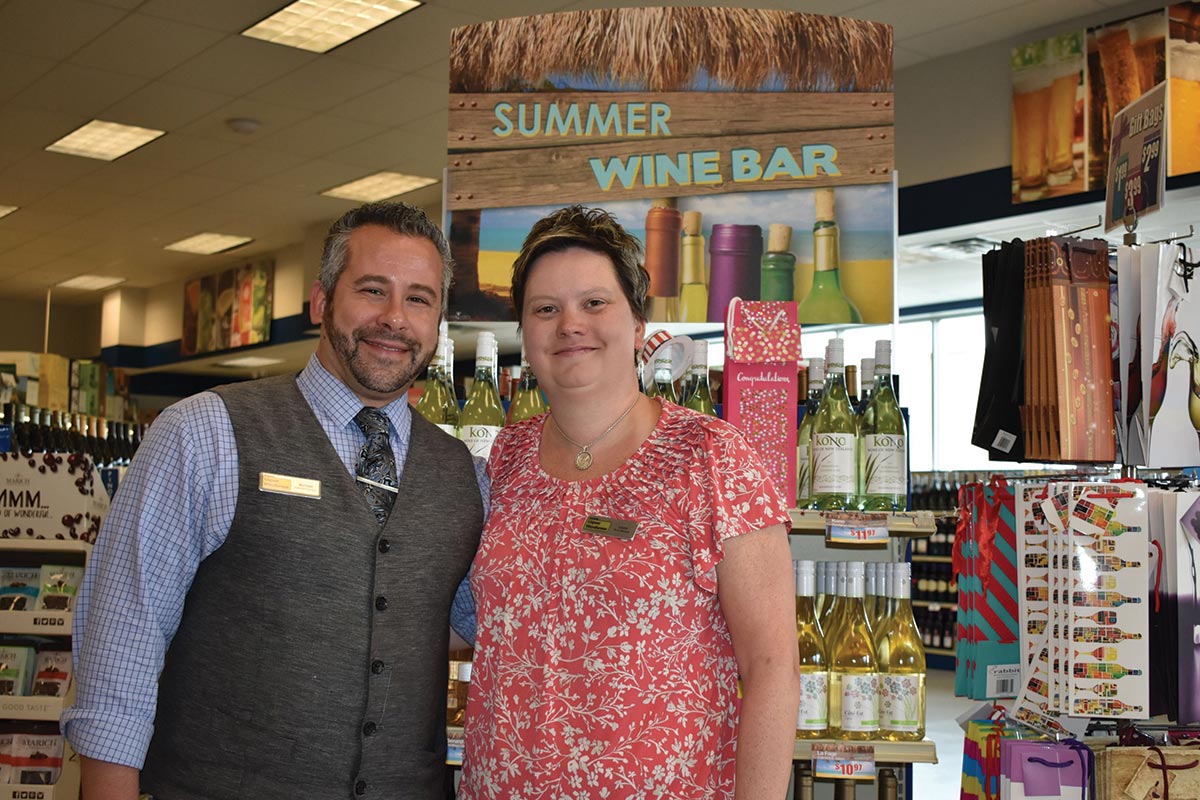 Knights Liquor Warehouse
1450 Hartford Avenue
Johnston, RI
Square footage: 10,000
Years in operation: 12
By Sara Capozzi
Located conveniently off Interstate 295, Knights Liquor Warehouse has grown into a popular customer destination by providing what shoppers seek: low prices, a plentiful selection and an emphasis on customer service.
The store moved from its previous location a quarter of a mile down the road in June of 2016, which provided an opportunity to nearly double its retail square footage and offer customers more parking, matching its newer capacity.
The change of venue also placed Knights in a busy shopping area that is a popular destination for consumers with its nearby grocery, dining and refueling options. "Being just a quarter of a mile down the street we're getting tons of new faces every day," said Michael Arruda, Assistant Manager. "Even though we've been here for two years, it's not just regular customers; we're constantly getting new customers. I think it's because we're right off 295 and customers can see us off the highway."
Knights stocks more than 900 SKUs in beer, 1,200 SKUs in spirits and 1,200 SKUs in wines. The store also contains a cigar shop which carries about 100 SKUs. Its diverse selection of craft beer continues to draw new shoppers.
Store Manager Laura Millmather said Knights' ability to provide low prices has also helped grow its customer base and set it apart from other stores. "We have 'warehouse pricing,' so I feel like that has picked up our customer count here at the store," she said. Store features like its "Every Day Low Prices," or EDLP as they call it, allow the team to focus on customer favorites through its buying strategies. Customers can save even more with its Cheers! loyalty program, where shoppers can earn points for their purchases.
Popular items this summer include anything rosé and hard seltzer. Convenience items such as single-serve bottles, canned wines and canned craft cocktails are also top sellers for customers headed to the beach, marina or sporting events. Millmather said she sees more customers making health-conscious purchases, such as lower-carb beers or lower-sugar seltzers, as well as organic wines and those with less sulfites.
As the store transitions into fall, Millmather and Arruda expect to see customers gravitate toward seasonal selections such as Sam Adams Octoberfest and pumpkin beer, albeit with a continued interest in rosés, which has shown its year-round popularity locally and nationally.
In-store tastings Friday and Saturday nights and special Grand Tasting wine events offer area customers even more incentive to stop in and make things "fun and engaging for the customer," said Millmather. Knights also offers delivery through Drizly, gift baskets, local brands and more. Through it all, customer service remains a priority at Knights.
"We definitely pride ourselves on customer service," Arruda said, whether through a friendly greeting and smile to proactive selection and floor help. "Some of the regulars you form a relationship with; you ask them how their dog's doing or how their surgery went," Millmather said. "They become part of your friends and family."