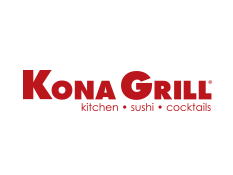 Kona Grill
230 Tresser Blvd., Stamford, CT 06901
Located in Stamford Town Center, Kona Grill offers modern American cuisine, an extensive sushi menu and unique signature cocktails. Kona Grill's happy hour program is a popular daily draw.
BAR MANAGER: Ricky Rosario
DRINK NAME: Citrus Melon Punch
RECIPE:
• 1 ¼ oz Ty Ku Melon liqueur
• ¾ oz Bacardi Dragon Berry Rum
• ½ oz fresh lemon juice
• ½ oz Monin O'Free Blackberry
• ¼ oz Agave nectar
Add all ingredients to a shaker half filled with ice. Shake five times. Pour into glass. Top with splash of Club Soda.
"It's refreshing, sweet and fruity. Much like a fruit punch but with a kick," said Rosario.