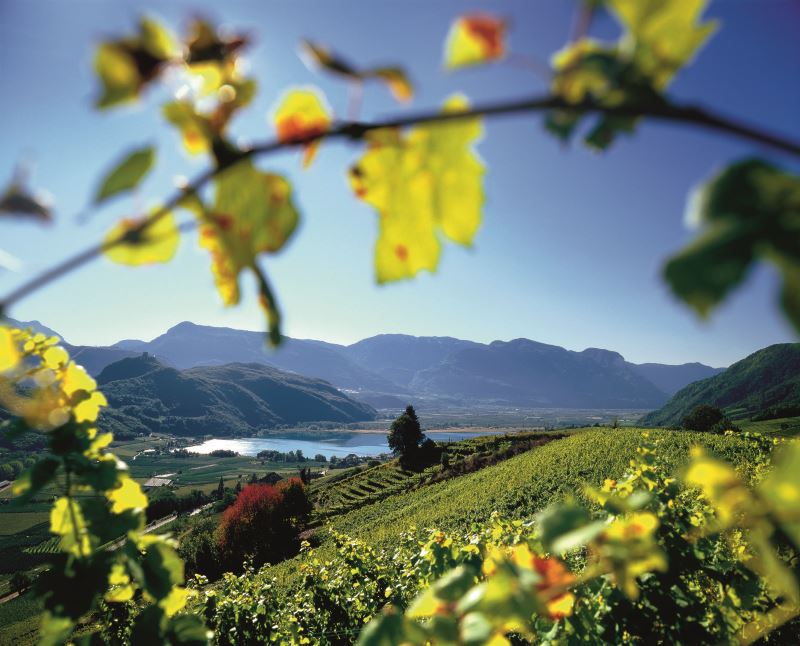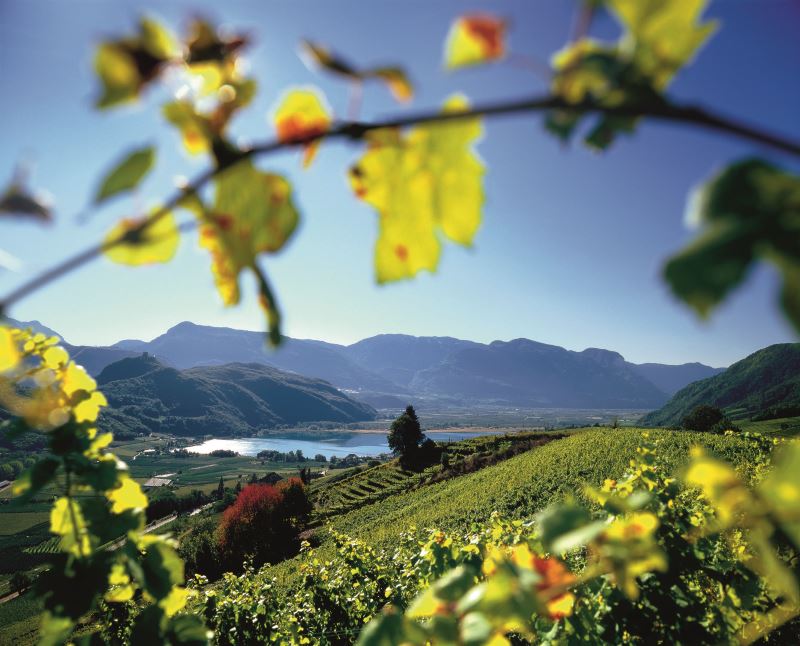 By Edward M. Korry, MA, CSS, CHE, CWE
With so many options available today, why focus attention on the tiny DOC appellation in northeastern Italy bordering Austria and Switzerland that shares more history with its northern neighbor than its constituent Italian nation? The region only became integrated into the Italian republic in 1919. The answer is simple. The wines are not only delicious with laser-like intensity but have mouth-watering acidity that makes them a perfect accompaniment to food.
That's why sommeliers like them — they make the accompanying food taste better. It doesn't hurt that it has some of the most beautiful vistas with towering snow-capped mountains, some of the steepest vineyard sites and more than 400 castles dotting the landscapes. Its Teutonic heritage is evident not only with all of the signage in both Italian and German, but in its culture, the varietal selection and its cuisine.
Alto Adige-Südtirol has one quarter of Napa's vineyard acreage with 13,000 acres, and its vineyards are located between 600 and 3,300 feet in altitude. Given its range of altitudes surrounded by the majestic Alps and Dolomite mountains protecting the region from the cold northerly winds, and with its many valleys drawing warmer influences from Lake Garda and the Mediterranean from the south, there are many micro-climates enabling different varieties to grow successfully.
There are seven sub-appellations, located to the northern, central and southern areas of the region with vineyards of varying altitudes and with varying soils ranging from volcanic porphyra, weathered rocks composed of mica and quartz, limestone, dolomite and sandy marl. With overall average yearly temperatures of 64 degrees Fahrenheit and with 300 days of sunshine, but with significant diurnal ranges with drops in nighttime temperatures, it's no wonder that the wines have both lively acidity and pronounced flavors with the balanced alcohol one would expect in warmer growing regions.
What is surprising is that Belzano, Alto Adige's capital, which is located in a valley surrounded by mountains and, therefore, caught in a heat trap, is the second warmest city in Italy after Palermo in Sicily.
Alto Adige has more than 5,000 growers, with an average holding of 2.5 acres, so it is unsurprising that over 70% of its wines are produced by its quality driven cooperatives. Ninety eight percent of the wines are of DOC status, the highest in Italy. Sixty percent are white , 40% are red varieties and all are hand-harvested. This region has garnered the most awards and highest ratings for its white wines than any other region in Italy.
The leading varieties include Schiava, Pinot Grigio, Gewürztraminer, Lagrein, Pinot Bianco, Pinot Nero (Noir), Chardonnay, Sauvignon Blanc Müller–Thurgau, Kerner Moscat Giallo, Sylvaner, Riesling and Grüner Veltliner. The U.S. represents the second most significant export market for these wines.
At Johnson & Wales University, we recently hosted the wines of Alto Adige-Südtirol with May Matta-Aliah, a well-known wine educator from New York City, who presented to two groups of our sommelier, culinary and restaurant food and beverage students. The morning's selection of eight wines was different from the afternoon's, and I include examples of some of the most stunning samples.
The first wine tasted in the morning was Franz Haas Pinot Bianco Lepus 2015, also famous for its unique and eye-catching labels, which had lovely white floral, golden apple and citrus aromas with crisp acidity balanced by a creamy round texture, and a touch of spice. Definitely one of the best Pinot Biancos I have tasted. The afternoon's Pinot Bianco from Castel Sallegg had slightly earthier notes, being a touch floral but with more citrus notes. It was creamy and zesty with a touch of spice on the finish.
The Pinot Grigio from the co-op Cantina Produttori San Michele Appiano 2015 was full of character with beautiful acidity and, again, a pleasing round texture. It had spiced pear and citrusy notes, finished with grapefruit notes and was very well balanced.
The third wine of the morning was a relatively obscure grape varietal called Kerner. It was developed as a cross between Riesling and Schiava varieties. This Kerner was produced by the Cantina Alto Adige, in the sub-appellation of Valle Isarco, which is in a high altitude, with a cool climate on steeply terraced vineyards. It had a characteristic, beautiful, floral rose nose, with orange rind and slightly mineral earthy tones. It was very crisp and juicy with a touch of spice on the finish.
Somewhat similar in its aromatic intensity, the Nals Margeid Gewürztraminer Lyra 2014 had lovely rose-like florality with lychee fruit, spice and a characteristic touch of bitterness on the finish. The afternoon's Tiefenbrunner Gewürztraminer had more jasmine and orange blossom aromas, and was a little more restrained with spicy orange rind notes and a very persistent finish. The difference between these wines and many other Gewürztraminers, especially from Alsace, was not only that they are dry, but have brighter acidity. Both are perfect accompaniments to flavorful Asian cuisines.
We had two Sauvignon Blancs with distinctive character that had neither the sublime minerality of Sancerre in the Loire Valley nor the fruity exuberance of Marlborough NZ Sauvignon Blancs. The first was a Colterenzio Winery Sauvignon Lafoa 2015 with herbaceous, citrus, honeydew melon and oak notes. Its high alcohol content of 14.7% was balanced by the zesty nature of the wine. The second was a Cantina Andriano Sauvignon Blanc Floreado 2015 with the similar level of intensity, alcohol and characteristics as the Colterenzio.
Pinot Noir and Chardonnay were introduced into the region in the 1850s. We tasted the famous Elena Walch winery's Pinot Nero Ludwig 2014 Alto Adige, which was light colored, floral, had primarily red fruit with a touch of blackberries, with the smokiness of toasted oak and baked spiced notes along with a hint of dry herbs. It was light-bodied and dry, with medium-plus acidity and a long finish. The Abbazia (abbey) di Novacella Pinot Noir 2015 Alto Adige is the oldest continuous wine-producing abbey in the world. It had a little more depth of color and, underlying its bright red fruit notes, it revealed a typical earthy sous-bois note. This was a beautiful Pinot Noir that any lover of the Burgundian varietal would be enthralled with.
The last two varietals are indigenous to Alto Adige-Südtirol: Schiava and Lagrein. The Elena Walch Schiava 2016 was a very pale ruby red, had clean red fruit aromas of pomegranate and cranberry, with a touch of earthiness and dry herbs. It had delightful acidity and it's no wonder that a traditional pairing is either the air cured salted speck (prosciutto) or Canederli, the local bread or flour dumplings that are classically flavored with speck, cheese or spinach.
The Lagrein has the color, intensity and depth of flavor to stand up to barrique aging. In many ways, it is reminiscent of a northern Rhone Syrah with high acidity and gripping tannins. It has intense black fruit and black pepper aromas with a touch of licorice and a mintiness. We tasted the Cantina Muri-Gries Wine Estate and Monastery Lagrein Riserva Abtei Muri 2014 Alto Adige and Castelfeder Lagrein Rieder 2015 Alto Adige. Both demonstrated such characteristics and were a further reflection that this small wine–growing region is capable of producing a diversity of excellent quality wines.
Ed Korry is an Associate Professor and Department Chairman of Beverage & Dining Service at Johnson & Wales University, Providence.