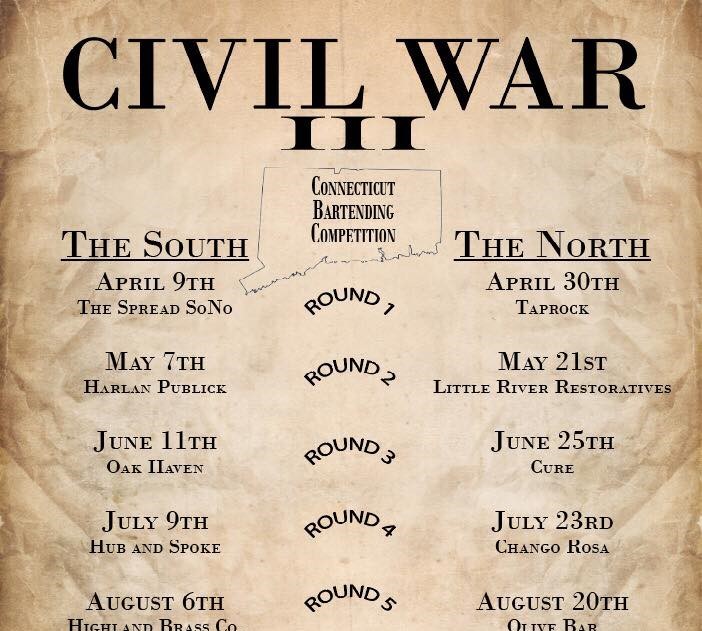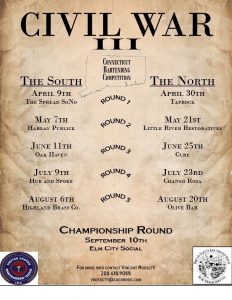 What: The United States Bartenders' Guild (USBG) New Haven and Hartford chapters, along with Eder Bros, Inc. and Allan S. Goodman, kick off the third annual USBG Civil War Bartending Competition in April. The competition sees 10 events in venues across the state, in "north" against "south" bar talent and locations.
USBG New Haven (The South) Competitions:
April 9 at The Spread, Norwalk
May 7 at Harlan Publick, Norwalk
June 11 at Oak Haven Table & Bar, New Haven
July 9 at Hub & Spoke, Bridgeport
August 6 at Highland Brass Co., Waterbury
USBG Hartford (The North) Competitions:
April 30 at the Taprock, Unionville
May 21 at Little River Restoratives, Hartford
June 25 at Cure, Unionville
July 23 at Chango Rosa, Hartford
August 20 at Olive Bar, Unionville
Championship Round:
September 10 at Elm City Social in New Haven. For more information, contact Vincent Rosetti, Eder Bros. To see highlights from last year's competition, click here.