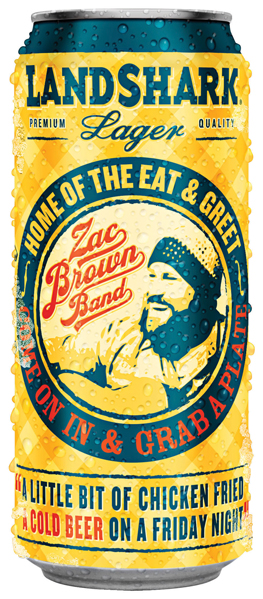 Landshark Lager is giving fans of Zac Brown Band a unique, all-access pass to the band this summer. The Grammy Award-winning Zac Brown Band will be featured on special, limited-edition 16 oz. Landshark Lager cans. Three can designs will be released throughout the summer, with the first can hitting shelves nationwide in May.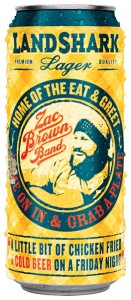 The cans offer more than unique designs – by "blipping" the Landshark can using the blippar app on smart phones, fans will get exclusive, behind-the-scenes content, with each can design featuring a different aspect of the Zac Brown Band experience. Additional content will be posted to the Landshark Facebook page – facebook.com/LandsharkLager – as each new can is released.
Kicking off the series of custom Zac Brown Band designs, the first can was inspired by the band's "Eat & Greets," where fans gather with the band prior to the concert to feast on Southern cuisine prepared by Southern Ground Executive Chef Rusty Hamlin. The second and third custom cans hit shelves on June 17 and August 5.