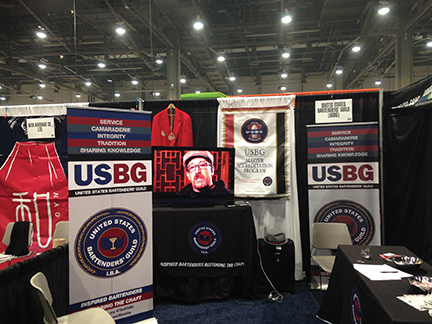 Rhode Island's Martucci Gives an Inside Look
By Lauren Daley
What happens in Vegas…is right here in our interview with Frank Martucci.
The National Vice President of the United States Bartenders' Guild (USBG) and General Manager of Beverage Operations at Twin River Casino served as a panelist for the seminar "Empowering Bartenders" at the Nightclub & Bar Convention and Trade Show in Las Vegas from March 24 to 26. He also sat on the Advisory Board of the trade show, along with Jon Taffer, president of Nightclub & Bar Media Group, more renowned as Spike TV's "Bar Rescue" host and executive producer, and other industry experts.
Some 40,000 industry professionals attended the conference, held at the Las Vegas Convention Center, said Martucci. We caught up with Martucci recently.
The Beverage Journal: Tell us a little bit about the trade show.
Martucci: The show was great; it was [higher] in attendance from year's past, so that was good. Attendance at the educational seminar I spoke at was up 40 percent. That's the direction our industry is going in terms of education and hands-on learning. There were 40,000 people there. There was definitely a huge draw. Professor Brian Warrener from Johnson & Wales University [in Providence, R.I.] led two seminars: "Costing & Pricing Strategies Behind the Bar" and "Hiring for Success." Those were well-attended. So we had a nice Rhode Island representation there.
The Beverage Journal: You also served recently as a panelist for the seminar "Empowering Bartenders." How did that go?
Martucci: It was good, well-attended; there were over 100 people there. [It was about] empowering people in our industry to seek networking opportunities, basically the value of what USBG is about, embracing the culture, talking about some current trends of industry.
The Beverage Journal: Such as?
Martucci: American distilleries are popping up all across the country; that's big. The farm-to-glass concept is big right now. Taking the [cooking concept] of farm-to-table, using fresh ingredients, but in our industry, we call it farm-to-glass, making cocktails with everything from fresh beets to limes to oranges. Buying locally, supporting local farmers is a big trend. The biggest thing we [saw as a] trend at the show, was the idea that it's all about the guest. If it wasn't for guests, none of us would have jobs. So check your attitude at the door, embrace what the guest wants.
I think people are still trying to find unique ways to approach the industry, trying to be different. There was a company that made furniture out cork, as well as a company that made furniture out of barrels.
The Beverage Journal: What were the best drinks you tasted?
Martucci: There were a lot were straight spirits at the show; I had great moonshine, vermouth, RumChata liqueur is very hot right now.
The Beverage Journal: You were also a judge for the finals of the "Shake It Up" Cocktail Competition?
Martucci: Actually, I was judged-out at that point. I had judged 250 recipes the week before in the World Class by Diageo competition at their headquarters in New York City. We had over 250 submissions of cocktail recipes from bartenders and we had to narrow it down to 75 bartenders — 15 per region — to compete in the upcoming months.
The winner in Vegas was Justin Park of Hawaii. He won both the Overall Award and the Technical Award. He'll represent the U.S. in Cape Town, South Africa for the World Cocktail Competition in October, and in the Pan American Games in September in Mexico.
Second place in Overall and Technical was Julio Cabrera of Miami. Third place was Ian Cox, from Atlanta, Georgia. He was the U.S. representative in Prague [at the World Championships] last year.
The Beverage Journal: Will you be attending the Worlds in Cape Town?
Martucci: No one has been officially invited yet [to judge]. So we'll see. I'd like to.