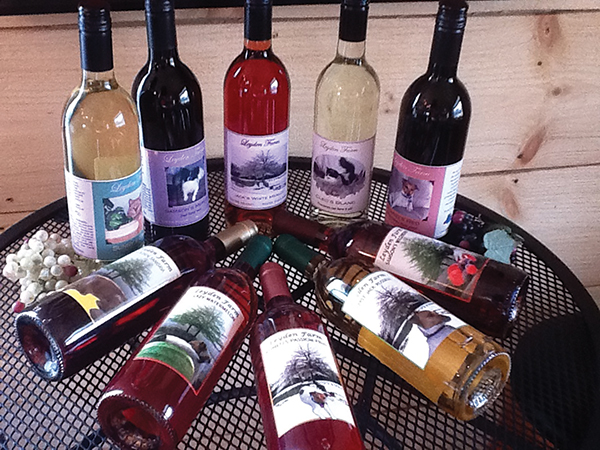 Diversifying into wines enables business growth
By Nancy Kirsch
Why would a family known throughout Rhode Island for selling Christmas trees branch out to establish a winery?
It's all about family, said Jack Leyden, owner and sole proprietor of Leyden Farm Vineyards & Winery (Leyden Winery), and a third generation co-owner of Leyden's Tree Farm. "The main motivation is Caitlin Marie Leyden, our younger daughter, who showed an interest in our family business," said Jack, who noted that the family had long enjoyed making wine for home consumption. "We had to diversify to be able to pass on the business to the fourth generation."
"I grew up in the family business," said Caitlin, 25, Leyden Winery's manager. "The key is knowing when to separate business time from family time."
Their rural West Greenwich property includes 30 acres of Christmas trees and three acres of grapes, with plans to expand to five or six acres in total for growing grapes. In 2011, they opened Leyden Winery and planted their first grapes: vidal blanc, cabernet franc, merlot, riesling and chardonnay. However, these vines don't produce enough grapes for a harvest.
"Our wines are being made at Newport Vineyards in Middletown, Rhode Island, and we sample the wines before bottling to decide what we're making," said Jack, who calls Newport Vineyards' owners John and Paul Nunes, "mentors from the get-go."
Ground-breaking for Leyden Winery's own facility will begin soon. After it is built and a professional winemaker is hired, the Leyden Family expects to be making their own wines by the autumn of 2016.
In 2014, Leyden Winery produced some 6,000 bottles of wine, some of which were sold in four area restaurants; they have an ambitious goal of being in 20 additional Rhode Island restaurants by year's end.
The Leyden's unique use of fruit flavors sets their wines apart, noted Jack, "including an Apple Jack Russell – a white wine with apple essence – and a Golden Sangria, which is a really refreshing wine on a hot summer day."
Leyden Winery also sells wine by the bottle and by the glass. The location serves as a venue for corporate special events, fundraisers and wedding showers. They welcome people, wine-tasters or not, to bring picnics and enjoy the forested property's ambience.
Upbeat and effusive, Maureen, Jack's wife, relishes welcoming visitors who appreciate the property's calm, peaceful nature. As the general manager, she oversees finances, special events, the website and orders products for Leyden Winery. The winery offers wine tastings and sells wines and wine-related accoutrements.
Images of family pets on several wine labels are a testament to the focus on family, although family members' tastes vary. Jack, whose full-time job limits his winery work to nights and weekends, prefers the Leyden Merlot; Maureen prefers Romeo's Red; and Caitlin chooses Sunny's Grigio.
The Leyden family's diverse businesses overlap during the spirited holiday season. It's not uncommon to see people walking through Leyden's Tree Farm tagging Christmas trees, and sipping on glasses of wine.
Leyden Farm Vineyard & Winery
160 Plain Meeting House Road
West Greenwich, RI 02817
Photos courtesy of Leyden Farm Vineyard & Winery.