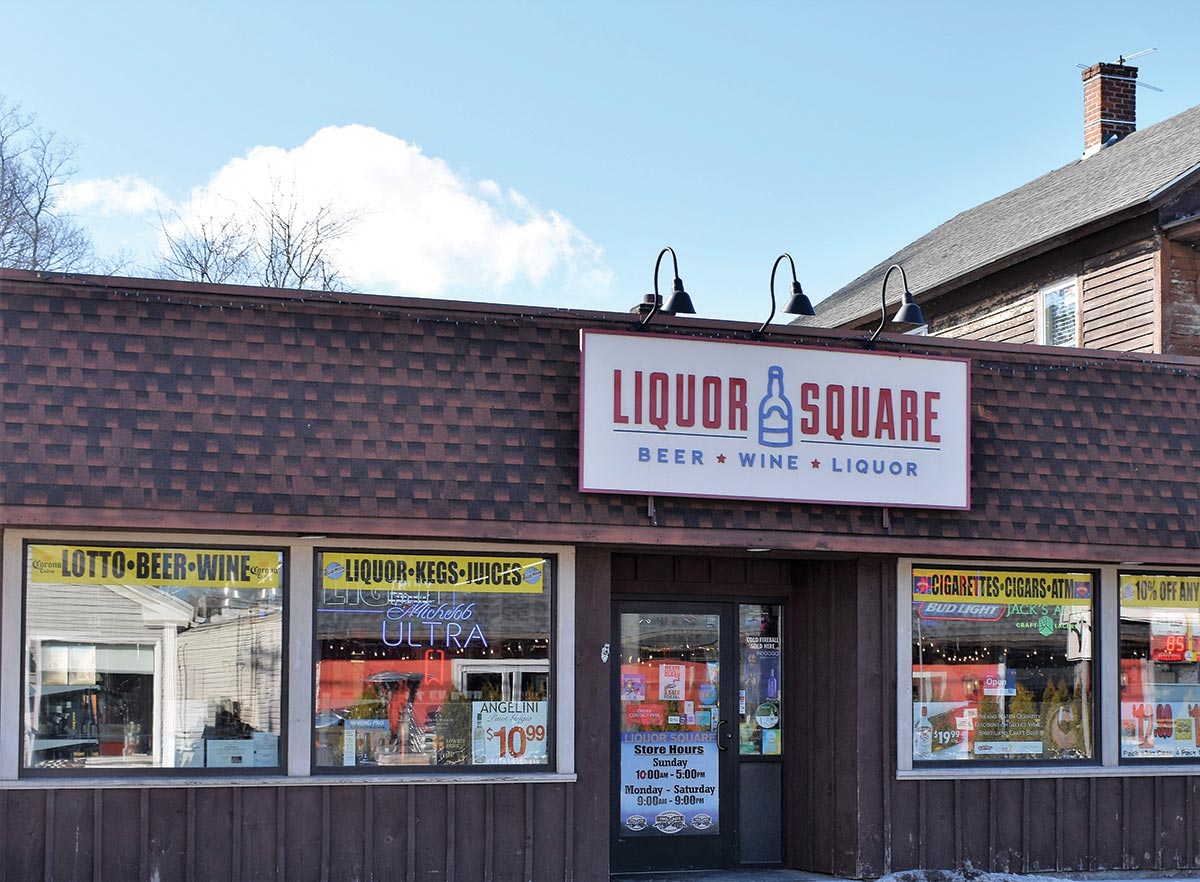 Liquor Square
88 South Main Street
Unionville, CT
Square footage: 3,500
Years in operation: 17
By Sara Capozzi
Located in the center of historic Unionville, Liquor Square has served customers of the Farmington Valley with its unmatched offerings and superior customer service since 2005. The shop, owned by Pete Ramchandani, who also has a hand in several other popular businesses across the state, is housed in the circa 1890s Parson's Hardware building, which lends a one-of-a-kind vibe to the venue.
"It's a unique and kind of funky floorplan," Ramchandani said. Selections are organized in two sections, with spirits and beer located at street level and wine selections housed just up a few stairs in a separate area. The fine wine room and tasting area, the former hardware store office, is also upstairs with glass windows overlooking the first floor below.
Liquor Square offers approximately 7,500 SKUs, with 50% of store sales in wine and the remaining half evenly split between beer and spirits. The shop regularly gets calls and requests for rare, allocated bourbons and Scotches, which customers buy, "as a novelty now," Ramchandani said. "It's kind of become a status symbol; people just want to have a bottle of something that's rare and unique and very hard to get allocated stuff that they release 10,000 bottles of a year." He's also seen a growing demand for non-alcoholic and organic/biodynamic products, carrying between three and four dozen SKUs from such producers. Craft beer, seltzers and ready-to-drink items are always in-demand.
Ramchandani sees a change in customers' buying behavior in the past several years, due mostly to factors brought on by the pandemic, leading the store to shift into offering curbside pickup, drop off and free liquor delivery service using third-party services, which ticked up as shoppers stayed at home.
Customers can also now find Liquor Square's entire inventory on its recently built website, making shopping a breeze. "It's pretty much 10-12% of my business now in the last two years, which used to be under 5% so that more than doubled," Ramchandani said, with delivery to customers within a five-mile radius, serving Farmington and the towns of Avon and Simsbury.
Ramchandani is an active member of the Farmington community, serving on the Town of Farmington's Economic Development Commission. He also owns Valley Wines in Farmington and co-owns Unionville's Taprock Beer Bar & Refuge, which is a short walk from Liquor Square. "That's been a good journey too," Ramchandani said of his time operating the restaurant, which announced it was closing its doors in May. Ramchandani also co-owns Sherkaan Indian Street Food in New Haven.
While Ramchandani appreciates the unique history of Liquor Square's building, he plans to rebuild in the near future, adding more square footage to expand his already robust selection. Until then, the day-to-day bustle at Liquor Square keeps Ramchandani and his small team, which includes his father, Bob, busy bringing in between 20 and 25 new products each week. "It's never a dull moment," he said. "It's just constant, non-stop."
During the past 17 years, Ramchandani and the staff of Liquor Square have gotten to know their local market quite well, creating relationships with regulars. "We've got a well-established clientele and have a lot of trust from customers because I've earned their trust over the years through recommendations or one-on-one handselling experience," Ramchandani said. Customers appreciate the individual attention they get at this independently owned shop and the community ties that run deep. "That's why people come in here."