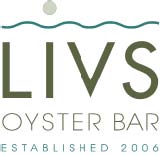 Liv's Oyster Bar
166 Main Street, Old Saybrook, CT
John and Krissie Brescio opened their restaurant in 2006, and John serves as the executive chef. Their main focus is local ingredients and fresh seafood—from their
raw bar to their Sashimi Yellow fin Tuna Pizza.
Bartender: Kristen Griffin
Drink Name: Blood Orange Margarita
Recipe: One ounce blood orange juice, half an ounce Cointreau, 4 ounces of Avión Silver Tequila, juice of one lime, juice of half a lemon, splash of agave nectar. Shake. Add a splash of soda water and pour into a highball glass. Garnish with a slice of blood orange or orange.
"A blood orange is not as sweet as a regular orange, so this tastes like a tarter orange margarita," said Griffin. "Everyone loves it; it's a big hit."