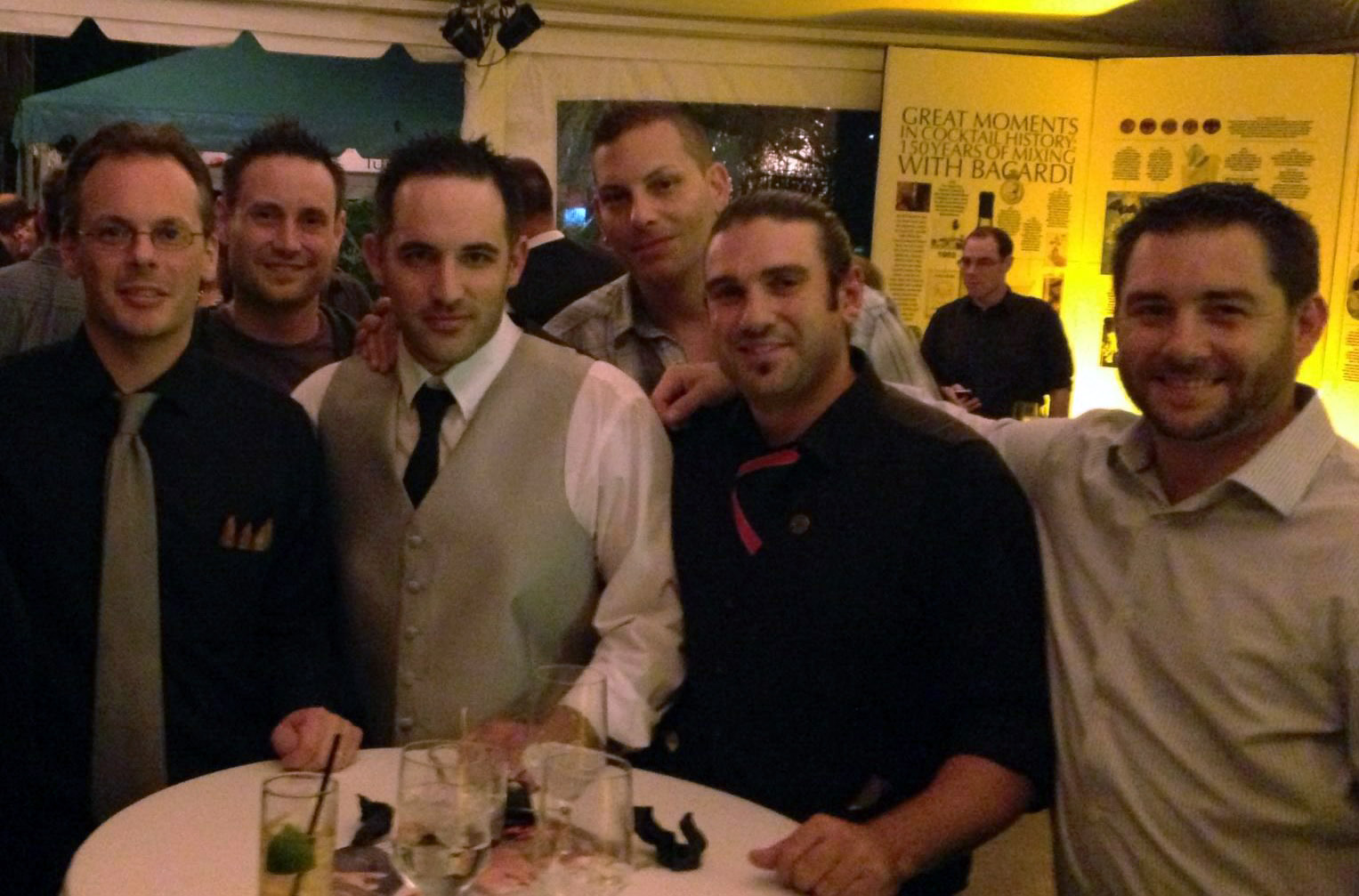 Connecticut has seen its share of tragedy lately, and many in the local beverage industry have felt compelled to give—to those affected by the tragedy in Newtown, to Hurricane Sandy victims, or to local families in need of help for the holidays.
NEWTOWN
Everyone in the nation has heard about the tragic shooting in December at Sandy Hook Elementary School in Newtown. As the president of the U.S. Bartenders Guild Connecticut chapter (USBG), Anthony DeSerio felt compelled to help. "Right after the shootings, I called my friend at his restaurant near (Newtown) and as I was talking to him, Obama's motorcade drove by—my friend works that close to the school," said DeSerio. "His customers are the parents, the children, the teachers, the firefighters. As a bartender, we're just on the other side of that mahogany. Bartenders are truly all about their community."
As chapter president, DeSerio immediately started getting the wheels in motion to contribute somehow. DeSerio helped organize a four-course beer dinner at the Shipyard Tavern at Latitude 41 Restaurant at the Mystic Seaport in Mystic. To be held, as of press time on Jan. 25 at 6 p.m (with a $45 ticket per Mug Club member, $55 for non-members), 100 percent of the night's profits are for the Sandy Hook School Support Fund through the United Way of Western Connecticut.
Shipyard Brewing of Portland, Maine donated beer from their brewery, with USBG members and DeSerio tending bar and other members bussing tables. Live music was donated by The Cartells. The USBG is also accepting straight donations for the Sandy Hook Support Fund for those who want to give more.
"Now that the smoke has cleared and spotlight is going away, the community is realizing what they need," DeSerio said. "Newtown said the country has inundated them with school supplies—more than they can use, but that the families need money for funeral costs and children's therapy."
Dimitrios Zahariadis, vice president of the USBG Connecticut chapter, also organized a Sandy Hook benefit for Jan. 17 at the bar where he works, Shamrock's in Waterbury, only 15 minutes from Sandy Hook Elementary School. Zahariadis knew Rachel Davino, one of the teachers who died in the school shooting. "She was one of my good friend's cousins. She had just started her job two days before the murder. She was going to get engaged on Christmas Day. So it hit home," he said.
All the money raised at his event goes towards a scholarship fund in Davino's name. Members of the USBG Connecticut, Rhode Island, New York and Boston chapters served free cocktails from 7 p.m. to 1 a.m. All tips are to be donated."There's no door charge, but people can make donations as they come in— whether it's $1 or $1,000; we don't put a price on it," he said. Zahariadis is also trying to find a dunk-tank so people can make donations to "dunk the bartender." He'll also have a raffle, and a local DJ is donating his time for music.
"The Connecticut USBG members will man the bar for an hour, then it will go to the Rhode Island members, then Boston and New York. As a member of the USBG, we're compelled to support our community. We know the people of our community make our livelihood possible," he said. "When Hurricane Sandy struck, the Connecticut and Rhode Island chapters went to help out our USBG brothers in New York. We're a family. There was even a chapter from Portland, Oregon who went to New York to help. It's a very cool organization."
HURRICANE SANDY VICTIMS AND NEEDY FAMILIES
While USBG members from Connecticut and Rhode Island did their part in New York, Do Valle, a distribution company in Branford, started "Buy Wine, Help CT" in November.
The distributors donated $10,000 to Hurricane Sandy victims and needy Connecticut families through their program, which lasted through the end of December. For every $500 order that a customer placed, Do Valle sponsored a family in that customer's name. They worked with Department of Child and Family Services and a Hurricane Sandy relief charity, Home Recovery, out of New Haven.
"We started it right after Hurricane Sandy when we were discussing how we could help the communities hurt by the hurricane— but soon we found that some Sandy families were getting too much stuff, and so we extended the scope to help any family in need in the state" said Do Valle owner Matthew J. Murphy, who founded Do Valle in 2008. The distributors donated to anonymous families from DCF lists that itemized family members and goods they needed. Do Valle employees then bought the items, packaged them up and shipped them out.
"We told our customers, 'All you have to do is keep doing what you're doing, buying wine, and we'll sponsor a family in your name in your area.' Customers were super ecstatic about it; a lot wanted to make sure they had a family every time they placed an order. They loved what we were doing."
They loved it so much that Murphy said Do Valle will make "Buy Wine, Help CT" a biannual event—each spring and holiday season—to benefit all different charities. "It's not only our business to sell wine, but to make sure that there's a good economy where we're selling it," he said.
The Westerly Chamber of Commerce in Rhode Island is holding a black tie "Black & White Masquerade" at the Ocean House in Westerly on Feb. 23 from 7 to 11 p.m. One hundred percent of the profits will go toward the Chamber's "Bring Back the Beach" initiative charity that gives grants to the small businesses and restaurants in Misquamicut, R.I. The tourist town was among the hardest hit in the state by Hurricane Sandy in October.
The mom-and-pop-owned restaurants, pubs and shops of Misquamicut, a destination beach area near Mystic, Conn., brings in $9.3 million in tourism dollars annually, said Lisa Konicki, executive director of the Westerly Chamber of Commerce."Misquamicut and the tourism industry in Westerly is the foundation upon which all businesses in this area rely upon. We need to get those small businesses up and running. Tourists come here to eat, shop and dine all throughout town; we need those jobs, the sales taxes, the meals taxes. Misquamicut has a significant financial impact on well-being of entire state of Rhode Island," Konicki said.
She said the initiative has already raised $157,000 and given out $100,000 to 27 small businesses in various amounts, depending on a number of variables. They will give out another $57,000 again soon, and will keep on giving out whatever they raise until "we get every restaurant back up and running, hopefully by Memorial Day." Tickets for the Feb. 23 event are $125 and include open bar, dinner and silent and live auctions. Tickets are available at oceanhouseevents.com.
For more information on these events, visit westlerychamber.org, buywinehelpct.org, usbg.org, or find USBG-CT on Facebook.