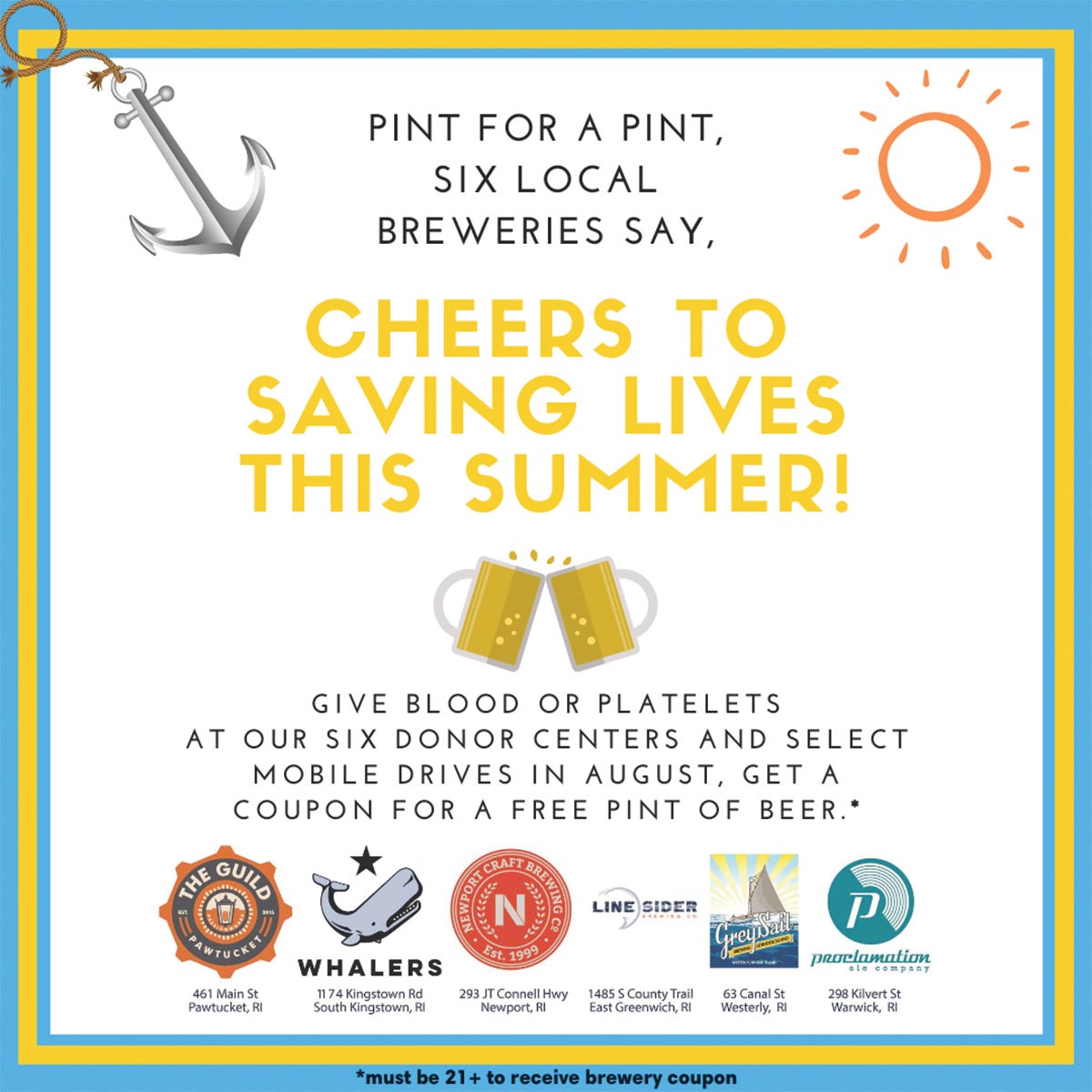 The Pint for Pint effort incentivizes donations
By Sara Capozzi
Six Rhode Island breweries partnered with the Rhode Island Blood Center (RIBC) in August to encourage residents to donate blood. With summer being a traditionally slow donation time and the coronavirus pandemic, a little incentivization can go a long way.
Through the Pint for a Pint program, all blood donors giving blood at RIBC's six donor centers and mobile blood drives who were ages 21 and over were eligible to receive a coupon for a free beer at one of the six participating breweries: Whalers Brewing Company in South Kingstown, Grey Sail Brewing in Westerly, LineSider Brewing Co. in East Greenwich, The Guild in Pawtucket, Proclamation Ale Company in Warwick and Newport Craft Brewing & Distilling Co. in Newport.
Summer has always been a challenging time to prevent blood shortages, according to Kara LeBlanc, Manager of Marketing Communications, RIBC. "We're competing with beautiful beach days, vacations and schools that regularly hold drives being out of session."
Another source of the slowdown is the changing way people can gather since the COVID-19 pandemic started. About 50% of the region's blood supply comes from mobile blood drives held at large corporate businesses or churches. "Most of those companies' workforces are still working remotely, or the organizations themselves are not operating the same way they used to," LeBlanc said.
The need for blood donations doesn't stop, she said. "We appreciate these local breweries coming together to encourage blood donation and hope it will help them as they face the challenge of staying open with the reduced capacity necessary to keep their staff and customers safe."
Josh Dunlap, Co-owner, Whalers Brewing Company, said the brewery has worked with the RIBC for three years to encourage blood donations. "When they first reached out about teaming up on this project, it was an absolute no brainer," Dunlap said. "With all the support we've received from the community, we're grateful to be able to give back again this year by promoting the life-saving work by the Blood Center."
Emily Sorlien, Brand Manager, Whalers Brewing Company, echoed the sentiment. "There has been such an outpouring from members of the community looking to support local businesses like ours during these unprecedented times. We're humbled and feel incredibly grateful to be able to give back to our community this summer," she said.
A typical blood donation is one pint, which can help save up to three lives by being made into three blood products: red cells, platelets and plasma. The month of August has historically been a difficult time to solicit blood donations. Compounded with the challenges of the coronavirus pandemic, when blood donations are still needed but fewer donations have been received due to social-distancing measures and the cancellation of blood drives, encouraging Rhode Islanders to donate blood is more important than ever.
Jeremy Duffy, Co-founder/Managing Partner, Isle Brewers Guild, said, "Rhode Island Blood Center plays a vital role in this state and we are honored to partner with them again this year for the Pint for a Pint program. Last year was a tremendous success, and we, along with our friends from the other participating RI craft breweries, look forward to breaking those numbers. So, we hope Rhode Islanders will give that much-needed pint of blood and we will see them in the beer hall."
All presenting center donors in August were automatically entered into a drawing to win a $100 Amazon gift card. Donors must be 21 years of age to participate in the Pint for a Pint program. To encourage responsible drinking, coupons could not be redeemed on the same day as the blood or platelet donation.
The extra challenge posed by the coronavirus pandemic is even more of an incentive to help out, said James Rodrigues, Chief Operating Officer, Newport Craft Brewing & Distilling Co. "Quite simply, we always try to do our part to help out the community in any way we can," he said. "In these uncertain times, we feel the need to give blood is more important than ever."