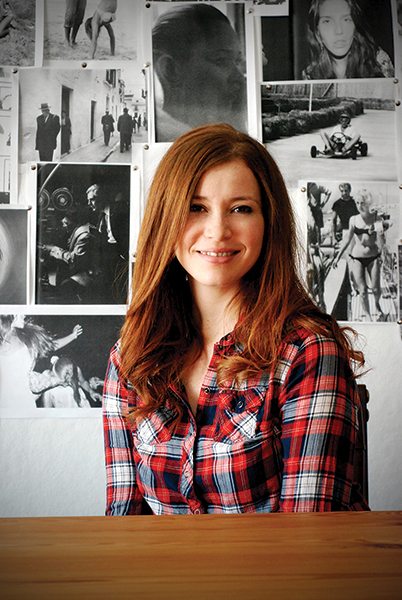 Translating passion into a successful career
By Lauren Daley
Gretchen Thomas is a lifelong student of wine. The valedictorian of her '05 class at the prestigious Culinary Institute of America in New York, she was the recipient of the Kopf Achievement Award and a resident wine tutor. Thomas is a certified Spanish Wine Educator from the Wine Academy of Spain, where she scored in the top 15 in the world. She has also earned various levels of certification from the Wine & Spirit Education Trust and the Court of Master Sommeliers.
As a culinary student, Thomas studied at wineries in Europe and worked as a sommelier and restaurant manager in various restaurants in New York's Hudson Valley. For the last decade, she has supervised wine, spirits and beer selections for all 22 Barcelona Wine Bar & Restaurants and Bartaco restaurants, including nine locations in Connecticut.
Her selection includes some 500 labels from 11 countries — about 60 percent of the vintages hailing from Spain and 20 percent from South America. Thomas also oversees seasonal cocktail creations, wine and mixology training and development, and beverage-themed events.
Q: How long have you been passionate about wine?
A: I've always loved cooking. When I decided to go to school for it, I chose the Culinary Institute of America because it was considered the most prestigious … I had to pay my way through school, and culinary school is really, really expensive. I was determined to keep my GPA as good as possible because of scholarships … I applied for a scholarship funded by Kobrand, a big wine importer, and it was a free trip to study in France, Italy and California for two months. To get that, you had to get an A+ in the Wines course, which is famous for being the most failed course at the college.
I was thinking: "I'm going to get this scholarship; I'm going to stuuu-dy." So the first hurdle was this wines class, and I ended up falling in love with this class. I could've been in that class 15 hours a day and been happy. I hadn't realized how much wines were about history, chemistry, geology, agriculture. Tasting ended up being so fun, to explore flavors in wine. I ended up getting the scholarship, and studying in France and Italy. I was just a baby, I was 21.
Q: Where did you study in Europe?
A: In France, we went to Burgundy, to Louis Jadot … Then we spent some time in Bordeaux and Champagne, I loved that visit and learning about champagne. In Italy, we went to Piedmont, Tuscany; it was the road trip of a lifetime … [After that] the Culinary Institute hired me to be a tutor. For two years, every student who took the wines class probably had a study session with me.
I was working full-time, too, at different restaurants in the Hudson Valley. You can't just become a sommelier and not wait tables, so I started out doing that, and being a little wine geek for local restaurants. I wanted to work while I was in school, not just because financially it was important, but for the experience.
Gigi Trattoria in Rhinebeck [NY] offered me a management position, before I even graduated … After doing that for a year and half or so, I decided I … wanted to experience new food … I went to a career fair and [found] Barcelona.
Q: What did you like about Barcelona?
A: I love Spain's culture of fun, being loud, all the tapas. Co-owner Andy Pforzheimer took me on as his project. … After a few months, Andy was like, "If you want to give it a go with the wine list, let's see what you got." … He said, "I want Spanish wine-makers to come to us and beg to be on our list. I want
true prestige."
Their list was predominantly Californian cabs. So I started wiping out those cabs, and finding all the Spanish wines that I could. Little by little, I'd make edgy moves — I took champagne off the menu; I said we should be selling cava … And then [customers] would be like, "Oh, thank God you guys are starting to pour cava!" … The wine list is now a force of its own: we have 500 wines, 50 by the glass.
Q: What Spanish wines do you like right now?
A: I love the new wave of Garnaches, the most widely-planted red grape in Spain. Historically, the Garnaches were dense, eat-it-with-a-fork-and-knife wines. But now, they're doing these pino noir Garnaches from amazing terroir sites in Madrid.
They're breathtaking.
I'm also loving every white wine from Spain. So many different varietals, so floral and mineral and distinctly Spanish. Everyone wants to make Albariño, [but] the real place it grows is in the region of Galicia, on the Spanish coast, near the border of Northern Portugal. It's being planted in California, but it's not the same.
Q: What do you like from South America?
A: The world is interested in Malbec. It's very hot right now, but I'm over it, more or less … I love the tannat wines of Uruguay. Uruguay is so earthy, so distinct. Alto de la Ballena an interesting producer making very drinkable wines with tannat.
Q: You also oversee cocktails.
A: I never thought I had a real love of spirits, but they needed help with cocktails. Our wine list had come a long way — a beautiful beacon of who we are — but our cocktails were so stuck in the '90s. So recipe writing is something we had to work on. My studying for that was essentially going to bars and drinking cocktails … Now the craft cocktail bar is a huge part of the Bartaco experience.
Q: What's your typical day like?
A: My typical day, I'm probably on an airplane; there are 22 restaurants in the company … I'll be contacted by 80 to 100 people who sell alcohol … I'm training the staff. My favorite part is going around teaching wine classes.
Q: What advice would you have for someone who wants to learn more about wine?
A: If you want to get into wine, you have to get some kind of certification. You have to be willing to read … you have to be relatively intellectual to love wine on a deep level, because it's a massive academic pursuit. I tell people I studied wine, and they say, "That's so specific; it's like saying you studied the French Revolution." And I say, "No, it's like saying I study war." It's a way broader subject that anyone thinks it is.
Interview has been condensed.