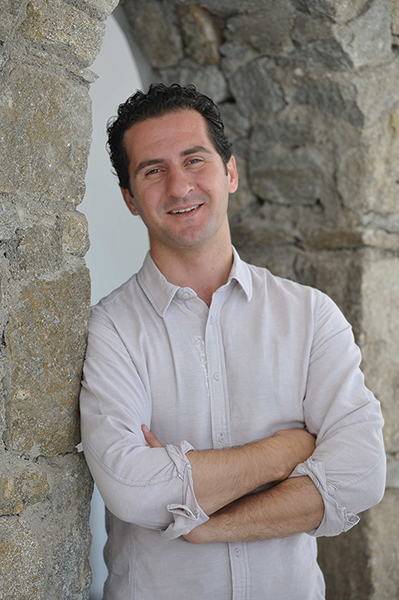 Serving up luxury at an iconic Newport property
By Lauren Daley
The Vanderbilt Grace harkens back to the turn-of-the-century Gilded Age glamour of old Newport. Originally built in 1909 by a scion of the wealthy Vanderbilt family, Alfred Gwynne Vanderbilt, the mansion is now a luxury boutique hotel, with 33 rooms, a spa and two restaurants including Muse — a fine dining restaurant offering imaginative menus and high-end spirits, wines and creative cocktails.
Its guests come from around the globe, and overseeing the entire award-winning establishment is General Manager, Kostas Mavrogiannis, a native of Thessaly, Greece, with a passion for good food, good spirits — and serving others. Mavrogiannis arrived in Rhode Island from his native Greece a few months ago, specifically to work at the Newport hotel. And from what he calls "recycled cocktails" to movie-themed drinks, he mixes innovative ideas with an old-world sense of hospitality.
Q: So what brought you from Greece to Rhode Island?
A: It was passion that drove me here. I'm interested [in] the whole hospitality industry; it's fascinating. It's amazing to be able to meet people from all over the world, and host them in the best possible way … I saw the opportunity to join a company in this part of the world. You open your hands and grab an experience and all it has to give you … from beautiful wines to a new lifestyle, culture, people in different parts of the world. Newport has nice, relaxed summers, quiet winters. People don't take a ferry to us, so people may not perceive us as an island, but we are an island — we're surrounded by water. And I love islands; I grew up on an island. It's got all the nice elements of an island destination; interesting people and interesting food, beers and wines.
Q: When did you start out in the service and hospitality industry?
A: I started with summer jobs at the age of 10, in food prep and serving at friends' and acquaintances' restaurants and bars. One of the first restaurants I worked was in Athens, [called] Boschetto. But my first assignment as a professional in hotels was in Elounda on Crete Island, under the Michelin star chef Jacques le Divellec … Before the Vanderbilt Grace, I was at the Grace Mykonos as the GM of the property for the last seven years.
Q: What made you want to switch from restaurants to hotels?
A: Starting at the age of 19, a very good friend of mine convinced me that this was the right thing. At the time, I was already working at an Italian restaurant [Boschetto in Athens] but once I walked in the hotel on the first day and started working, I never left. That was 19 years ago.
Q: What did you love about it?
A: In a restaurant, you get a guest, and you have 40 minutes, an hour to offer them food and drink. You don't interact in the same way; what you can offer them is limited. In a hotel, you have accommodations, all these different services, how you engage with the guests in the hotel, dealing with the guests is … completely different. You get to know your guests better in a hotel. The feeling you get that you're hosting someone [for an extended period] is much more important for me, than hosting someone for [one meal]. It's like having a friend stay in town, and stay at your place. I strongly perceive it this way. Having a guest walk in your hotel — from the food, beverage, spa, service from concierge — it's like they're staying at your home.
Q: How do you select your beverages?
A: We always have an eye on that, watching for big trends. We hold an extensive list of wines, but there's usually a big trend every couple of months for cocktails. Recycling ingredients, this new trend of using everything that comes out of the kitchen, that's big right now. If you're making a salad, they use everything; reusing what was normally thrown away, thinking outside the box, that's what's happening now.
Q: Can you tell us more about recycled cocktails? How have you been using them at the Vanderbilt?
A: We don't have any on the menu yet, but we've been [experimenting with] cocktails based on roots. For example, if you're cutting celery sticks, [keep] the heart of the celery to make powder to season cocktails, to enhance the taste. In the same way, we're looking at how to reuse vegetables and fruits by making extracts, concentrates … We have fruits for guest rooms, [but] they have to be perfect. If they have marks, or scratches, we used to [throw them out]. Instead, we're trying to use them making concentrated apple puree, to use in different drink recipes.
Q: What else are you doing cocktail-wise?
A: There's a theater down the corner, a block away, and [sometimes] before a film starts, our mixologist makes a movie-themed cocktail. For "The Lady in the Van," for example, we made one (See the Serving Up section for the recipe).
Q: And what about your wine list?
A: Over the years, the hotel has built an extensive wine list, about 215 labels … We have wines that are familiar to our guests, and we also have more complicated choices to serve by the glass, wines that people may want to taste but might not get from a wine shop because of the price or because they're not promoted. We go for wines from France, Germany, and newer wines from regions like New Zealand. For beer, we tend to stay local; there's an amazing selection of beers locally, especially up in Boston. Starting in May, we'll add more global options; British ales, central European, Belgian beers.
Q: What do you like to drink, personally?
A: I'm a very open consumer. I drink everything that has a taste — good rum, Scotch, whiskey and rye. I tend not to drink vodka. In beer, I look for interesting bouquets. From the New England beers I've so far tried, two breweries up in Maine are the best: Allagash Tripel Ale and Hidden Cove Bucko's Hoppy Brown Ale. Also the pilsners made by Two Roads brewery [in Stratford, CT]. In wines, it could be anything from California to classic options in France, Italy. Coming from Greece, I like the white wines of Santorini, they have a volcanic flavor. [Santorini, one of Greece's Cyclades islands in the Aegean Sea, was devastated by a volcanic eruption in the 1500s, forever shaping its landscape.] I like wines from New Zealand, Australia … New Zealand's Ara Single Estate Pinot Noir, and Austrailia's Penfolds Koonunga Hill Shiraz are among the best I've tried.
Interview has been edited and condensed.