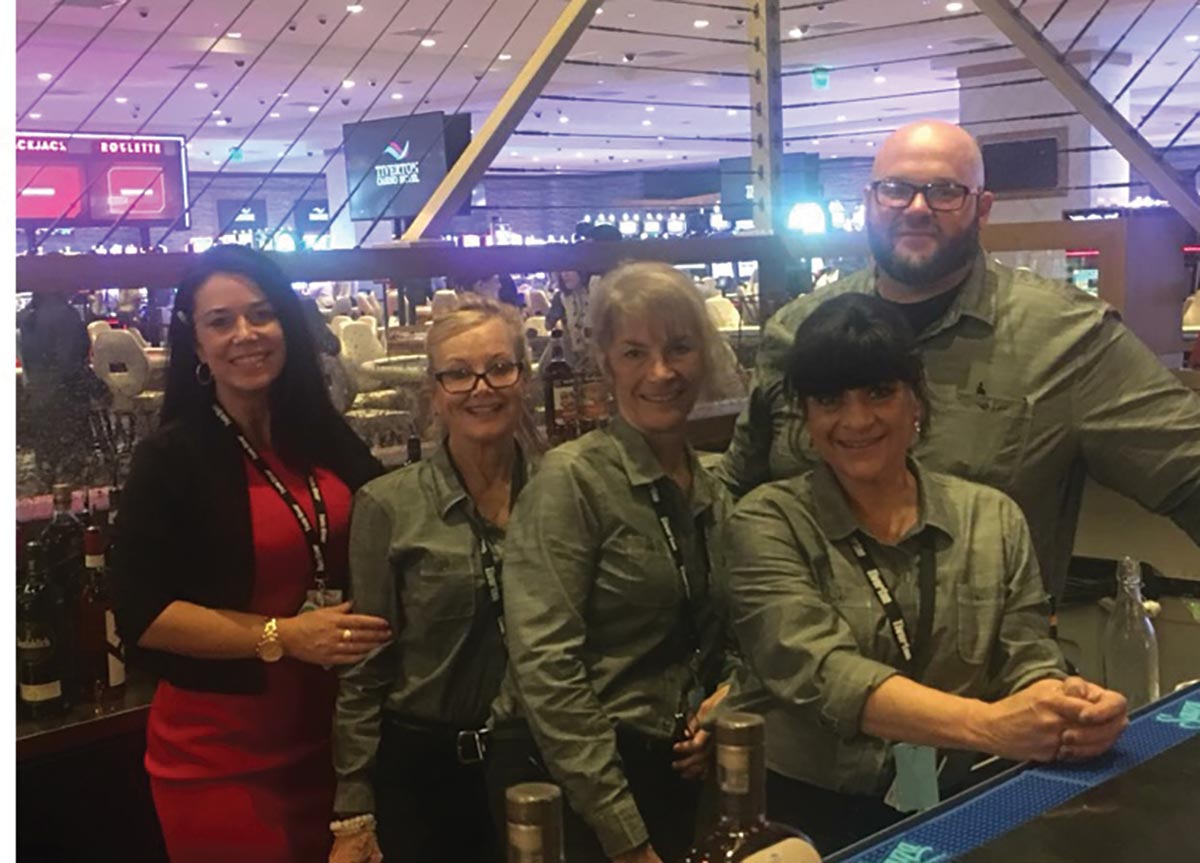 By Lauren Daley
The Tiverton Casino Hotel opened its doors to the public September 1. The 85,000-square-foot casino and adjoining 84-room hotel features 1,000 slot machines, 32 table games, a food court, center bar area and upscale dining at Trattoria Romana and Tuscan Chophouse, employing approximately 550 workers between it all.
It also has a vibrant beverage program, including an iPourIt self-serve beverage wall, and some 1,500 wines, local spirits and an extensive beer list, says Frank Martucci, Director of Beverage and Nightlife for Twin River Management Group Inc. Opening weekend was "amazing. Guests loved it. iPourIt was a huge success. We are receiving great feedback from our guests on both restaurants," said Martucci. An interview reveals an inside look at the new casino's beverage program.
The Beverage Journal: How did you begin your planning for the casino's beverage program?
Frank Martucci: We looked to Rhode Island [businesses] to develop some programming with local establishments. We reached out to Luciano [Canova] for Trattoria Romana. [The Torre Restaurant Group has multiple locations in Rhode Island and Southeastern Massachusetts.] People know his iconic brand, so it was a great fit for us. We developed the Tuscan Chophouse … We like to look at local New England ties [and] noted concepts to build our food and beverage program. Then looking to innovation – we want to do something different than what others in the [local] hospitality industry have – that's how we came up with the iPourIt wall.
TBJ: Tell us about the iPourIt self-serve wall.
FM: It's an interactive wine and beer wall. We offer eight wines from around the world, including Italy, Germany, Argentina and America – and 16 craft beers from around world on a rotating basis. Once a keg is finished, we might do a different beer or wine depending on the season. We want to keep it fresh and different.
TBJ: How does it work?
FM: We can offer up to 16 ounces of wine or 32 ounces of beer per card … and they can sample what they want. Sometimes people don't want one 16-oz. beer, but they want to try four types of beer they've never tried before; so, the iPourIt wall gives them the availability to taste different wines and beers.
TBJ: They spend those ounces in any way they want? Say, 32 one-ounce samples of beer, or eight two-ounce samples of wine?
FM: Exactly. It's a touch screen; there's an emblem of the beer or wine, telling you about it, displaying the ABV … We have Bell's Best Brown Ale out of Michigan; Elysian Space Dust, Whalers, Foolproof. We'll also have some comfort beers – Blue Moon or Sam Adams. We added Rubaeus Raspberry Ale out of Michigan, which we sold out of in three days.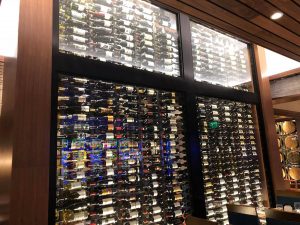 TBJ: With an estimated 1,500 bottles of wine in the wine wall, how did you choose?
FM: [The wine wall] is located in the Trattoria and serves both the Trattoria and the Chophouse. We wanted to make sure we chose some amazing wines to fit our concept of having an award-winning Italian restaurant and Tuscan Chophouse, so we wanted to highlight wines from amazing regions of Italy, a spectrum of Italian wines, New- and Old-World wines, as well as including some local vineyards – Newport Vineyards and Carolyn's Sakonnet [Vineyard] from Little Compton.
TBJ: What's the "Bottle Menu"?
FM: We teamed up with Woodford Reserve Bourbon, and we have a menu listed on the back of an empty bottle. Our thought is, there's always a cocktail menu on the table; sometimes people pick it up, sometimes not. We got creative and put an empty liquor bottle with a sticker of our cocktail menu on the back side. Everyone is curious about why a liquor bottle is on their table and 99% of people will pick it up. It gets people to say, "Hey, what's on my table?"
TBJ: What does the cocktail program consist of?
FM: We want to make sure we deliver the best guest service we can. We do a lot of education with training programs, just not beer and wine, but guest service. We want to make sure bartenders are well-educated. There will be different cocktails in each restaurant; we have an East Bay Seashell cocktail, using Soul Premium Cachaça rum in a ceramic seashell. The owner is Mark Lester from Newport and we wanted to keep a local tie to the area. We'll do a seasonal cocktail with Thomas Tew or Sons of Liberty. We want to keep [the program] seasonal and use local spirits.
TBJ: How do you train your staff?
FM: We want to make sure they're comfortable, make sure they understand casino operations. It's a little different from just a restaurant or bar. We want the staff trained in the Cicerone Certification Program, so they're more well-versed in beer education and can talk more with consumers about the beer. We do a lot of training and tutoring on guest service, and layers of bartending and server acknowledgment which includes spirits, wine, beer and NA (nonalcoholic) beverage education.
TBJ: What are your hopes for this new venture from a professional perspective?
FM: We want to make sure we deliver the best service to guests so that they return. We want to be innovative in all our programming and events. We want to deliver the best product. And just being innovative. We have some exciting things we want to do, so stay tuned.
Interview has been edited and condensed.