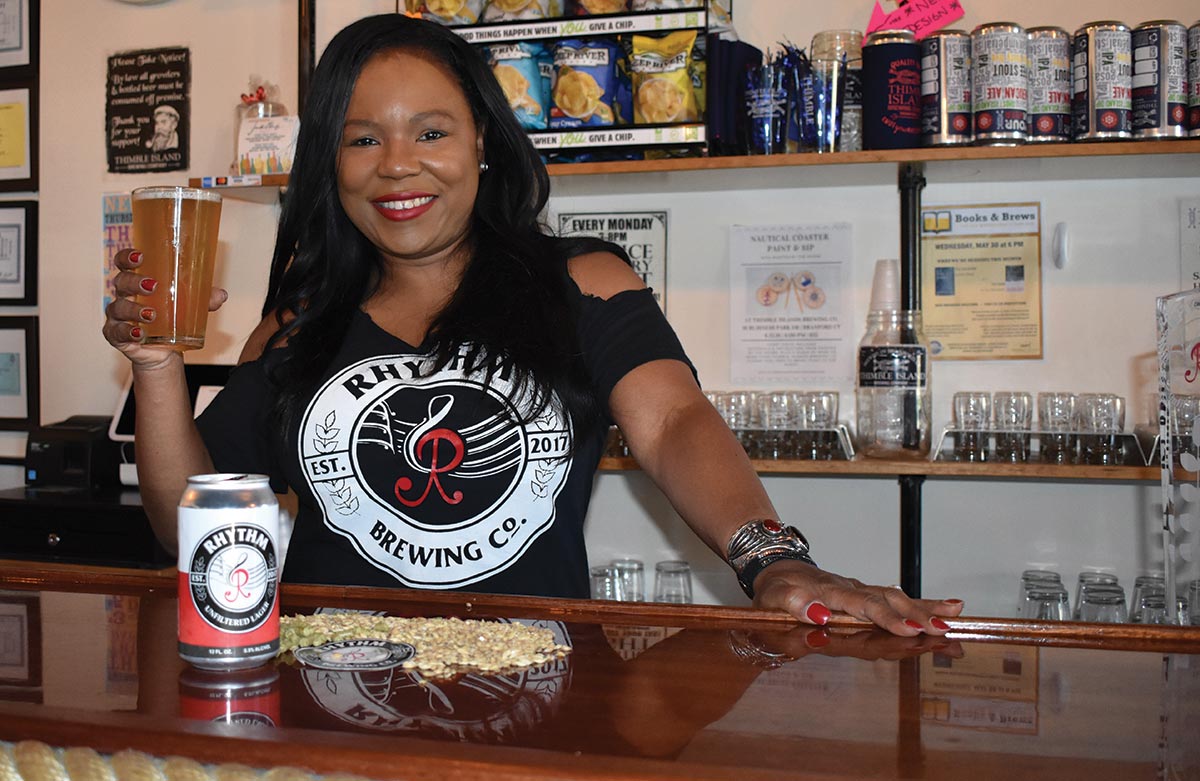 Meet Lady Lager, Alisa Bowens-Mercado
By Lauren Daley
One day in 2014, long-time salsa dance instructor and lager-drinker Alisa Bowens-Mercado attended a craft beer fest on Cape Cod — and her life changed. "I'm looking around, and I notice a couple of things. One, there weren't a lot of women there," she said. "And two, I'm a lager girl. Both my grandmothers were lager drinkers. I'm looking around and thinking: Where are the lagers?"
This year, the New Haven resident became the change she wanted to see. Bowens-Mercado became the first African-American woman in Connecticut to brew beer — and one of only a handful in the U.S. — when she founded the New Haven-based Rhythm Brewing Company.
While the lager pays tribute to her grandmothers, the name is an homage to her salsa dancing career; she is still the owner of Alisa's House of Salsa in New Haven. With the slogan #FindYourRhythm, it's a small, family-run operation, with mom Millicent Bowens as executive sales director and husband John Mercado as social media director.
After canning two batches of their flagship Rhythm unfiltered lager (5.5% ABV) at Overshores Brewery in East Haven earlier this year, they moved to Thimble Island Brewing in Branford for their third batch, canned in May. Their first batch of Rhythm Light Lager is slated for the fall. They also recently began distributing with Dichello, Bowens-Mercado said, and the beer is available in more than 40 stores, bars and restaurants in Connecticut. We caught up with the mold-breaker recently to ask how she found her Rhythm.
The Beverage Journal: Tell us how you got into the brewing business.
Alisa Bowens-Mercado: After that craft beer fest on Cape Cod, I started researching, seeing what styles were out there, and noticing there were not a lot of women [brewing beer] and absolutely no African-Americans or Hispanics in the industry at all. I thought, "If I need to get into this industry to show people of color, to show women, we can do it, then let's do this." It wasn't about 'Alisa's going to make a beer she likes.' This is a bigger picture. Everyone should enjoy beer — no matter what color or gender you are.
TBJ: And how did it progress from there?
ABM: That was 2014 … We launched a brand, but we're going to do what Budweiser did: We'll make a beer, perfect it, see the demand for it. Within the year, we'll make a light version. We're very strategic. People ask, 'What's your next flavor?' Nope, you're getting Rhythm unfiltered lager. Get used to that flavor. We don't want to do what everyone else is doing — we have our own vision, our own mission and passion.
TBJ: How would you describe Rhythm's flavor?
ABM: Crisp, drinkable, bright. It's got a finish that's satisfying to the palate. It makes you want to keep drinking. You taste that unfiltered part. We're keeping the nutrients, the goodness in … Because it's unfiltered, it has a burst of flavor — you smell it, take it in; there's no aftertaste.
TBJ: Why did you decide to make an unfiltered beer?
ABM: I've researched and it's healthier, you're keeping nutrients in. Plus, there's only a few [other breweries] in the state doing unfiltered beer.
TBJ: How is business going so far?
ABM: Amazing. My first canning was the day after my 47th birthday in February, then it was off. So, we sold 100 cases in less than two weeks … We canned again in April. My mother is my executive sales director; we get up every day and say we're not coming home unless we get five to 10 accounts.
TBJ: Have you gotten any feedback from people who are inspired by you?
ABM: I get calls every day from people, women, asking for advice … I'll be in a store, and women will run up to me, throw their arms around me and say, 'This is such an inspiration; we didn't think we could do something like this.' Budweiser, Heineken, Corona — we don't own that. You hear that women are the largest consumers of a lot of things, but we don't own anything. We should start owning. Economic growth and development for all.
TBJ: You also own Alisa's House of Salsa.
ABM: I'm a pro salsa dancer; I've owned that 18 years. It's like I have two babies — an 18-year-old and a newborn [laughs]. I've done salsa night in New Haven at every bar or restaurant you can imagine. I know a lot of bar owners in Connecticut; I had already built those relationships. When they tasted the beer, they said it's a win-win. Lagers are coming back … They call me Lady Lager. I was the salsa chick, now I'm the beer chick [laughs].
TBJ: Who's your typical consumer?
ABM: Everyone. We get the guys on yachts saying it looks like a good summer beer; we're getting hard-core beer snobs telling us we're on to something, and we're getting folks who never tried craft beer before. All types. We're the melting pot of beer drinkers. People are liking this. We're telling people 'Go find your rhythm.' We're having fun.
Interview has been edited and condensed.