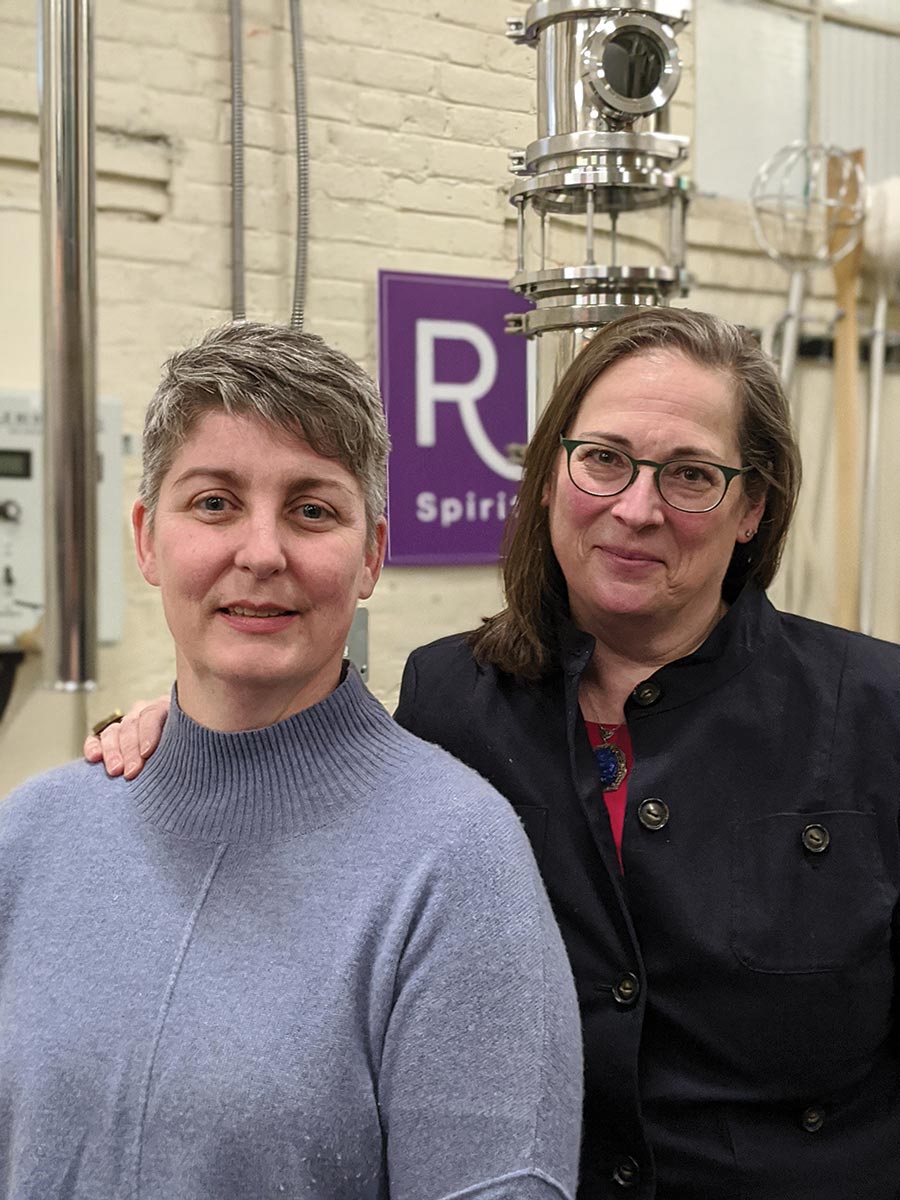 Founders talk spirits and successes
By Dana Slone
Rhode Island (RI) Spirits, makers of Rhodium brand gins, vodkas and liqueurs, took the number three slot in the 2020 USA TODAY 10Best Readers' Choice travel award contest for Best New Craft Distillery. 10Best Readers' Choice nominations of 20 category leaders were made by a USA Today expert panel and the public voted for the top 10 winners.
Located in Pawtucket, RI Spirits opened its distillery and tasting room in March 2019 by Owners Kara Larson and Cathy Plourde, showcasing the carefully crafted line of vodka, flavored vodkas, gins and liqueurs. Every product contains local fresh, farmed or foraged ingredients. Rhodium brand products are gluten-free, organic, non-GMO, and vegan, with all in the lineup but one certified kosher by RI Kosher. The RI Spirits' Rhodium line is available from its tasting room and in distribution with Horizon Beverage Co. of Rhode Island.
The brand's website states, "We're married and we work together. We started this company to do something we love together, and have since realized that we now own and operate New England's only LGBT-owned spirits brand …. We work hard to ensure that our distillery and tasting room is an accepting and welcoming space, where all the members of our community feel free to be themselves." The team also gives space to social and activist organizations, partners with other businesses and supports "out and proud" political candidates. Its packaging includes a popular rainbow bottle tag and ethos, as does their RI Spirits branded van.
Of the placing in the top three reader and expert poll for the 2020 10Best, Kara Larson said of the recognition, "We kind of keep our heads down and work, so having an award that comes from an expert selection tells us we're doing something right, and having enough votes to finish highly ranked suggests we have enough fans and supporters to bring it home for us. Thank you." A chat with the founders revealed their own "top three in three" about starting their business and growing their brand.
Q: What were the top three challenges in creating RI Spirits?
A: Working out how to design and build the distillery ourselves; Building a new brand from nothing – thank you, to our branding team; Working out spirit formulas – we wanted to find truly local flavors to make a distinctive product line.
As a lot of people who want to own a business like this spend a lot of money hiring consultants, engineers …. It is a vastly expensive proposition. We said, "No, we can do this, not with deep pockets, but with a real depth of interest and enthusiasm for learning what it takes to make good spirits and a good business."
We interviewed lots of people, did a ton of research … and every time we had a big decision to make, we had a network of people who were much more experienced than us to ask for help. People in the industry have graciously answered our most mundane questions. Our favorite question was, "What did you wish you had known before starting or what do you wish you had done differently?"
Q: What are the top three rewards so far since launching your business?
A: Realizing that we like working together and wouldn't want to do this (or spend as much time) with anyone else; Meeting people who love gin as much as we do, plus working with enthusiastic local farmers, local mixologists and local package stores. It's great to be a part of and enjoy the support of the community. Also, we always have great booze in the house!
We moved here four years ago, today, and did not have a community here. We chose to live here for a list of reasons but had no connections. The business has really helped us to drop roots, not only in Pawtucket but across Rhode Island and now Massachusetts and New England, as we expand to be a more regional brand.
Q: What are your top three goals for your brand in 2021?
A: Make Rhodium a broadly successful regional brand; Make the most of Rhodium's uniquely extensive range of kosher, gluten-free and vegan products; Celebrate Rhodium as New England's only LGBT-owned spirits brand [that we know of].
There is a place where we clearly see it [LGBT-owned brand] is a distinction and to make the best of that. We are not rainbow-washing our products. People spotted before we did that the arrangement of label fragments on our Rhodium van is more or less a rainbow. We get snide negativity from internet trolls occasionally, yet on the other hand we usually get overwhelming enthusiasm. They'll say, "My son is gay and I send him your vodka." As we drive by in our van, people will honk and smile and say, "It's so gay, we love it." We didn't set out to be a gay brand but to be a spirits brand that is supportive of the gay community and that is unique.