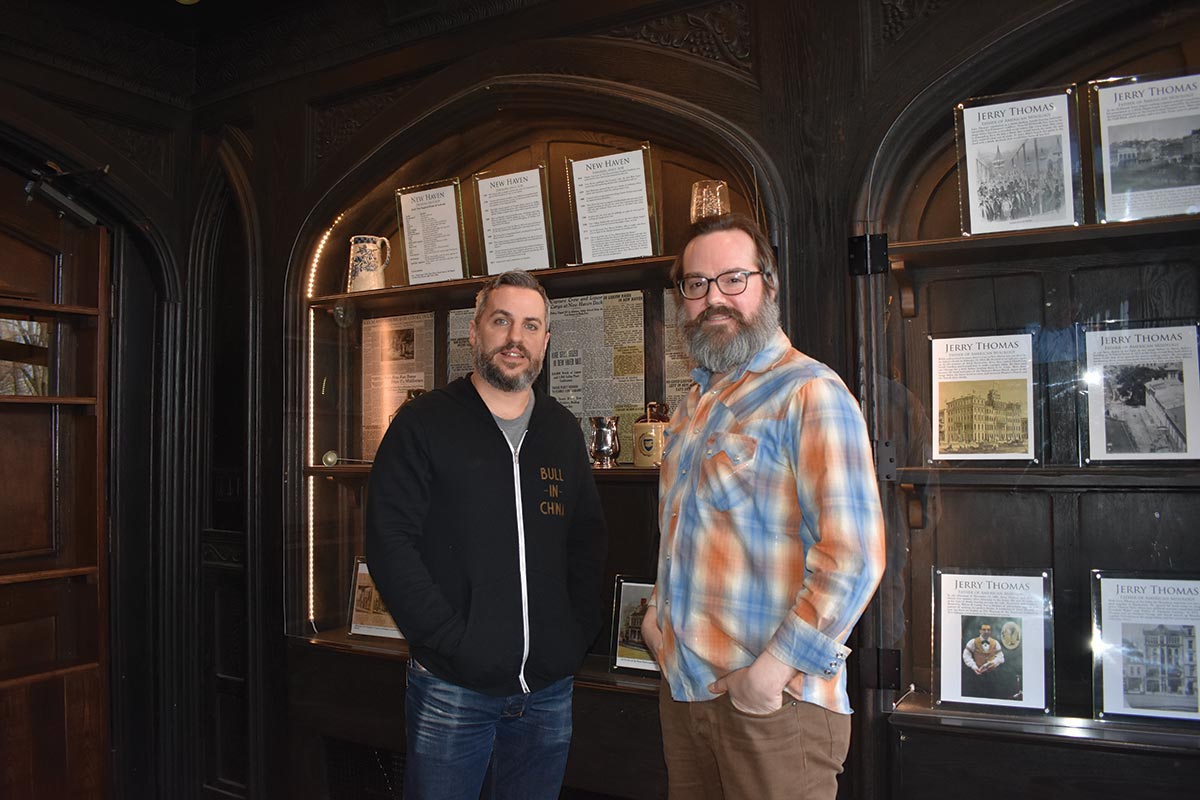 Bridging New Haven's Cocktail Past and Present
By Sara Capozzi
As New Haven continues to offer an enticing and diverse array of dining and cocktail destinations, now there is another attraction that puts the city on the map, all while bridging the city's past and present: the New Haven Cocktail Museum.
Opened in the foyer of Ordinary in January 2019, this walk-in display traces the history of the city when it comes to "all things alcohol," from a world-renowned New Haven-based bartender of the 1800s to Prohibition and Repeal antics and artifacts, to the trends of today.
Located on the site of New Haven's oldest tavern with its roots beginning in the 1900s, Ordinary is found in the historic Taft Building on Chapel Street. Visitors walking through its doors are greeted with a multi-paneled display, each one showcasing an era or theme. Starting with framed vintage news pages and memorabilia, all tastes of its storied past, the museum features an interactive display that showcases today's brands and industry pioneers, bringing it all back to contemporary history. A tie-in cocktail menu while each interactive exhibit runs brings it to life for imbibers.
Timothy Cabral, New Haven Cocktail Museum Co-founder and Co-owner of Ordinary, which celebrated its sixth year serving Elm City customers in May, considers the museum an extension of what he and his team at Ordinary do every day. Cabral is also a co-organizer for New Haven Cocktail Week, which debuted last summer. He talks about what inspired the museum and about what is slated for the second annual citywide event, scheduled for August 19 through 25.
The Beverage Journal: How did the idea for the New Haven Cocktail Museum come about?
Timothy Cabral: This [Taft building] has always been an interesting and challenging space for us, what do we do with it, how do we manage it … we're always telling stories here, we're always telling the story of the space, we're always telling the history of cocktails, interaction with our guests, so why not extend that to what we're already currently doing?
People have always joked and referred to our space as a museum, because there's so much history in this corner of New Haven. When we first opened up, we hired the same historian that helped us with this project to kind of dive into the corner and give us a timeline from the 1600s up till now; all the different things that have happened in this building, in this corner. We decided to allow it to be a natural next step, where we've always put focus into cocktails and ingredients and our area, so then why not allow this to be a little museum where we're doing the same?
TBJ: What went into your selections?
TC: The museum is broken up into sections. Jerry Thomas, probably one of the most famous bartenders in the 1800s, he was from here. He traveled the world and ran a little bar program in New Haven. We wanted to have a focus on Jerry Thomas as an individual, so the first panel is all Jerry Thomas-inspired. This is a mixture of Blue Blazer memorabilia. There are Blue Blazer mugs from the Blue Blazer cocktail that Jerry Thomas created with the very iconic photo of him pouring a fiery cocktail from one glass to the next, that's called a Blue Blazer.
Prescriptions for booze, booze bottles, different newspaper clippings, different things from alcohol-related articles from our area alone. And then it goes into Repeal, what was going on, different bottles.
And then this side of the wall we're using to do different brand focuses, so every few months we're going to have a different brand that we focus our menu on. The first one is Wild Turkey, the Russell Family; they're just some of my favorite people in the industry, Jerry Russell, his son Eddy. On the inside, we have a museum menu that focuses on Wild Turkey, and then every four months we'll change out a new brand … host a new museum party and talk about what the next brand is.
TBJ: How have guests reacted so far?
TC: I guess the first reaction will always be, "I thought it was gonna be bigger." Everyone always thinks it's going to be in our basement, so everybody wants to go [there]. The basement goes down three stories beneath our feet. The floor below us is where the original speakeasy was. You can still see the grand ballroom aspect, the Spanish-style archways, but it's really not in good shape. There's also a hallway with different storefronts – one used to be a barbershop, a dressmaker, a shoemaker, all the amenities to what was the Taft Hotel … you can still see the infrastructure. The floor below is renovated … for the apartments above us today.
What we always tell people is, yes, it's a very small museum, but there's a lot of information if you take time and you read for a second, or engage us in conversation. We can help take you on a little tour of that. It also gives us the opportunity to, every few months, change it up and add something new to it, so it's been a lot of fun.
TBJ: How did you start working with Historian Colin Caplin?
TC: We've all known him for a very long time and we've worked with him on the other end of it. His city tours used to come into Caseus [Fromagerie & Bistro, formerly 93 Whiney Avenue] all the time. When we were getting ready to open [Ordinary], we all knew this space had such rich history. It took us about nine months to restore everything and during that time we hired him to do a timeline [which is on the website and also painted on the bar's hallways].
TBJ: Switching to today's cocktail culture, how did New Haven Cocktail Week come about?
TC: The five of us who own and created New Haven Cocktail Week … [Cabral; Ben Zemke, Ordinary; Jon Brennen, Chef and Owner, Olives & Oil; Glen Greenwood, Owner, The Owl Shop; and Scott Randall, Opici] … it's something that we'd been talking about for a while. I've been fortunate enough to travel to a lot of cocktail weeks in the industry, whiskey camps and all different types of booze-related adventures.
We got talking about hosting our own because we all love the city that we're in. New Haven's really fun. You can park once and you can have a night out with a little bit of an adventure involved. Why not showcase that from an interactive, educational component … continuing in storytelling, continuing in education, continuing in pride of product and kind of growing it throughout our city.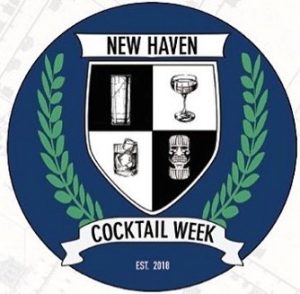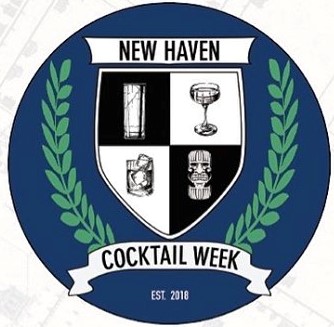 TBJ: What did last summer's inaugural New Haven Cocktail Week offer?
TC: Last year we created a citywide passport event where people got to explore the city. We had about 28 bars and restaurants involved, about 30 brands and we held 10 educational seminars. We held a few different closing parties, we hosted bands and beers at BAR one day, we raised money for All Our Kin, which we'll continue to do this year. It just became a thing that the city embraced. We weren't sure how they would accept what we were trying to build, and they came to us again this year already and we're working on this year's schedule.
This year's going to be a little bit bigger, with more going on. We hope to raise more money for All Our Kin, continue with education and continue with livening up the city. August in New Haven is always very slow: it's the slowest month of the year. So, "Okay what can we do? It's nice weather, everybody's quieter, what can we do to get people to engage in our area?"
TBJ: What can guests expect this year?
TC: There will be a Spirit Ball to kick off the event, where all the brands will be under one roof for the opening day. We'll have music and food, bartenders making cocktails. We're going to offer 12 seminars [throughout the week with different brands and participating venues], a happy hour in The Plaza outdoors and the citywide passport event, continuing all week long. We're going to have an event for the industry only, just to give back and say thanks to everybody who works so hard during the event.
TBJ: It's great exposure to the trade and new consumers.
TC: A lot of brands that weren't a part of it last year are pushing to be a part of it this year … which is great. That will give us room to grow and keep doing more. We want this thing to continue. I was just in Puerto Rico for Tales of the Cocktail … there's so many great events throughout the year around the world and we're trying to put our little area on the map [too] … That we're right between Boston and New York is not always a bad thing. It's very easy for brands to show our area some love because there's so much … happening. There's a lot of us that care about our community, have a good presence and do good things. Our city is super walkable, so it's a nice outing to offer during a good time of year.
New Haven Cocktail Week is set for August 18 – 24, 2019.  Check its site for schedule of events  and venues.
Interview has been edited and condensed.