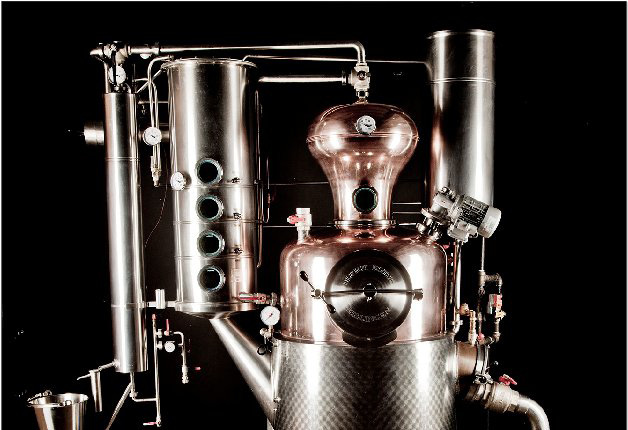 By Rob Lowell
The offshore oil industry receives credit for inventing that most proletarian of mixed drinks: the screwdriver. Connecticut might be 1,700 miles from the Gulf Coast, but the Nutmeg State can now lay claim to the oil industry's most recent contribution to bottled spirits: Elm City Distillery. Before founding the Durham-based micro-distillery in 2009, Founder Eric Kotowski was a third mate aboard an oil tanker based in the Gulf of Mexico.

"I grew up in Old Saybrook and went to the Massachusetts Maritime Academy, where I majored in marine transportation," Kotowski points out. Once he spent several years working in the Gulf, however, Kotowski discovered that wasn't the right career for him. Fueled by a passion for fine liquor and a desire to launch his own enterprise, Kotowski began to experiment with creating – and bottling – his own spirits. Much as micro-breweries and small wineries have created a niche in the beer and wine industries, Kotowski reasoned that there was indeed room for a small player in the liquor business.
Kotowski launched Elm City Distillery in 2009 and in 2010, launched his first product: a vodka called Velocipede after a type of bicycle that once predominated in New Haven before the advent of automobiles. The moniker is also an oblique reference to Elm City Distillery's speed to market. "One key advantage of a micro-distillery is the considerably shorter time it takes to age the product and get it to market," notes Kotowski. "The smaller the barrel, the faster it ages. For a large maker of vodka, it can take up to 15 years between the time the liquor is made and when it goes to market. "For a big distillery, it is much more economical to produce spirits in vast quantities," Kotowski continues. "The challenge is, business people must be much more accurate at predicting just what they will be able to sell in a decade and a half."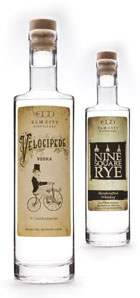 Elm City's second product, Nine Square Rye, debuted last month and turns the whole whiskey-making business on its head. You could even call it "anti-aged whiskey" because Nine Square Rye is fermented for days rather than years. "Nine Square Rye is what rye whiskey tastes like before it is put into a barrel to age," says Kotowski. "You can actually taste the rye in it, which gives the liquor a whole new dimension and is sure to please the adventurous liquor connoisseur."
In October Kotowski plans to follow up the debut of Nine Square Rye with an aged whiskey. Elm City is pretty much a one-man show right now, with Kotowski making and bottling his own spirits and then searching for distribution channels. His ideal consumer is the affluent man in his 30s or 40s who enjoys travel and the outdoors and likes to try new things. "I want to reach the person who can appreciate a locally produced spirit – and is willing to pay slightly more in the quest for something different," says Kotowski. To achieve that, Kotowski has focused heavily on getting Connecticut restaurants and hotels to add his bottles to their fare – with some measure of success.
Shortly after its debut, Luigi's of Old Saybrook added Velocipede to its menu. Several liquor stores in the New Haven area now stock both Velocipede and Nine Square Rye, and Connecticut Public Radio personality Faith Middleton recently featured Velocipede in a salute to the Nutmeg State's gourmet restaurants. Although he is now Elm City Distillery's sole employee, Kotowski has an A-list of friends and employment agencies he turns to in a pinch.
The most challenging aspect of setting all of this up? Regulations, Kotowski replies without hesitation. "There are lots of regulations on the distilling industry, and a micro-distillery is no exception to the rules," he explains. "Just getting all the approvals you need to start out is a huge hurdle. Then, every time you want to come out with a new product, you have to do it all over again in exhaustive detail. For instance, all of my bottles, labels and packaging for Nine Square Rye had to be approved by liquor regulators in Connecticut's Department of Consumer Affairs." And lest anybody get the idea that his is a perfect "work from home" business, Kotowski explains that home-based breweries and distilleries are forbidden by law. He set up his own shop in an industrial condominium. The nature of the setting allows him to add capacity to 1,200-square-foot operation if he needs to.
A difference between Elm City and a large operation is that the latter produce liquor in large, continuous runs. In contrast, Kotowski uses a 40 gallon still or "pot." He cooks a grainbased mash to use as a base for three runs totaling 120 gallons of vodka or rye. And he crafts everything by hand. Much as makers of old peddled their own wares, Kotowski then distributes his vodka and rye to his current base of stores and restaurants. If being busy is a measure of success, then Kotowski can call his a successful operation because right now he's too busy to venture outside of Connecticut for additional sales.
"In the short time I've been in operation, I've managed to build a good distribution network by calling on stores that subscribe to The Connecticut Beverage Journal ," says Kotowski. "It's been a big help that rye, whiskey and bourbon have had a enormous comeback. Adults who didn't drink these kinds of liquors when they were younger are just now discovering them and they particularly like the idea of trying the small, unknown labels such as my own. "This is a great place to be for a craft operation like Elm City Distillery, and I love the business," he sums up.
Visit Elm City's website at www.ElmCityDistillery.com.