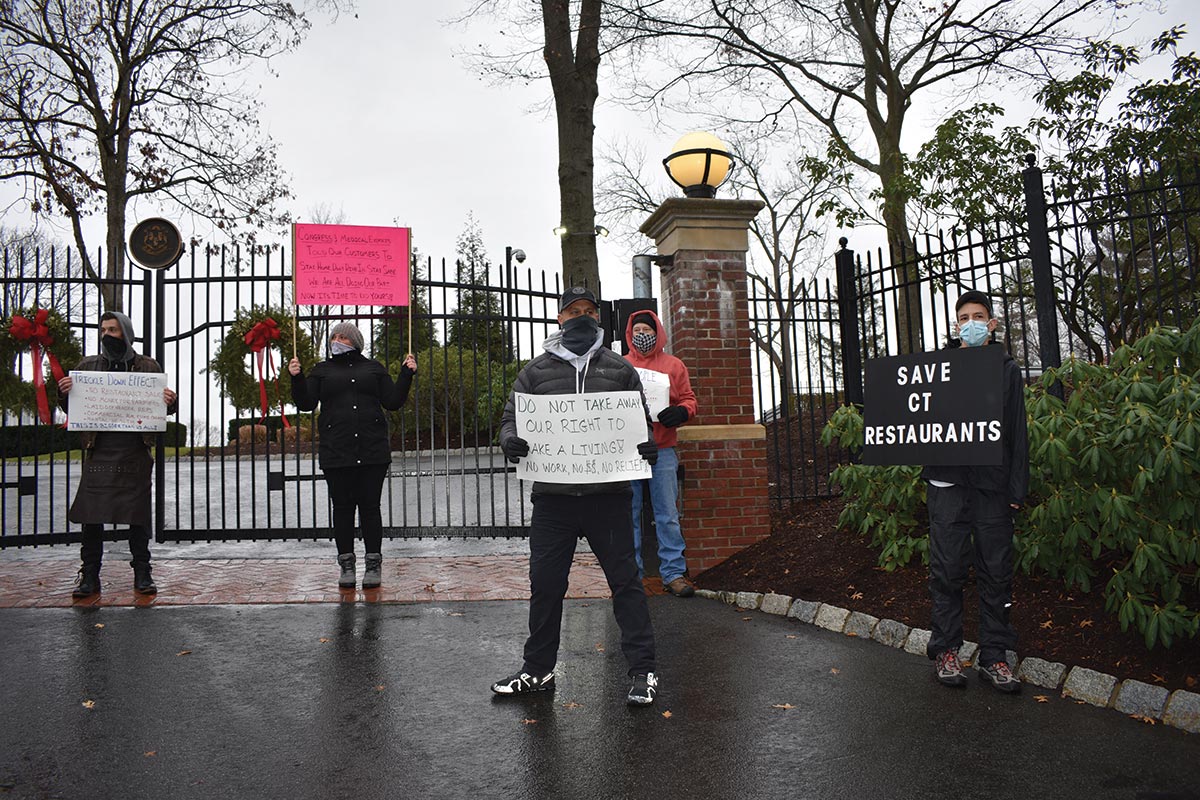 From Staff Reports
As 2020 came to a close, Connecticut's bar and restaurant industry remained under Phase 2.1 restrictions, with no new additional closures or occupancy reductions announced as of press time.
According to the National Restaurant Association (NRA), restaurant sales went down 4% nationally in November and 36 states continued to lose restaurant jobs. A sharp decrease in tourism led to more losses for restaurants, which claimed an average of 41% of their annual sales in a typical, pre-COVID-19 year. In June through November 2020, national tourism-related restaurant sales fell to just 19%, and Connecticut was not immune to similar disastrous impacts.
Some good news came on Dec. 18, 2020, when Gov. Ned Lamont announced that the state would receive an additional $35 million in federal CARES Act money. The Business Recovery Grants, which range from $10,000 to $30,000, were distributed to between 1,500 and 2,000 small- and mid-size Connecticut businesses in some of the hardest-hit sectors, which included restaurants and bars, hotels, retailers, and entertainment and recreation operators.
During the press conference, Gov. Lamont described the program as a "bridge" to take restaurants to the next round of Paycheck Protection Program (PPP) funds, which will be made available as part of the next federal stimulus package. The $900 billion COVID-19 pandemic relief bill was signed into law on Dec. 20. The bill includes an extension of unemployment benefits, direct cash payments and funding for a new round of PPP loans.
The Connecticut Restaurant Association (CRA) continued to advocate for the state's restaurant industry, with 2020 seeing hundreds of business closures of state venues and more on the brink heading into the new year.
In response to Gov. Lamont's announcement of the release of more CARES Act funding, CRA Executive Director Scott Dolch said in a statement: "This additional funding for small businesses will help hundreds and hundreds of those restaurants keep their doors open and keep more of their workers employed during the difficult winter months ahead. The result will be that more restaurants will be ready and able to be part of Connecticut's economic recovery in 2021 as we finally begin moving beyond the pandemic."
Grassroots campaigns get moving
The state's hospitality industry continued to work together to bring attention to the struggles being faced in the sectors, generate fundraising and bring forth policy changes. The Connecticut Hospitality Workers United Coalition, a recently formed trade group in the wake of the pandemic's continued impact, is made up of almost 250 bar and restaurant owners and employees. A peaceful rally on Dec. 14 was designed to get both the general public's, and Gov. Lamont's, broader attention.
Participants walked to and rallied in front of the Governor's Mansion in Hartford and then continued to the State Capitol building in reply to what many industry members felt was a lackluster response from the state government to the industry's pleas for more support and aid, especially when COVID-19 health mandates along with the lack of consumer confidence have made it difficult to sustain operations in many cases. Gov. Lamont came out to speak to the group briefly as they gathered.
The Dec. 18 grant program announcement was a step in the right direction, but is "not enough" according to many of the participants. Al Greenwood, Owner of Oak Haven Table & Bar in New Haven and one of the organizers of the Connecticut Hospitality Workers United Coalition, described the CARES Act funding as a "drop in the bucket. Like putting out a house fire with a spray bottle.
"We obviously appreciate everything that we can get, but in the grand scheme of things, $5,000 is less than 10% of how much a small business truly needs to stay afloat and prepare for further losses that are definitely coming in the next three months." Greenwood said. "In my opinion, the state should offer a low-interest long-term loan as well for small businesses. The effects of this pandemic will affect restaurants for years to come."
Brewing up solutions
Local breweries also got involved in the public conversation in early December when the Department of Economic and Community Development (DECD) released updated rules for alcohol beverage service and food on Dec. 2, requiring that all food served with alcohol be provided in a format of "sit-down meals that must be eaten from tableware with the use of utensils" or that "constitutes a full meal." Brewery owners protested these latest requirements since many of the state's approximately 116 operational breweries don't have kitchens and aren't able to provide full meals to patrons.
In response, Phil Pappas, Executive Director, Connecticut Brewers Guild, and Ken Tuccio, Best Trivia Ever, launched an Instagram campaign, #TogetherThursday, on Dec. 17. Supporters were asked to post the campaign's image, a red exclamation mark, and nothing else on their Instagram feeds for a full 24 hours, with the hashtag #TogetherThursday and tag @govnedlamont.
In a letter to Gov. Ned Lamont and the Connecticut General Assembly, Pappas asked that regulations enable breweries to be open for indoor and outdoor seating, while cutting back on the latest requirements for food with alcohol sales along with providing grant relief. "While we have adhered and adapted our businesses to the enacted guidelines, we have recently been backed into a corner that we simply cannot operate in following the updated DECD guidelines … Requiring breweries, along with the rest of the industry, to provide what has been strictly defined as 'substantial meals' seems to [have been] made arbitrarily."
Pappas pointed out that before the pandemic, breweries were not legally required to offer food prepared on-premise and have "adapted and altered our businesses entirely so that we can remain open to the public.
"While 95% of [Connecticut] breweries do not have kitchens where they can prepare on-premise food, they are required to apply and pay for additional food permits, in a time where every penny counts, add space where they can safely prepare food that was never planned for, purchase additional and expensive equipment and, on top of the already strict social-distancing guidelines, add unnecessary responsibilities and burdens onto an already reduced staff."
Pappas went on to ask that the food regulations be rolled back and suggested a smaller cap on the party size allowed to be seated at breweries instead.
Restaurants taking heat
The CRA continued its fight for fairness and not only for funding. As media reports claimed restaurants were a source of spread, including a Jan. 4, 2021, article in the Hartford Courant titled "After tracking 84 coronavirus clusters, Connecticut officials find restaurants, workplaces are still the most common infection spots," industry advocates again worked to address matters of consumer confidence.
The article cited a Department of Health (DPH) report that identified 21 out of 84 outbreak clusters as being linked to restaurants, with the majority of the restaurant infections tracked found to be in back-of-house staff, not between customers.
In response to the article, Dolch wrote, "Connecticut restaurants began operating indoors June 17, and for more than four months, they did so while Connecticut continued to keep daily positive test rates at 1% or below. While there is clearly community spread, there is also demonstrable proof that restaurants operating with indoor service did not cause the type of spreads you would see if restaurants accounted for nearly a quarter of clusters, as DPH's report seems to suggest.
"Restaurants have and will continue to be leaders in safety and sanitation, and in that spirit, we will work with our partners in government to understand this information they've released and hopefully learn from it," he said.
The picture of collaboration
With an eye on funds needed for immediate relief by both workers and businesses, another local effort brought about by industry workers was The Industry Calendar, created by Andrea Reyes, Bartender, Viron Rondo Osteria in Cheshire and No Worries Brewing Co. in Hamden, and Stevie Sacco, General Manager, Mercado in Southbury.
The calendar features photos of six state restaurants and six breweries taken by local photographers that donated their time to the effort.
Proceeds from sales of the calendar will be split equally to benefit the Connecticut Restaurant Association and the Connecticut Brewers Guild. Available in late December, Reyes said she had already seen a positive response from the community in just a week's time from its release date.
"We're hoping to do this every year," Reyes said. "We want to make sure that we get a lot more people involved in something like this because we want to remind people that small businesses are really important to us, especially in Connecticut."
Moving ahead
As Connecticut began its vaccination program, a state update on Jan. 7 showcased increased testing and tracing and a lowering positivity rate and hospitality rate. Fatalities have increased and the governor expressed concern about the new contagious strain of the virus, stressing the importance of wearing masks.