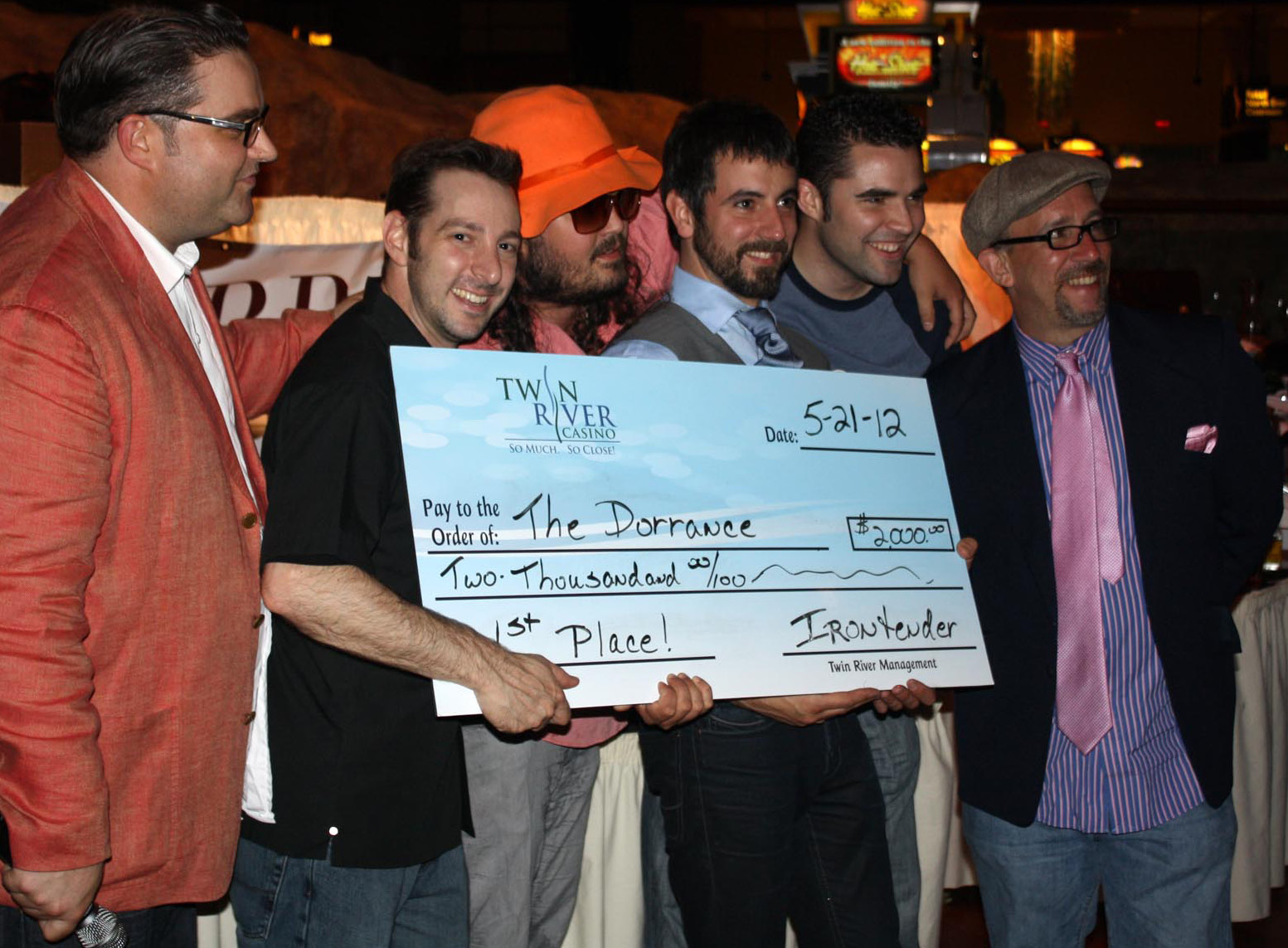 After five weeks of competition among some of the top local and regional bartenders and up-and-coming students from Johnson & Wales University, a winner for the 2012 Iron Tender Bar War Challenge emerged. The Dorrance in Providence took first place at the Finals held at the Lighthouse Bar at Twin River Casino. United States Bartenders Guild's Connecticut Chapter, based in Hartford, followed in second place.
The competition, modeled off the television show "Iron Chef," selected a different spirit and a random main ingredient for the Bar War Challenge. Contestants had a specific amount of time to produce the cocktails and present them to the judges and were scored on several different categories such as: name, balance, simplicity, presentation, aroma, taste, originality, delivery, and overall impression of the cocktail.
The first and second place winners from each week advanced to the finals. The top seven teams competed for over $3,500 in cash and prizes. Campari, Pernod Ricard USA, Saralles USA, Beverage International, Heaven Hill Distilleries, the US Bartenders' Guild Rhode Island and Twin River Casino sponsored the event.
The Johnson & Wales University did not place in the top three but the team received $200 for the "loudest fan base." $100 was awarded to the Dorrance's Vito Lanz for the "best cocktail shake." The USBG-CT team received $100 for "best dressed." David Roth, president of USBG-CT said participating in competitions is "all about the craft, and earning respect" for Connecticut's professionals. Roth said, "And while the team went to win, we also went to show hometown pride."
And show pride they did. Decked out in Hartford Whalers gear, the team diffused some of the tension of the competition and showed their "team spirit." Roth said, "We had a lot of fun. And we let people know we were good at what we do; and, we don't take ourselves too seriously." With the cocktail culture long established in New York and Boston, and taking strong root in Rhode Island, Roth hopes Hartford and New Haven-area bartenders can share their love of the craft and benefit from the Guild membership.
Roth says "through camaraderie, companionship, playful competition, exposure to consummate professionals and support" they can band together to elevate the craft locally through a tighter network. At 25 members, Roth is looking to grow the USBG-CT with the help of others.
2nd Place: US Bartenders' Guild – Connecticut Chapter (David Roth, David Bouchard, Dan Gifeisman, Joshua Pekar & Matt Cusson) – $1,000
3rd Place: The Newport Restaurant Group (Jason Kindness, Alex Thibault, Laura Moore & Mark Broccoli) – $500