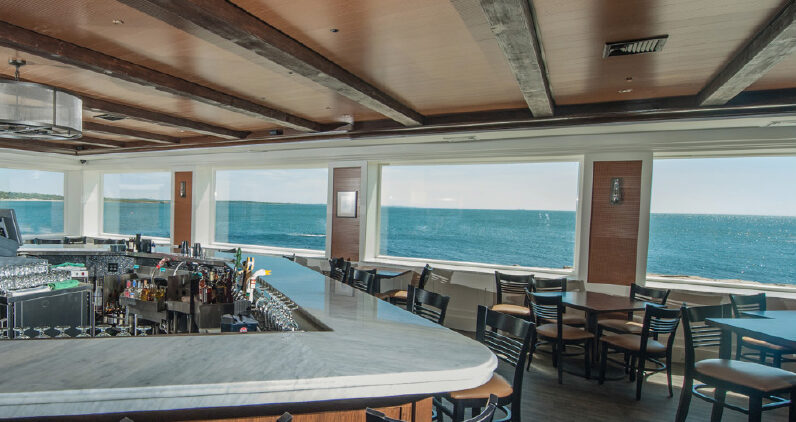 Majority of coastal restaurants rebuild and recover
By Lauren Daley
Nearly two years after Hurricane Sandy devastated many businesses in Rhode Island and Connecticut, all but a handful have reopened to business as usual. Even the brutally-hit Misquamicut area of Westerly, R.I. has bounced back to full recovery, save a business or two.
With major efforts from the Westerly Chamber of Commerce and a $3.1-million reconstruction effort led by the U.S. Army Corps of Engineers, "Misquamicut is back and better than ever," said Lisa Konicki, Westerly Chamber of Commerce Executive Director. Misquamicut looks "fantastic. The area looks dramatically improved as a result of the new construction that took place. Most of the businesses invested in their property to make upgrades from what existed pre-hurricane," she said.
For example, Sandy's Lighthouse nightclub added a stone fireplace, an outdoor deck and a larger kitchen, she said. Pleasant View Inn sold to new owners who renovated every room in the hotel. Two snack bars — Sam's Snack Bar and Little Mermaids — were washed away in Sandy. "Rather than rebuild a new building, they opted for custom-made trailers that they now use," Konicki explained. So if a bad storm is predicted, "they can simply unplug and drive to higher ground."
The Andrea Hotel had to tear down most of what remained after the storm and no longer has hotel rooms. Instead, it now uses a giant white tent on a cement slab and is a beach restaurant and bar. They are considering rebuilding in the future to include lodging again, but no commitment has been made, Konicki said.
Misquamicut, a bustling coastal village on the Connecticut border, was perhaps the worst-hit area on the East Coast when the "Frankenstorm" struck New England just before Halloween in October 2012. The commercial area of Atlantic Avenue, packed with restaurants, bars and inns, was essentially washed away. A popular destination for vacations and weddings, Misquamicut was described as "a lunar landscape" and "post-apocalyptic" in news reports that followed days after.
Amazingly, almost all of its bars, hotels, restaurants and shops were able to open for Memorial Day last year. One of the few spots still not open is Maria's Seaside Cafe, a once popular restaurant owned by the Bellone family. "We're still trying to figure out what to do," said John Bellone. "Our plans are to build a mixed-use complex where Maria's  was — a hotel/restaurant/residence apartments in one complex. That's our goal. We've taken out permits, but there are a lot of hoops to jump through, so we don't have a start date yet."
His family's other businesses, including the 55-room Breezeway Resort, "didn't sustain too much damage. They were up and running very quickly," he said. "The Breezeway, for the most part, is doing same business as last year. Are we breaking records? No. But it's been a good summer. I think everyone in the area has bounced back. It looks better than it ever did."
It wasn't just the buildings that were devastated, Konicki explained, but the land on which they sit. Misquamicut Beach — a big attraction for summer tourists — was filled with nails, debris, glass and large rocks after the storm. Last March, giant mounds of fresh sand were dumped on Misquamicut Beach in massive pyramids. "Huge machines had to go through and sift it all, until it was fine as powder, through the entire two miles of coastline," Konicki said.
In June, the Chamber of Commerce hosted "Electric Eve," a nighttime 5K where runners donned light sticks and glow-in-the-dark running gear. The race took place on its main strip, Atlantic Avenue, at 9 p.m., and was followed by a post-race party with live DJs, laser light show and beer garden. "Electric Eve was a huge success — we had 678 participants and raised about $8,000. It was meant to be a positive family promotion to bring people to Misquamicut pre-July 4th, and to serve as a fundraiser for our Chamber of Commerce." The Chamber had raised $426,000 for the businesses at the beach last year, said Konicki.
In parts of Connecticut and Rhode Island, Sandy flooded streets and buildings, tore down trees and demolished homes. Pounding surf surges wiped away beaches, flooded businesses with sand and water, and left many in Connecticut — and at one point, one quarter of Rhode Island — without power for days.
The Coast Guard House, a landmark restaurant in Narragansett, suffered a great deal of damage from its panoramic perch on the ocean's edge. Today, its website says, "the Coast Guard House Restaurant is experiencing a total rejuvenation, courtesy of Super Storm Sandy. We are offering fresh new tastes, a completely new lounge and dining room area."
Owner Bob Leonard said the new and improved Coast Guard House, with an expanded menu, only recently reopened, so he didn't "have a read" on how business was doing compared to past summers. "The building itself didn't get bigger, we just made the building a lot stronger," he said. "We built the walls with concrete and rebar steel," Leonard continued. "We're perched on an outcropping of rocks, so we've always taken precaution."
According to FEMA, over $125.9 million in FEMA funding has been handed out across New England as a result of Hurricane Sandy. In Connecticut, FEMA gave more than $13.8 million for housing assistance; more than $1.1 million for other needs assistance; more than $249.5 million to flood insurance policy holders and more than $42.2 million in Public Assistance grants to reimburse local, state and tribal governments and eligible private nonprofits region-wide for some of the costs of emergency response, debris removal and repairing or rebuilding damaged public facilities.
More than $39.4 million in support from four federal disaster relief programs helped Rhode Island recover from Hurricane Sandy's effects, according to FEMA. The majority of the support is from FEMA's National Flood Insurance Program, which paid more than $31.1 million for more than 1,000 claims. In addition, more than $2.6 million in low-interest disaster recovery loans to Rhode Island homeowners, renters and business owners.
Hurricane season lasts until the end of November. For information on flood insurance, visit www.floodsmart.gov. Konicki suggested taking photos of your business pre-storm for insurance purposes.