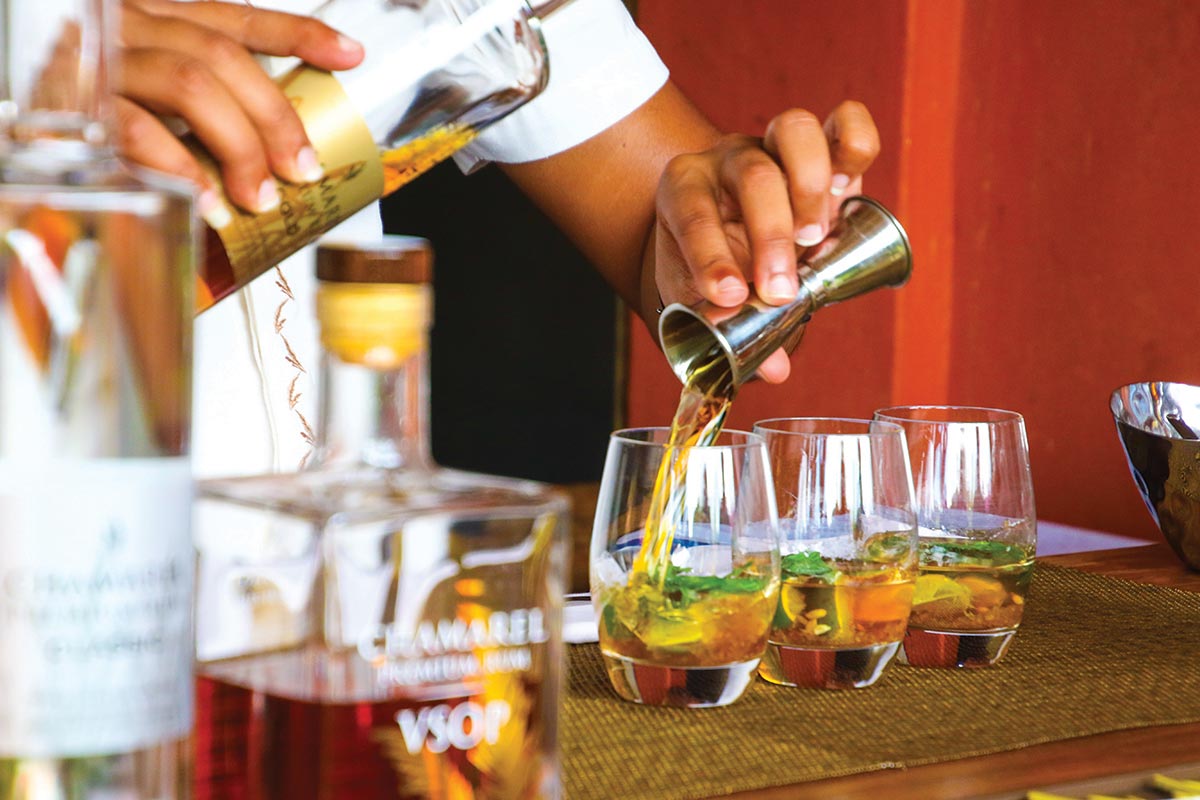 Local Voices Offer Insight on 2020 Trends
By Sara Capozzi
As we enter 2020 and get ready for not only a new year but a new decade, the calendar's turn requires a look closer to home among the many emerging trend stories. We asked several local industry professionals to weigh in on what to expect.
Let's jump in.
Bartender Victoria Tenzik of Highland Park and Matto Wine Bar predicts a continued increase in the demand for gin, stating that the category's diversity has opened up new taste possibilities. "With the growth and popularity of craft cocktails, the vodka drinker is more easily persuaded to try something new," she said. "Gin has become extremely diverse through the introduction of different botanicals. Whether it's notes of cucumber, honey, berries or citrus, there is a gin for everyone and people are open to finding 'their gin' today more than ever before."
Tenzik also sees the popularity of mocktails continuing. "Craft cocktail bars tend to carry fresh, vibrant, aromatic ingredients, which enables every customer to have the craft cocktail experience, even without the alcohol," Tenzik said. "Establishments are also realizing that not only are mocktails more inclusive, but they are also lucrative, having a much higher margin than soda or juice."
Al Greenwood of Oak Haven Table & Bar also believes the low-ABV and mocktail trend will continue to gain ground as consumers find they can still enjoy a night without high proof, or any. "Also, I think you will see more fusion concepts … where locations [merge] and infuse different styles from different countries into cocktails," he said. "I think we will see more progression in the different styles of ice we are using and the expansion of unique garnishes." Greenwood also predicts that local menus will see a "strong concentration" of beer from Connecticut-based breweries.
Bartender Alexa Doyer of The Essex said health consciousness and sustainability will influence consumer trends in 2020. "More and more people care about what they are ingesting and are more knowledgeable about obscure or local products," she said. "They want less sugar and more flavor, and they like to know where their product is coming from and what effect it has beyond the bar."
Christine Short of Zaragoza said, "I think that people have become more aware of the need to market to all individuals … people who consume alcohol and those who do not, which has gotten restaurant professionals to think more outside the box and become more customized." Bar programs, said Short, are becoming more creative and the availabilities of different products are making their way into cocktails.
"There's many products that are becoming easily accessible to people outside of the restaurant industry, which weren't before, like Monday Gin, an alcohol-free gin substitute, and Kin Euphorics, which interestingly enough uses mood-enhancing health-beneficial adaptogens. People are starting to realize that you're not limited to alcohol to feel good. With the medical marijuana movement and health-beneficial CBD, I think that area will continue to grow, also other herbal medicines such as Kava will become less of a trend and more of a permanent option."
Short said along with low-ABV creations and wider use of aperitifs and digestifs, history and craft are finding their way more widely into cocktails. "Bartenders are caring more about cocktail history in the aspect of taste and how people who lived in the past would have drank and their experiences," Short said, noting that, "there's a ton of soul going into bar programs. I'm extremely excited to see what comes next and see what new ways bartenders will give their communities new tastes and experiences."
Justin Morales of The Marlborough Tavern predicts cocktails emphasizing spirits with peated flavors such as mezcal will increase in demand, along with barrel-aged cocktails and the use of alternative grain spirits such as soju.
Morales noted seeing a trend toward less brand loyalty with consumers in general. "People are more accepting of things they haven't heard of before," he said. "People are excited to try new things. I think we're seeing more adventurous drinkers."
That idea carries over into the craft beer arena, with more patrons caring less about which brand or brewery their beer is coming from, which could lead restaurants to decrease their number of tap lines. "I think you're going to see more concentrated tap lines instead of the bulk tap lines we've seen in the last five years where you go to a place and they literally have 30 to 40 tap lines," Morales said.
For education trends in the industry, Dave Rudman, Executive Director of Wine & Spirits Education Trust (WSET), predicts that "the demand for best-in-class education in wines, spirits and sake all continue to increase dramatically in the U.S. I reported last year that WSET saw a 21% growth overall in the U.S.," he said. "In the academic year that has just ended [2019], that growth rate has accelerated to 26%. Furthermore, after the first quarter of our 2019-20 academic year, we are currently up 46% versus last year. This is a truly incredible pace, providing an unmistakable indicator that the demand for education and for globally recognized certification in the U.S. continues to escalate. At our current pace, the U.S. will be WSET's largest market for the first time ever, surpassing the UK and China."
Peter Clayton, Founder of the Bartender's Academy, shared that sentiment as well. "I see the demand for knowledge increasing for 2020," he said. "It's beneficial to the practitioners because the guests are definitely [knowledgeable] about these different styles of beer, wine and spirits, so when the servers and bartenders can competently engage with the consumers and help them make value-based decisions instead of just pushing what's the special of the week, that can be very valuable to an operator."
Owners and managers are also increasingly looking for digital solutions to train staff quickly, Clayton continued. "One of our focuses for 2020 is making our training more of a hybrid model, where we can actually not only provide aspects of training where you don't have to be in person, but also provide a resource for people who are very experienced and want to share their knowledge, and provide them with a way to access bars and restaurants – that's something we're super excited about for 2020," he said.
Increased numbers of professionals are also seeking out wine and beer training to be certified sommeliers or beer cicerones.
"It's a really exciting time for people entering the industry because there's such a wealth of resources to level up and get smart and get trained, but it also presents a challenge for operators who are always looking for talent," Clayton said. "I think the operators who get it have this philosophy of … developing your team so that they can do a better job." Everyone wins from the customer experience to the profitability for the staff and venue, he said.
Phil Pappas, Executive Director, Connecticut Brewers Guild, sees continued expansion in the craft beer space in Connecticut, at least for now. "We're seeing a lot of different breweries not only opening up new places, but now they're opening up second locations and looking within the state for expansion projects," he said, citing Two Roads Brewing Company's Area 2, Thomas Hooker Brewery's new location in Hartford's Colt Building, Beer'd Brewing's new space in Groton, Half Full Brewery's new location in Stamford and Kinsmen Brewing's new location in Clinton.
The number of breweries in the state may plateau in 2021, Pappas predicts. With 110 breweries in the state currently and another 20 to 25 in the planning process, the Connecticut craft beer industry will continue to leave its mark on the state's economy, accounting for 6,000 total jobs and yielding $753 million in sales in 2018. Pappas estimates that number will total close to $1 billion for 2019. With the passage of Connecticut Bill SB 647 in June 2019, Pappas also sees more collaboration between breweries and wineries, along with cideries and meaderies, who will now be allowed to serve beer on tap.
Weighing in from the package store perspective, Stephen Downes, President of the Connecticut Package Stores Association and Owner of CT Beverage Mart in Newington, said the recent tariffs imposed on alcohol shipped from Europe "could push consumers toward domestic brands. This shift could have a rippling effect on the industry in 2020." Downes also noted the exponential popularity of hard or spiked seltzers, as well as continued growth of canned products, including wine.
Brian Mitchell, Founder, New England Wine Academy and Director of Beverages, Max Restaurant Group, also believes the new tariffs being placed on European imports will change the beverage landscape considerably in 2020. "Whether it's Sancerre really going through the roof as far as price points go, especially being able to offer it by the glass … [restaurants] are going to have to raise prices or find an alternative," he said. Tariff-related price increases could lead consumers to favor domestic wines, especially from Oregon and Washington, along with other new world regions, he said.
Mitchell also predicts a continued for thirst for rosé. "I still think we'll see an expansion, even though every single winery in the world now produces rosé. I think it will be better quality rosés at better prices," he said, predicting that Provence styles of rosé could be substituted with those from the California, Oregon, New Zealand and South American regions.
Mitchell also sees "accessible, well-made, good-quality whiskies" winning in the spirits category, along with reposado tequila and flavored spirits, locally and regionally produced liqueurs and unique flavored bitters made with higher quality, resulting in "interesting flavors that are of a better concentration and origin and style for mixing and building into cocktails."