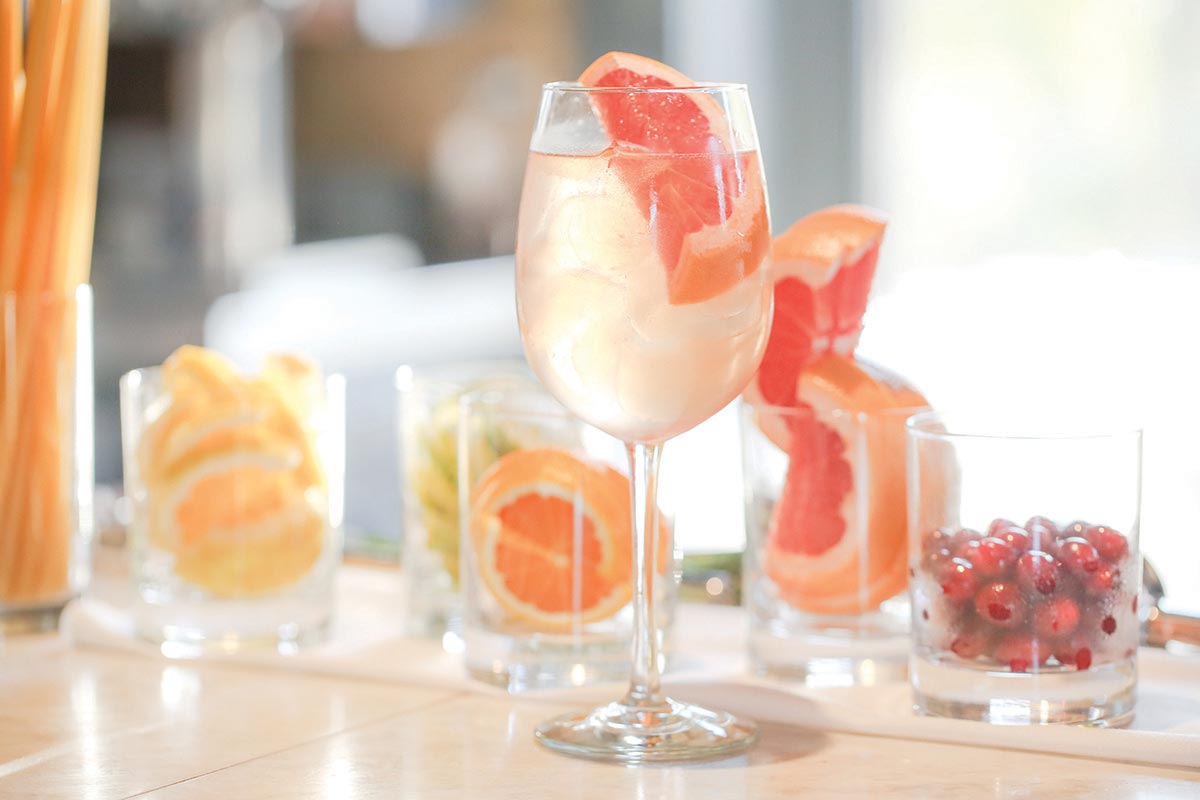 Ocean State Voices Offer Insight on 2020 Trends
By Sara Capozzi
As we enter 2020 and get ready for not only a new year but a new decade, the calendar's turn requires a look close to home among the many emerging trend stories. We asked several Rhode Island industry professionals to weigh in on what to expect.
Let's jump in.
Sommelier Elisa Wybraniec of the Coast Guard House sees the spiked seltzer trend continuing, along with the popularity of mocktails. "The Coast Guard House features three alcohol-free drinks this winter all with different flavor profiles," Wybraniec said.
"I think it is important to make these drinks stand out with clever ingredients so the guest will consider not just the wellness aspect of the beverage but the flavor profile. We crafted an alcohol-free beverage using organic butterfly pea flower tea, house-made star anise simple syrup and a squeeze of orange. The drink had personality not only in flavors, but aesthetics as the color changes when the acid is added. It's a bit of entertainment as well," she continued.
Christina Mercado, Founder and Mixologist, ShakeStirPour Beverage Consulting, also sees the trend toward lower-ABV and no-/low-alcohol cocktails continuing. In addition, she said, "Collins-style drinks and spritzes won't just be seen as hot summer-day options, but we will also see creative fall and winter takes."
Mercado forecasts brandy will also make a big comeback. "Over the course of 2019, I was introduced to a number of new brandies hitting the market, as well as reintroduced to some staples I had lost touch with," Mercado said. "I'm excited to see brandies return to being a regular on cocktail menus, as well as bars offering a selection to choose from for your nightcap."
Jonathan Pogash, The Cocktail Guru, said he sees a rise in popularity in South American spirits, including pisco, cachaça and singani. "They are versatile spirits that the general public is aware of and is gaining more education on," he said.
As spiked seltzers continue to garner more and more sales in the beverage space, Pogash has started using them in cocktails. Cream-based liqueurs and cocktails are also gaining popularity. "They're delicious, and more versatile than many may think," he said.
Beverage Consultant Len Panaggio expressed concern over the tariffs being placed on European wine imports and the effect it will have on suppliers stateside. "That's going to have a damaging effect, not only on the purchase of those wines but the companies that import and distribute those wines are going to be decimated," he said.
"If it's a 100% tariff on a French wine, basically doubling the price, I don't see how anyone can afford to buy them; they're going to price themselves out of the market. On the flip side of that it's going to be a boon to non-European wineries – obviously non-European wineries will benefit greatly to fill the void that will be created by this disastrous move." As the economy has strengthened, Panaggio sees the reemergence of champagne as a popular category and believes the bubbly's popularity will continue into the foreseeable future, perhaps with some shine off the sparkle due to tariffs.
The no- and low-alcohol movement will continue to grow, Panaggio said, especially with millennials, Generation Z and restaurateurs converging on the mocktail trend. "The millennials are a big market, they're a growing market. And as they're getting older and they sort through all of their issues, such as student loans, they'll be spending more money," he said. "They're not drinking like my generation, the boomers, did and continue to do so. The boomers are still a big market; they're the ones that have the time and the money to spend on higher-end products. As a person in the beverage business, you have to look to the future and the future is the millennials and the generation behind them, Generation Z … Z short for zero alcohol."
With hard seltzers popular and gluten-free, low-carb and vegan options for the health-conscious, Panaggio said expect that popularity to rise. As far as beer, he sees its consumption as a whole declining, which he said will have an effect on local breweries. "More and more breweries are popping up, but my fear is that there's going to be a shake out," he said. "They just all can't survive."
Matt Simmons, The Cocktail Writer, said he believes trends in the beverage world are a result of "the behavior of the marketplace being driven by higher powers," including the largest of suppliers or distributors. "Whatever hasn't been selling are the initiatives that are going to be pushed moving forward," he said. Simmons predicts Scotch cocktails will be big, although tariffs could lead bars and restaurants to seek more affordable options.
Another item that will gain popularity in 2020, Simmons predicts, is sherry. "Sherry cocktails are going to be all over everyone's menu this coming winter and early spring," he said. "I expect small-batch gins to be big. I also expect grappas and dessert wines to become very popular in the spring and summer as well. People are going to start using additives like Montenegro and Su Genchin, Galliano, allspice dram, violet liqueurs from Giffard and Bols." In craft beer, Simmons believes "that bubble is going to burst … People are going to start to get over the $16 4-packs."
On the craft beer front, Brent Ryan, President and Head Distiller at Coastal Extreme Brewing Company, also sees an interest in lower-alcohol and lower-calorie options. "For craft beer, these options will continue to have a focus on more full flavors. I also see a similar trend of lower alcohol/calories with canned cocktails, FMBs and seltzers. On a macro level, I am starting to see some leveling off in the number of craft brewers available on shelves. While there appears to still be more room for new breweries focused on a taproom model, the growth in the number of different brands available at wholesale seems to have leveled off. This will likely mean that when we see new ones on the shelf, there will be others that are no longer there."
Jonathan Feiler, Group Wine Director at The Ocean House, said he thinks low-ABV cocktails will continue to be popular with guests along with the use of fresh juices, bitters, aperitifs and spiked seltzers. Feiler said guests are looking for more in terms of experience when imbibing, both in terms of seeking more education about their beverage selections along with a "unique atmosphere," for example The Ocean House's Veuve Clicquot Secret Garden for summer and Fondue Village in winter. "I believe the overall consumer regardless of the generation is looking for an experience and quality and is willing to pay for it in the right setting with a knowledgeable professional," he said.
As far as spirits, Feiler said, "Tequila is continuing to be the fan favorite as more guests are learning that it is not just for shots anymore. One of our biggest selling cocktails in the summer of 2019 was a low-sugar margarita with Código 1530 tequila. By far our biggest selling tequila was Casamigos," second only to vodka.
In wine, even with the threat of tariffs looming, Feiler said he thinks French wine sales will continue to increase, as he's noticed an uptick in guest requests for red and white Burgundies, Rhône Valley wines and Sancerre. Still, Feiler said, his biggest concern is the additional impending tariffs and how they could potentially change the beverage industry landscape.
"Currently at 25% [tariffs] are manageable, however if they continue to go up and possibly hit the 100% mark, I believe we will see a full stop on mid-level and high-end European wine, which would be a big drain on my overall sales at The Ocean House," he said. "I also believe that we will see an increase in domestic wine prices as well. This could be the start of a new 'Prohibition' in a way where we will see a complete slowdown in alcohol consumption … this could also be the start of how we consume, think, converse and purchase alcohol as a society, from everything to trends in consumption, purchasing, pricing and availability."
Frank Martucci, Director of Beverage Operations and Nightlife, Twin River Management Group, also expressed concern over the unknown effect of tariffs from single-malt Scotch to wine. "Will the consumer be willing to pay the increase due to the tariff increases?"
Martucci predicts tequila will begin to outpace whiskey in popularity and that mezcal will get more placement on beverage menus. As far as cocktails, Martucci thinks guests will continue to embrace well-made classic cocktails and mocktails.
Martucci sees managers continuing to put an emphasis on educational opportunities for staff members. "Our Twin River Management Group casinos know that educating our management and line staff is of great importance because our guests are more knowledgeable on the beverages they are consuming and overall beverage trends," he said.
A focus on the health and wellness of staff will also continue to gain ground. He said, "The industry will continue to see increased social awareness addressing mental health and wellness steps to help prolong the longevity of the beverage professional."
Like Feiler, Martucci also sees patrons seeking "the 'guest experience' while going out" and its continued rise, including "sharable cocktails, chef and wine/cocktail pairings, pop-up bar concepts and overall beverage presentations."