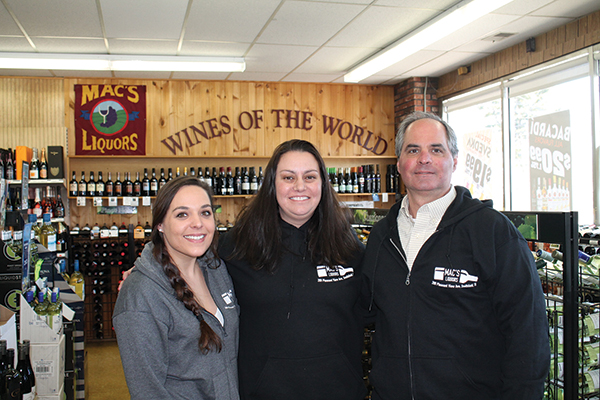 Mac's Liquor Mart
200 Pleasant View Ave., Unit 2
Smithfield, RI
Square footage: 5,500
Years in operation: 34
By Savannah Mul
Growing up, Robert Guida was surrounded by a family of business owners: both his grandfather and his father. He said he looked up to them, admired their management skills and inherited that same entrepreneurial spirit. When Guida graduated high school, he knew that he, too, wanted his own business and with advice and help from his family, purchased Mac's Liquor Mart.
"I always wanted to run a business," said Robert Guida, Owner of Mac's Liquor Mart. "It's nice to work for yourself, and I love dealing with our customers."
Mac's Liquor Mart offers special orders and works with customers for their party or celebration needs. "Even if we just order one bottle of wine for the customer, we'll go out of the way to help them in any way," said Guida, whose goal is to provide a level of service that brings return business. "It's always been about customer service."
Mac's Liquor Mart stocks approximately 5,000 SKUs of beer, wine and liquor products. "We have a very strong wine clientele," said Guida. Store Manager Michelle Sousa and Store Employee Lauren Guida, Robert's daughter, both said the store mirrors national trends of increased sales of brown spirits, rosé wines and craft beers, all popular purchases at Mac's. "People don't mind spending more money on better beer," Lauren Guida said. "Champagne is also becoming more popular."
Sousa, who has been working at Mac's Liquor Mart for 17 years, said "Everything is always about flavor … There's always new [brands] that come out and you have to try the products. There is always excitement that comes with new products."
Sousa explained that the "best and only" way to successfully recommend products is to taste new releases and learn the flavor profiles associated with each. Sousa said in addition to tasting products, it is also important to know product packaging. "Customers will come in and ask for a wine with a duck on it, and we will find it for them. We have to be familiar with a lot of different products," she said.
Low shelves give store employees the chance to observe how the customer is shopping. Stocked shelves feature shelf-talkers with award or point-ratings alongside descriptions and tasting notes to help guide customers, Guida said. "If it looks like they are spending more than two-to-three minutes in an aisle, I'll go and ask if they need help," he said. "Customer service is the biggest part. We pay attention and offer good prices."
"Rob's been a great teacher and owner, he taught me how to do all of this," Sousa said. "It's like family here." Mac's Liquor Mart also extends an arm into the community through charitable wine tastings and donations to area churches and schools, among other local efforts.