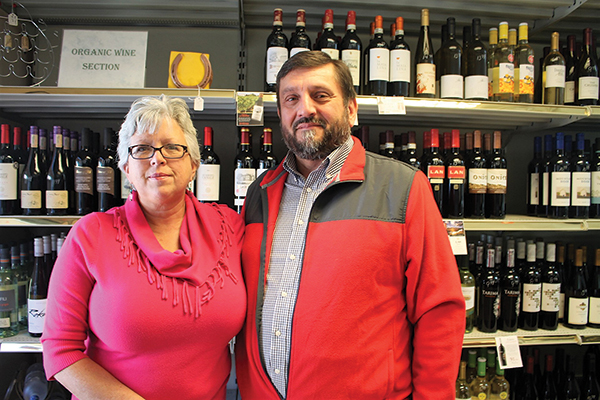 Sherman Wine & Liquor
11 CT-39
Sherman, CT
Square footage: 750
Years in operation: 15
By Savannah Mul
Mike Aleksandrowicz worked as a mechanic for many years, though he'd had a career change in mind for the future. He and his wife Donna, who was a stay-at-home mom at the time, saw a "for sale" ad in the newspaper for a liquor store in town and the idea of buying it intrigued them. After much discussion, they decided to purchase the property known as Sherman Wine & Liquor.
The Aleksandrowiczes said they "weren't sure what they were entering into" with retailing, or wine, beer or spirits for that matter, when they first got started. "It was a lot of reading and listening to our sales reps and customers," said Donna. "[Learning through conversation and reading] never ends in this industry because there is always a new product that customers want."
The original property was located around the corner from where they are today. In 2006, they moved to their current, more visible corner location at 11 CT-39. Sherman Wine & Liquor stocks about 250 SKUs of wine and close to 100 SKUs each of beer and spirits. The store's sales are wine-driven, with liquor and beer following behind.
The Aleksandrowiczes describe Sherman to be a "wine town," where customers look for wines to pair with dinner or to bring as a gift for the host of a dinner party. Local buying trends they have noted include the popularity and increased sales of craft beers, South American and Spanish wines, as well as rosé varietals, of which they stock anywhere from seven to nine different brands throughout the year, increasing rosé count as the weather gets warmer.
Another section in the store that has grown due to consumer demand is organic wines. "This section has been well-received," said Donna. Sherman Wine & Liquor features at least 10 different brands of organic wines.
The Aleksandrowiczes also value their relationships with local producers and highlight those locally-made products on the shelves, including White Silo Farm & Winery, located within miles of the store and spirits from Litchfield Distillery.
Sherman Wine & Liquor also offers novelty items including glassware for beer and wine, as well as unique wine racks made from recycled car parts, old horse shoes and golf clubs, all crafted by Mike, who said, "I guess my fabrication skills come in handy."
"It's a roller coaster ride," Mike said. "No two days are ever the same." The husband-and-wife team manages and staffs the business together, seven days a week. "It's a small town and we get to know the customers very well," said Donna. "I really enjoy meeting people every day."