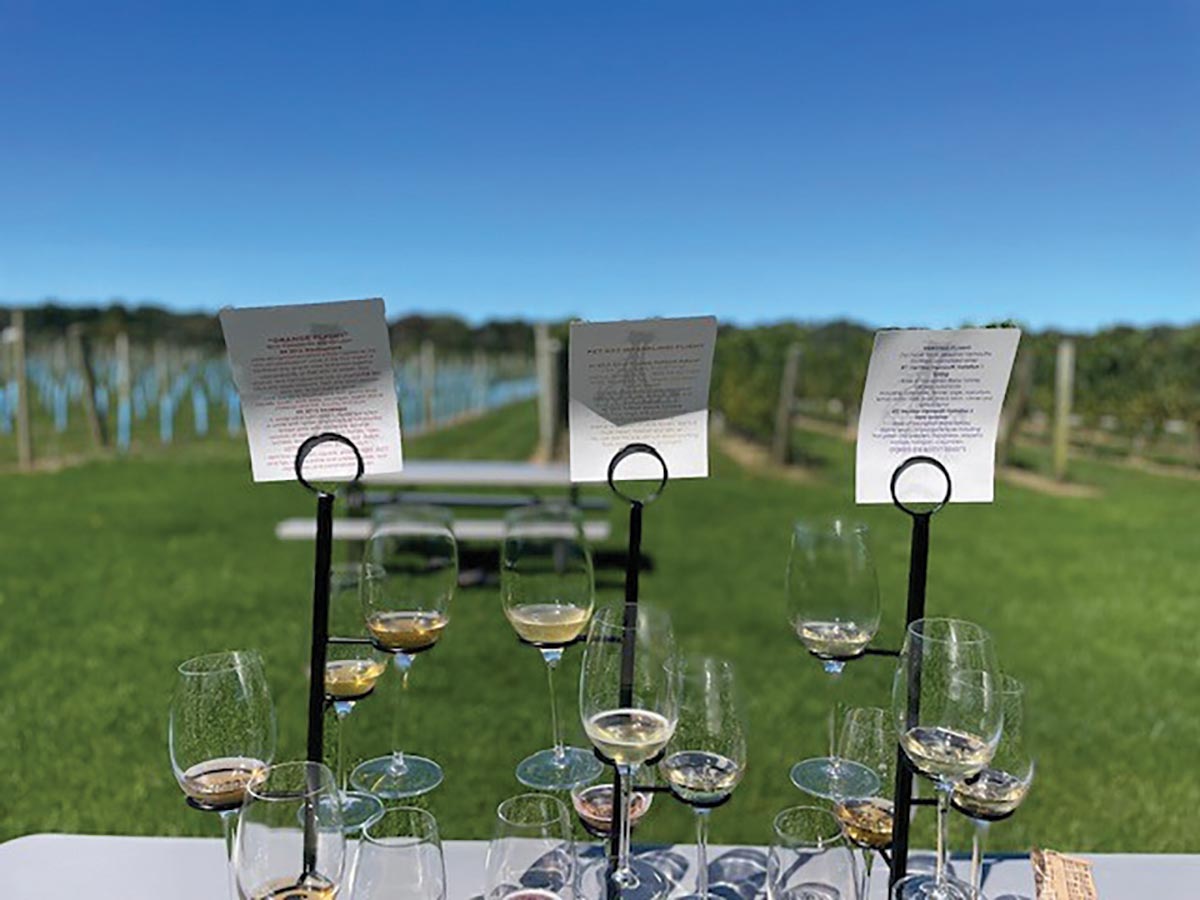 By Jonathan Feiler
Have you ever traveled to an amazing vineyard in Italy, France, California or another magical wine-growing region and thought to yourself, "I wish I could do this at home?" Well, guess what? You can! If you live in Rhode Island or Connecticut, of course we have quality vineyards to explore and enjoy.
If you feel like crossing the border into New York, you also have a world-class wine region in your backyard: your own personal wine island, if you will. The North, South Forks and Western Suffolk County of Long Island are less than 90 minutes away and boast 57 distinct wine producers (not to mention they have great breweries, distilleries and restaurants).
Long Island is close enough for a day trip, but staying overnight or for a weekend gives you a great opportunity to really check out everything the region has to offer. Long Island's wine country, which saw its first vineyard planted in 1973, when Alex and Louisa Hargrave planted the first Long Island vineyard in Cutchogue, extends from Greenport in the north to Montauk in the south.
Long Island has two major growing districts: the North and South Forks, which border the Long Island Sound and the Atlantic Ocean, which influence the region's climate. Long Island is then broken into three distinct American Viticultural Areas (or AVAs):
The Long Island AVA, which was established in 2001, encompasses both Nassau and Suffolk counties, as well as their offshore islands. A minimum of 85% of the fruit used in Long Island AVA wine must be grown within the borders of the region.
The North Fork Long Island AVA lies entirely within Suffolk County. To the west, the boundary is the 6-mile-long line separating Riverhead from the neighboring Brookhaven townships. The North Fork Long Island AVA also includes Shelter Island and Robins Island and is 158 square miles and 65,000 acres.
The Hamptons Long Island AVA, founded in 1980, is located on the southern fork of Long Island in Suffolk County. The 209-square-mile AVA includes all of the beaches, shorelines, islands and mainland areas in the townships of Southampton and East Hampton.
Long Island grows a wide variety of grapes ranging from classics such as Riesling, Gewürztraminer, Cabernet Franc, Cabernet Sauvignon, Merlot, Pinot Noir, Sauvignon Blanc and Chardonnay to some not so typical grapes, like Teroldego, Lagrein, Dornfelder and Gold Muskateller.
When I set out on my recent trip, I wanted to visit a winery that makes both classic and off-the-beaten trail styles, which brought me to Channing Daughters in Bridgehampton on the South Fork. Channing Daughters is owned by Walter Channing, who planted his first Chardonnay vines in 1982. Since 2001, Winemaker and Partner James Christopher Tracy produces a vast array of white, red, pink, orange, fortified and sparkling wines made with local and international grape varietals.
Tracy produces his wines using both ancient and modern techniques, including the use of indigenous yeast, longer extraction periods, field blends, white wine skin fermentation and unique blending. During my visit to meet Tracy at the vineyard, I tasted through three of the eight wine flights he offers, including his orange wines and VerVino, which are Channing Daughters Vermouths (and not to be missed). However, the standout flight was Tracy's Pét Nats. Pét Nat is short for pétillant naturel, a natural sparkling wine which is bottle fermented; the wines only go through one fermentation and are unfiltered.
Pét Nats are also referred to as "methode ancestral" and predate Champagne by more than 200 years. They were first produced in Southwestern France in 1531 by the monks of Abbey of Saint-Hilaire and are labeled under Blanquette de Limoux.
The four Pét Nat offerings we tasted through were the Tocai Fruilano, Sylvanus, Naturel Rosso and Diamond. Each of the wines were unlike any other Pét Nat I have had before and were all very expressive with perfectly balanced acid with incredibly persistent bubbles. My standout was the Sylvanus. The Sylvanus is a unique field blend of 50% Pinot Grigio, 40% Muscat Ottonel, and 10% Pinot Bianco and is yellow colored with hints of green, silver and gold. With aromas and flavors of acacia, white rose, yellow apples and peach skin, it finishes clean with a balanced sweet acidity that leaves you wanting more.
Visiting Long Island's beautiful wine country and experiencing the many vineyards the region has to offer is a treat we all deserve. Whether you are going for the day or for longer, the people, wine, food and hospitality you will encounter are world class—and right in our backyard.
Jonathan Feiler is Group Director of Wine for Ocean House Management Collection, including the Forbes Five-Star Ocean House, the award-winning Weekapaug Inn, the Watch Hill Inn and the Inn at Hastings Park, where he oversees the wine and beverage program and practices a wine philosophy centered on versatility and approachability. He also is responsible for a full program of beverage education classes for individuals and groups.