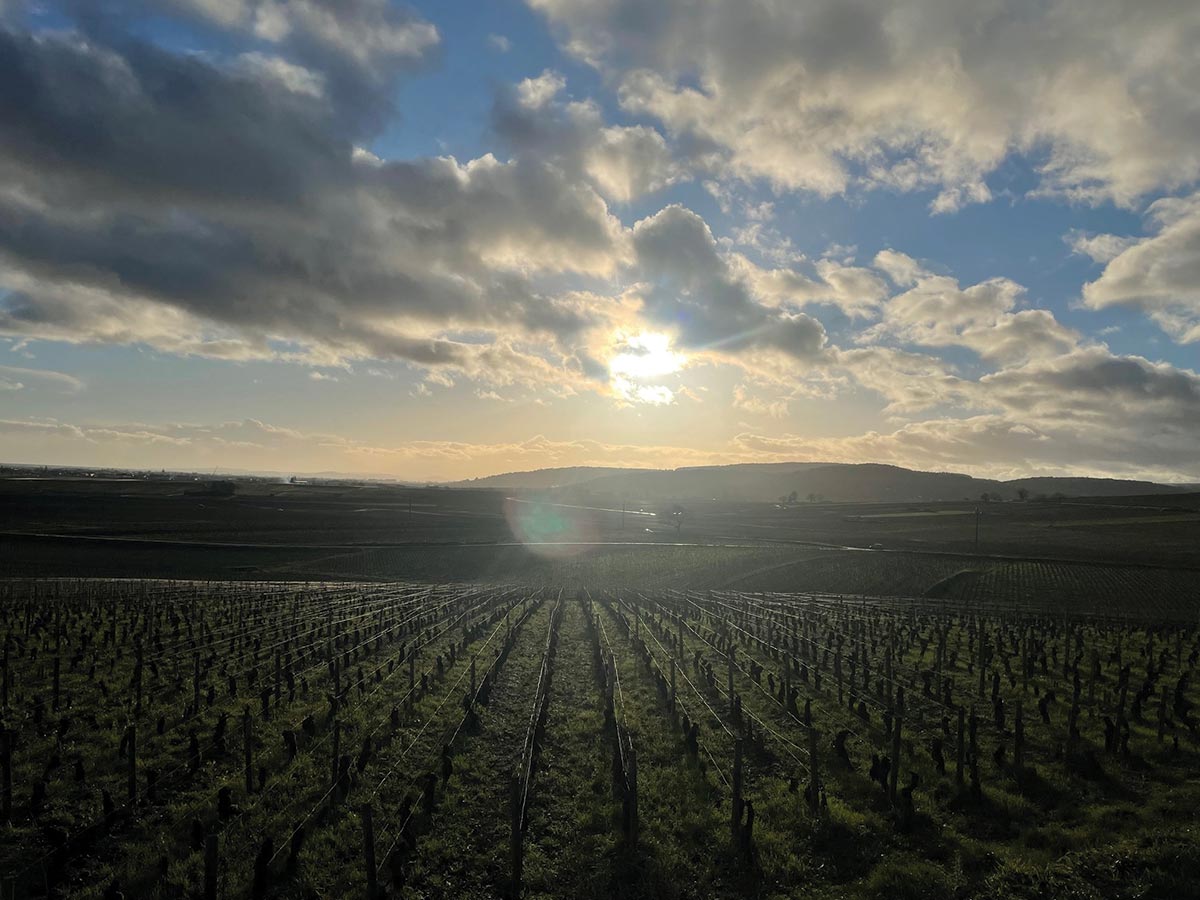 Winter Wine Vacation: Part Two
By Jonathan Feiler
I have now been back from my epic trip to France for almost two months and I am still having difficulty distilling the details of the trip. It really was one of those amazing times where, "You had to be there," is the only real explanation to it all.
It is easy to wax poetically about Burgundy's famous vineyards and their wines. The rarity and expense of many of these wines is legendary. Unfortunately, the notoriety of these vineyards, villages and wines overshadows some of the smaller, lesser-known villages and producers of the region. The villages of Santenay and Savigny-lès-Beaune stood out as two villages that deserve more attention than they traditionally get.
Santenay is south of the Côte de Beaune, with south-facing vineyards and is watched over by the 19th-century Sorine windmill that the village pays tribute to in a big celebration every third Sunday in June. It is home to the château known as Philippe le Hardi, a 14th-century fortified house with its square keep and colorful tiled roofs. The Santenay appellation was created on December 8, 1936, and is most known for its red wines made from Pinot Noir but also incredible Chardonnay. There is a total of around 330 hectares of grapes planted between white and red grapes; while there are no Grand Crus, there are 12 Premier Crus vineyards that cover more than 220 hectares.
Santenay has a continental climate, with warm summers and cool, long winters. Grayish limestones are found on the slopes up to 500 meters and limestones and marl are found in lower elevations of 300 meters and lower. These factors create a red wine that has a color of bright black cherry and aromas of roses, violets, licorice, and red berries and an intense but supple mouthfeel that rivals many of its more famous neighbors. Santenay's white wines are fresh with bright mineral, floral, and nutty aromas and flavors.
While in Santenay, we visited David Moreau, a boutique family-owned winery helmed by its namesake, whose first vintage was in 2009. David has an amazing résumé that includes wine school in Beaune and Dijon and internships at Domaine de la Romanée-Conti and Domaine Hubert Lamy in Burgundy, Château de Beaucastel in Châteauneuf-du-Pape and Neudorf Vineyards in New Zealand. When he arrived at his family's domaine, he handpicked 5 hectares to become Domaine David Moreau that now makes seven wines. All of the vineyard holdings are in Santenay and Maranges, at the southern end of the Côte d'Or. There are five red wines and two white wines.
The vineyards are worked along the principles of lutte raisonnée. No weedkillers. Instead, the vineyards are ploughed or, in some cases, where the grass is too stubborn, it is left unploughed. David was very generous with his time and tasted us through his full lineup in his stone-lined wine cellar, which doubles as the winery. There were, of course, a few standouts, including Santenay Clos Rousseau, which is the only Premier Cru located on the Maranges side of the village where there is an abundance of gravely soil, which makes it one of his more powerful of the Premier Crus. Named after its previous owners, the famous Burgundy family Rousseau, this wine sees one-third new oak and changes in aging and winemaking depending on the vintage.
Savigny-lès-Beaune is a small village with narrow roads that sits between the Hill of Corton and Beaune on the river Rhoin. Savigny-lès-Beaune's vineyards once belonged to the Dukes of Bourgogne, the Church to the Knights of Malta; a 14th-century castle testifies to the appellation's aristocratic characteristic. The modern history of the village begins July 31, 1937, when it officially received its appellation status. The village currently produces Pinot Noir, Chardonnay and a small amount of Pinot Blanc that cover over 350 hectares of land. Like Santenay, there are no Grand Crus here, but there are 22 Premier Crus that cover roughly 140 hectares and about two dozen lieu-dits vineyards.
The terroir ranges from 250-400 meters and has gravelly soil consisting mainly of limestone and sand, and its Pinot Noir character has a deep red/garnet color with aromas of black currants, ripe cherry, violets and a rich supple mouthfeel with a powerful finish. The region's Chardonnay has colors of bright yellow with hints of green and aromas of white flowers, brioche and citrus. The flavors mimic the nose with a clean, fresh finish.
While in Savigny-lès-Beaune, we visited with Domaine Pavelot, which covers 13 hectares and produces mainly Pinot Noir with only 10% of their production being Chardonnay. The domaine is a small operation and the day we were there they had an issue with their bottling line. While there was stress in the air, Hugues Pavelot took his time with us, tasted us through his wines and, with the help of a translator, answered our many questions. The winery uses indigenous yeast, lightly filters and does not fine their wines.
All of their wines are 100% de-stemmed, save for the exception of La Dominode Pinot Noir, which sees 10% whole cluster. This wine happened to be the standout for me perhaps for that reason. The Premier Cru vineyard of La Daminode is 2.22 hectares and boasts vines aging between eight and 10 years old. The vineyard sits on a slight slope with an Eastern exposure that contains clay and sandy soils. That, along with the 12-month aging (30% new barrel), creates a deep garnet color with aromas of baking spices, violets and deep red berries. The palate is intense, with rich flavors that mirror the aromas with a long finish. The vineyard receives its name from the Latin "dominus"; it was originally owned by the "Lord" of Savigny.
I feel fortunate to have visited the locations where some of the world's most storied wines are made and meet the people behind the bottle, which is an opportunity that we should all experience. While that may not be possible, I hope that that my stories shed a positive and educational light on the regions I've visited and that these wines make it into your glasses and memories as they have mine.
Jonathan Feiler is Group Director of Wine for Ocean House Management Collection, including the Forbes Five-Star Ocean House, the award-winning Weekapaug Inn, the Watch Hill Inn and the Inn at Hastings Park, where he oversees the wine and beverage program and practices a wine philosophy centered on versatility and approachability. He also is responsible for a full program of beverage education classes for individuals and groups.