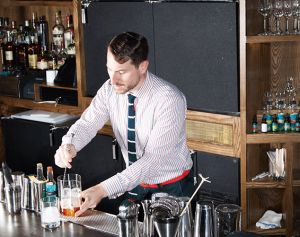 Form is finally catching up to function behind the bar
By Jack Robertiello
For all the talk about how cutting-edge today's cocktail scene has become, a peek behind the bar will often tell you otherwise. "Some 90 percent or so of the patents on bar equipment go back to the 1950s and 1960s," says Tobin Ellis, and he's not being complimentary.
Ellis, a former bartender turned bar designer who collaborated with the engineering team at Perlick to create his own line of commercial bar equipment, isn't alone among bartenders bemoaning the state of bar design. A few, including Joaquín Simó of NYC's Pouring Ribbons, have created one-offs suited specifically to their needs.
Francesco Lafranconi, Executive Director of Mixology & Spirits Education for Southern Glazer's in Las Vegas, has developed "the Race Track," a single-unit oval cockpit design that aims to minimize bartender movement and reduce strain.
But in the big picture of America's bar scene, the vast majority of operations, especially chain restaurants, have neglected production needs in bar design.
Ellis, whose equipment has been installed in high-end cocktail bars including the Columbia Room in Washington, DC, and Manifesto in Kansas City, as well as St. Regis hotels and Hard Rock Cafés, says lack of attention to the bar while budget-busting sums go to dazzling décor is the most significant problem. "Designing bars is begging for scraps to get the job done," says Ellis. "When the designer's job is done, bartenders and servers who inherit their design are left with figuring out how to make it work. Designing hyper-efficient, ergonomic bars is not a designer's forté."
Some Attention… Please? 
Cocktail-centric bars are jammed with ingredients today, so when Simó designed Pouring Ribbons, he maximized space with a tall back bar featuring built-in steps and refrigeration set above workstations to trim prep time, among other innovations.
Simó agrees with Ellis about timing: "Operators need to realize you have to bring whoever is designing the bar from the very beginning. The second you run plumbing or pour concrete you are handcuffed to a given layout and there is only so much you can do with equipment once that's done."
But even his model, seen by some as worth copying, needs tweaks, he said. Insulating his double speed rails may have lessened hard impact but bartenders still must lean into them when working, causing potential long term strain; minimizing the gap between the rail and the bar would help, he says.
Lately, Simó is seeing incremental changes at bars—more sinks with tin rinsers that meet sanitation codes; more pedal-activated sinks; and more back-supportive and easy-to-clean floor mat materials.
"You don't make money with food the way you make money with beverage," Ellis asserts. "Nobody ever says, 'Boy, that was a good ribeye, let's get another.'"
But it may take time to unlearn common practices. "This is a unique industry in that the people who make or break the profitability of beverage revenue are almost never consulted with designing their own workstations," says Ellis. "You would never hire a Formula One racer to try to win the Grand Prix and have someone else design the car without his input. In the bar world, that's what happens."