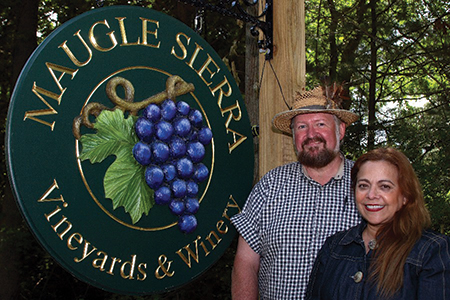 Taste of New England Born of Travels Abroad
World travelers come home to create regional wines.
By Nancy Kirsch
"We call ourselves the only winery in casino country," said Paul Maugle, Ph.D., of Maugle Sierra Vineyards in Ledyard, which he owns with his wife, Betty, whose maiden name is Sierra.
The area is "tourist heaven," he said. Visitors come from as far away as Singapore, New Zealand and South Africa, and as close as New England. Only a short drive from casinos, beaches and historic Mystic, Maugle Sierra Vineyards is a place where Maugle said, "The wine is built to warm the spirit."
Their home, built in 1740 and furnished with their collection of antiques, is on 97 acres, of which some 11 are dedicated to grape growing. During his 28-year career as a food scientist, nutritionist and aquaculturist, working in 35 countries, Paul acquired "some vintner skills" during his and Betty's frequent visits to wineries in Chile, southern France and elsewhere. "Chemists are always welcome in a winery," said Maugle, who decided several years ago to return to his native Connecticut, where he and Betty planted their first five acres of grapes.
After they began selling their award-winning grapes to other vineyards, they decided to open their wine cellar to the public, on the weekends, in 2007. Maugle Sierra Vineyards has since grown into a full-time job, where Paul is the vintner, Betty manages the retail, marketing, décor and day-to-day operations, and 13 employees work at the vineyards and winery.
Connecticut's sub-zero winter temperatures inspired the couple to grow St. Croix and Marquette red varietals, and St. Pepin, a late-frost white. These species, "quietly age" in their cellar, before the wines are ready for drinking. Being cold-tolerant to 30 degrees below zero also helps, as the vines are not impacted by low winter temperatures, Maugle explained.
Ledyard is located in a "temperate rain forest" region, within five miles of Long Island Sound. Maugle Sierra Vineyards enjoys conditions similar to those of Oregon. They grow nearly 60 percent of the grapes used to make Maugle Sierra wines. The remainder is from vineyards in Long Island, New York; Massachusetts and a nearby Ledyard vineyard on the Morgan farmstead.
Maugle Sierra Vineyards produces some 2,500 cases each year, with a mix of nearly a dozen wines, including estate wines – St. Croix, Marquette and Pepin – as well as popular white wine blends, such as a Riesling, Chardonnay and Cayuga blend, called Rendezvous, and red varietals. Desert wines Aura (Late Harvest Vidal), Que Sera (Syrah), Esperitu de St. Croix and Seduction (St.Croix – Souzao) are fermented with a blend of enzymes to evoke flavors of blackberry, currant, plum, pomegranate and more. Wines are sold at the vineyard and several area liquor stores.
"We don't try to do things that others are doing … we're not trying to do a Zinfandel; if we do a Syrah, it's primarily for blending," said Maugle. "We try to deliver a taste of New England in each sip; we're not trying to recreate Napa here."
With an eye on careful growth, they opened their 2,050-square-foot Sierra Sunset Room and Patio in 2010. The tasting room and entertainment space offers a deck and outdoor seating with live music on weekends throughout the year and serves as a venue for special events, including weddings and parties. Maugle Sierra is a member of both the Connecticut Wine Trail and the Coastal Wine Trail of Southeastern New England.
Although this second career is more work than his first one, Paul said "it's a nicely connected lifestyle in which to retire. Working and living overseas was very provocative and challenging … America is the greatest place I've lived in. The vineyard allows us to be here … and [makes] enough to pay the bills." It's premature for an "exit strategy," as they are enjoying themselves, he continued. "I don't see us stepping away."
Maugle Sierra Vineyards is located on 825-827 Colonel Ledyard Highway in Ledyard, Connecticut.