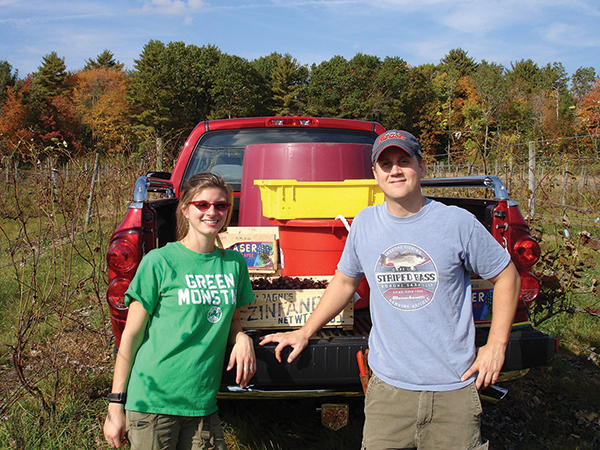 Multitasking at Mulberry Vineyards
Young winemaker takes on old property to create new business
By Nancy Kirsch
Doing one thing at a time doesn't seem to be in David and Melissa Wright's DNA. In a few short years, they bought a 40-acre historic property, the Andrew Brown homestead; opened Mulberry Vineyards in 2013, in rural Chepachet; and had two children. Today, David works full-time in a technology career and devotes weekends to Mulberry Vineyards, while Melissa cares for their children and helps with wine tastings.
They grow Chardonnay, Seyval Blanc, Noiret and Catawba grapes off-vineyard, on three acres in Coventry, Rhode Island, and purchase other grapes from Oregon and California vineyards. Last year, they harvested four rows of St. Croix grapes from Verdi Vineyards, a nearby vineyard. The white wines they bottle include a Pinot Gris, a Semillon, a Chardonnay, a Riesling, a Gamay Noir (blush), and in red, Pinot Noir and Cabernet Sauvignon.
"You've got to love making wines, love cleaning and working every weekend," said David. "There's not a giant gold pot of money at the end of the rainbow." David began growing grapes and making wines in high school. At the University of Rhode Island, he studied microbiology, chemistry and entomology.
Just as raising children is a long-term commitment, so, too, is owning a successful winery. "When you think about opening a winery and start planting, it's a difficult challenge," said David, who described the wine-making experience as "a marathon. It takes five to 10 years … the fifth year, you'll get wine, but to get good consistent yields, it takes upwards of 10 years … To do everything right takes time." David added jokingly, "We're still growing; we'll probably do a grand opening in 10 years."
Loggers are clearing some of their forested acreage so they can plant grapevines in the next year or two and cease growing grapes in Coventry. Now, every element but the grape-growing happens at Mulberry Vineyards. Within the next five years, they hope to clear some 15 acres of farmland, of which 12 will be dedicated to grapevines.
"In Rhode Island, it's very rare to [be able to] buy 40 acres with a big 300-year-old farmhouse and a big building on the side that is ideal for making wine." Built into the side of a hill, the side building is perfect for making and storing the wine, as it stays quite cool year-round.
Named for the abundant mulberry trees on the property, Mulberry Vineyards currently produces seven different wines, both reds and whites, totaling about 200 cases each year. David anticipates that amount will increase each year, as their capacity expands. Although the vineyard does little advertising, customers find the bucolic site through word-of-mouth, the website and Facebook.
As the wine destination grows, they face unanticipated problems on a regular basis. Not just with winemaking. Recently, he watched a limousine packed with visitors try to negotiate the unpaved driveway.
Growing grapes – and no other fruits –makes controlling the wine-making process simpler. "If things aren't working well, we can add different grapes to boost the sugar levels; if acids aren't right, we can blend in different grapes," said David. "We make wine the traditional way … Yeast, nutrients and wood barrels … I truly believe that makes the better wines." During David's early wine-making years, some people who had offered him advice were delighted at the outcomes and reactions were validating. When they tasted his wines, David said, they'd ask him: "How did you do that? Can you show me?"
Visiting customers also enjoy the wines and one of their two area retailers often sell out of the Riesling, Melissa's favorite wine that they produce. David said he loves the Cabernet and the Gamay Noir, which "people won't find anywhere else."
With no interest right now in entering Mulberry Vineyards' wines into competitions, David said he finds satisfaction in greeting happy customers, many of whom return time and again. "With working and kids, it's a challenge … to keep up and keep the doors open," he said. "I truly believe that [it's about] one wine at a time."
Mulberry Vineyards is located on 95 Pound Road in Chepachet, Rhode Island.