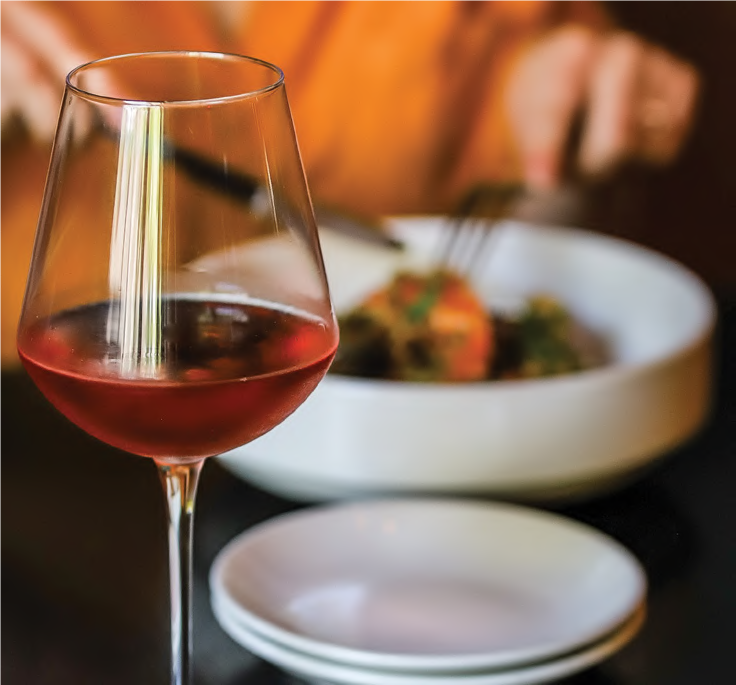 By Janice Williams
Spring marks an important time of the year for the wine industry and wine lovers alike—the arrival of rosé season. Plenty of restaurants and bars keep one or two rosés on hand to satiate palates in fall and winter.
However, there is a noticeable increase in rosé availability and sales during the spring and summer months. According to NielsenIQ data, in the second quarter of 2021, off-premise rosé sales jumped to roughly $216 million—almost $72 million more than what was sold in the previous quarter.
"Just after daylight's saving [time] in late March is when you start to get more customers asking for rosé," says Lauren Mozuch, the general manager at Rooftop Reds in Brooklyn. "As soon as it's 50 degrees and sunny outside, it's the only thing everyone wants."
In the spring, drinkers will see wine lists flooded with the latest vintage of rosé. But how can restaurants make their rosé section stand out when establishments nationwide serve interesting and new pink wines by bottle and glass? The answer starts with knowing the right time to make a selection.
A HEAD START ON STOCKING UP
"Over the years, rosé has become a massive presale market," says Bobby Vance, a manager and wine buyer for The Royce in Detroit and its sister restaurant, Marrow. "We have to plan which ones we will feature and how many of them we will order mid-winter. By early February, most of the decisions surrounding our rosé selection are already made."
In presales, distributors share information on what rosés will soon be available, giving wine buyers the chance to place orders for bottles that have yet to hit the market. While it gives buyers a head start on purchasing, having advanced access to a sea of new rosé doesn't come without its challenges. For starters, most of the wine available at presale isn't necessarily bottled and ready to go, meaning buyers don't always get to taste what they're interested in before they order it.
"It can be tricky because you don't know what your business in rosé is going to be so early in the year, but the reward can outweigh the risks," says Vance. "There will always be rosés available beyond presale, but if you want the most interesting or unexpected things … you have to plan that out ahead of time." Participation in the presale rush isn't a requirement to compile a solid rosé list, though.
SELECTION STAND OUT?
Jordan Davis, the wine director at Etta in Los Angeles, features at least three rosés on the menu throughout the year. The list will double in size when spring hits, but Davis says he doesn't start searching for new things and rebuilding the rosé list until about April.
"I have a relatively small list in general of about 100 bottles," says Davis. "I usually go down to one or two rosés that I know we can sell over the winter and put my focus on other places. But as soon as the weather starts to warm up, I'm hunting for new bottles, so by the time summer arrives, our rosé section is packed out with more options."
As for how to determine exactly how many bottles and glasses of rosé a wine list should feature in the spring? Well, that all depends on the focus of the restaurant.
"One rosé by the glass fits the bill pretty well, considering our program focuses on red wine. And in the summer, we've found that our sweet spot for bottles is around eight to 10 at various price points and styles," says Alex Cuper, the wine director of El Che, an Argentinian steakhouse in Chicago specializing in South American wine. "That said, we have a Coravin program, so at any time, we could have two to four bottles of rosé open because people are curious about it," he adds.
BEYOND STEREOTYPICAL STYLES
What's more important than the amount of rosé on a list is the variety of styles, regions, and grapes used to make it. Some rosés are round and fruit-forward, while others are crisp and lean. The key to standing out is ensuring the wine list is not stacked with too many rosés that offer the same experience.
"You have to plan out your approach to variety," says Vance. "It takes some strategy and planning to make sure you don't end up with too much product, not enough product, or too many wines that basically taste the same."
Offering wines from regions outside the usual suspects—France, specifically Provence, Italy, and California—is a solid way to add diversity to a list. Hidden gem areas like South Africa and Central and Eastern Europe offer exceptional rosé styles that deliver great value, notes Vance. Cuper suggests turning to South America, where rosés can simultaneously feel familiar and different.
"There are some rosés that fit the general mold of your standard pink wine that are still really cool and, I think, can change the perception of what rosé can be, like Malbec," says Cuper. "It has this beautiful, strawberry freshness that people like in a rosé, and it's still light and easy to drink. But it has more body than most people expect in a rosé."
Sourcing rosés made from uncommon grape varieties is another way to avoid overlap. At El Che, Cuper is excited to feature wines made from grapes drinkers don't usually see as rosé, like País blended with a splash of Cinsault.
"These rosés have such a fun character," he says. "They still have tannin, grip, and spiciness, but they also have a fresh rosé kind of quality from the flesh of the grapes. It can be weird for some people to think of steakhouse rosés, but these wines can stand up to a steak, grilled ribeye, or grilled vegetables."
Having an idea of the varieties, regions, and styles needed for a rosé section sooner will only make it easier to fill in the gaps when something runs out, which, according to Mozuch, is inevitable.
"Rosé is typically a younger production," she says. "Those vintages don't last, especially when dealing with smaller producers. So the need to rotate your rosé list is going to happen organically. It's better to know the style of rosé you're trying to fill and focus on that if you can't get a specific producer back."
"Always make sure you know how much production there is for the wine," adds Davis. "The last thing you want is to fall in love with something you only have seven cases of only to learn that it's all out when you go to reorder."
INDIVIDUALITY IS KEY
Another way to keep a rosé list fresh and exciting is avoiding widely available, commercial wines and doing some research into what nearby restaurants are carrying. Davis has a simple rule: "If anyone within
a mile radius sells what I'm looking at with my distributor, I don't want it on my list." Vance takes a similar approach by negotiating exclusivity rights with distributors and producers so that The Royce and Marrow are the only establishments in the Detroit area to sell certain wines.
Asking for bottles by smaller producers, or sustainably made and low-intervention wines, can be helpful for finding rosés off the beaten path. But the most important thing is building a relationship with sales reps and making sure they understand the wine program's focus so they can share wines that fit. "Always talk with your reps," says Davis. "Always get things held for you."
There are many approaches to strategizing and selling a new crop of rosés, but buyers should always keep one thing in mind—to have fun with it. "Rosé drinkers tend to be more openminded. They're not looking for something super serious when they order a glass or a bottle," says Davis. "They're looking for something they can enjoy on a nice day, and the rosés on the list should be able to give them that experience."