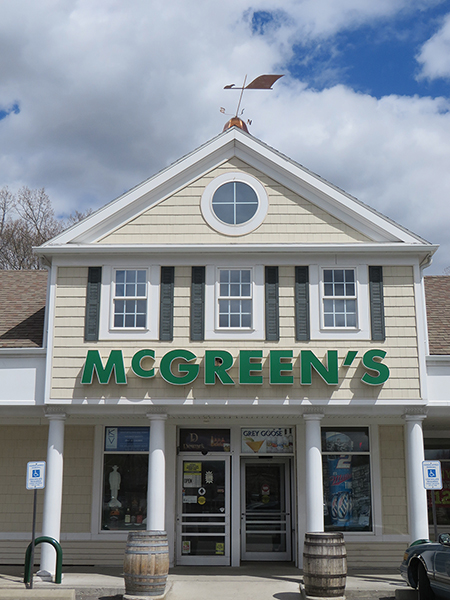 McGreen's Fine Wine & Spirits
1086 Willett Avenue
Riverside, RI
By Bob Sample
Square footage: 12,000
Years in operation: 40 (10 under current ownership)
When a store has been in business for 39 years and suddenly undergoes a name change, how does it continue to survive and thrive? For Ron McGreen, the solution was simple: continuing to offer friendly and attentive customer service, and consistent prices.
McGreen's Fine Wine & Spirits used to bear the Haxton's moniker, a name well-known in the state for its retail presence. McGreen's mother was a Haxton: Florence Haxton McGreen and she owned the Riverside store for forty years. It was one of about eight individually-owned stores in the Ocean State that bore the Haxton family name. He purchased the store from her, renamed it McGreen's and has run the store now for ten years.
The store's large size – 12,000 square feet – helped to ensure it would continue to be a dominant player locally. "Our product offerings became much more diverse," said McGreen. "Fortunately, we're a large store, which makes it easy to add new products."
Service is the key to selling both value-oriented products and higher-end goods, McGreen noted. "People know us as a neighborhood store with excellent service," he said. "Because we have been here so long, we know customers on a [one-on-one] basis. My goal is, if we don't have an item on the shelf, we can obtain it for our customers within 24 hours."
McGreen's maintains an even division among beer, wine and spirits, with a small percentage of its sales coming from tobacco products and other items. The store also hosts beer and wine tastings simultaneously each weekend to satisfy its customers' constant cravings to try new products.
"We have more individual beer SKUs than we've ever had before – but Coors Light 30 packs are consistently our top selling beer," said McGreen. In the wine category, rosé wines have suddenly seen a spike in popularity, though chardonnay is the perennial leader.
In the spirits category, both boutique bourbons and mainstay brands are strong sellers. "People have [started] stocking and collecting brown goods in the same way that wine connoisseurs have always built wine cellars," said McGreen. "A lof of people seem to buying the brown goods but it is very difficult to get the higher end craft bourbon because there is such a demand for it," he said.
Scotch has also endured in popularity throughout the decades in this market, he continued.
Regardless of spirits category, sales across the board have risen since the repeal of the sales tax on on wine and liquor in the Ocean State in 2013, McGreen noted.
McGreen's runs a robust print advertising program, mainly in an assortment of weekly newspapers in the eastern suburbs of Providence. Since the store maintains an everyday-low-prices formula, ads focus on new offerings, as does the store's Facebook page.