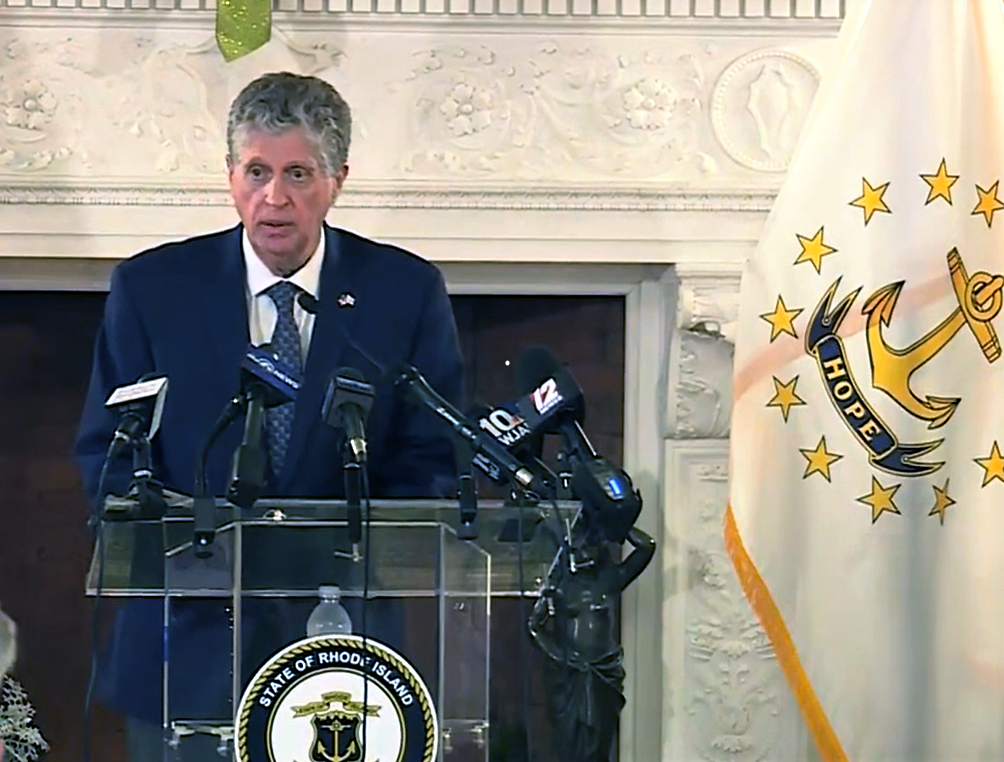 Initial ARPA spending announced with House and Senate support
Staff Reports
Gov. Dan McKee, House Speaker Joe Shekarchi and Senate President Dominick Ruggerio held a press conference on Dec. 6, 2021 announcing plans to initially spend the state's American Rescue Plan Act (ARPA) funding through the governor's Rhode Island Rebounds plan.
During the briefing, Gov. Dan McKee called it an "unprecedented amount of funding." Shekarchi and Ruggerio announced the legislature's commitment to act on McKee's proposal, bringing it to a vote in the finance committees just as of press time.
The proposal, which was submitted to the legislature for approval in October, is an initial investment of 10% — or $113 million — of the state's $1.13 billion in American Rescue Plan funds to help jumpstart Rhode Island's recovery: $38.5 million to support children, families and social supports; $32 million to assist small businesses impacted by COVID-19; $29.5 million to promote affordable housing, housing stability supports and broadband and $13 million for hard-hit tourism, hospitality and event industries.
Rhode Island Hospitality Association (RIHA) had been advocating for direct aid to the hospitality industry, providing 60-plus pages of testimony to the General Assembly. Of the $13 million investment from the state's allocation of the State Fiscal Recovery Funds, $8 million will provide direct grants to support tourism, hospitality/travel, sports/recreation, arts/cultural and event businesses that either could not take advantage of previous opportunities for federal funding or require additional assistance.
Another $3 million will be used to fund sub-awards to intermediaries, including municipalities, chambers of commerce, business improvement districts, etc., for placemaking initiatives, e.g., public art installations, mainstreet improvements, public or co-shared dining spaces, outdoor performance venues, etc., existing catalytic events and the development of COVID-safe programming. The remaining $2 million will fund tourism marketing to be coordinated with the tourism regions and the Rhode Island Airport Corporation.
RIHA CEO & President Dale Venturini said, "Today's announcement releasing some of the ARPA funds is welcome for Rhode Island's restaurants and hotels and other related tourism small businesses. Rhode Island's hospitality industry is on the path to recovery, yet so many of these small businesses are struggling. This plan is an important step to our continued efforts to rebuild one of the Ocean State's most important industries. We look forward to working with the Governor, Speaker and Senate President on the disbursement of this funding and future funding for our industry."
"We're writing Rhode Island's next chapter now," said Gov. McKee of the Rhode Island Rebounds plan on the website. "National assessments show that Rhode Island is, for once, a leading state as we emerge from the COVID-19 pandemic. If we invest soon and invest wisely, we can continue to lead rather than follow, creating opportunities for Rhode Islanders as a result. Rhode Island Rebounds represents a crucial, initial, short-term investment in Rhode Island's families, workers and small businesses to keep our economic comeback going strong."
During the briefing, McKee thanked representatives of the small business community who were present, including the Small Business Coalition, the Rhode Island Hospitality Association and the Ocean State Coalition, saying "Once these funds are passed, we will need all of your help to make sure that we maximize the benefits [and get] those dollars into our communities."